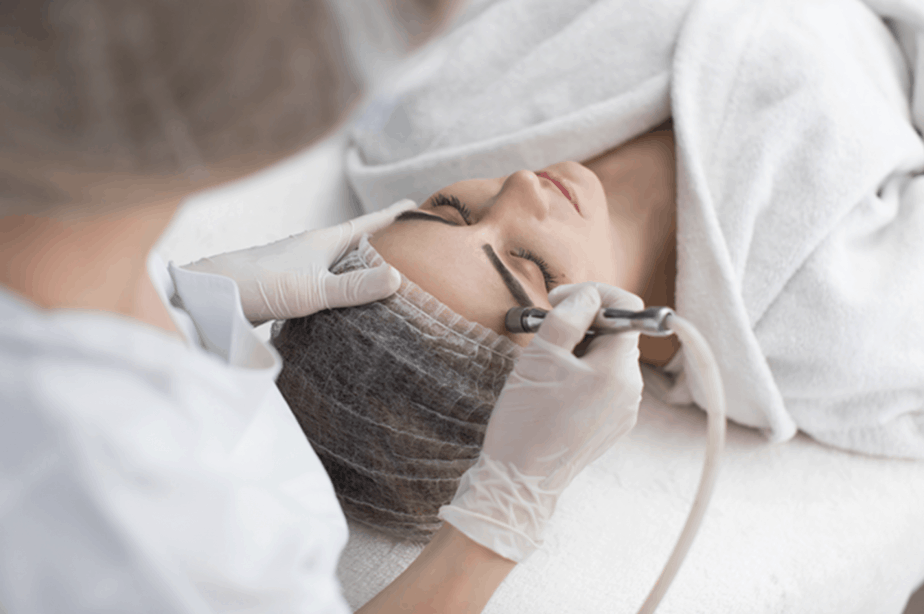 Perhaps you are a regular visitor to day spas and are aware of the term 'esthetician' from your visits and treatments. However, the phrases master esthetician or medical esthetician may not be so familiar.
Day spas are places where people go to rejuvenate and undergo beauty treatments to improve their appearance and help them to feel relaxed. They are generally tranquil places offering massages, hair styling, manicures, pedicures and facials. Clients leave feeling refreshed and stress free.
Medical spas are slightly different. They still offer a relaxed atmosphere but the treatments offered require different qualifications than day spas do. A medical spa offers medical beauty treatments that can be found at a doctor's office but with the relaxed setting of a day spa.
Because they perform medical procedures the staff and healthcare professionals working there require different licensing and qualifications. 
What is an esthetician?
An esthetician works in the area of cosmetology and is someone who deals with the health and beautification of the skin. The skin is the largest organ of the human body and it can suffer a variety of conditions. Estheticians are unable to treat serious skin conditions but they are able to spot them and refer them to dermatologists and specialists for treatment.
An esthetician will be trained in a variety of non medical treatments and duties such as face masks, steaming, addressing skincare concerns, advising clients on treatments for their individual needs and removal of hair by waxing, exfoliation or threading. Estheticians apply makeup and perform makeovers and can work in special events or industries such as TV or film.
Where do estheticians work?
An esthetician has the option to work in a variety of settings. They may obtain work in day spas or destination/resort spas. They can work in salons or medical spas too although they cannot carry out any medical procedures. Cruise ships and upmarket hotels employ estheticians. An esthetician also has the ability to open their own business or to work as a freelancer. 
What is the difference between an esthetician and a medical esthetician?
The basic difference is the training, the procedures they carry out and their work settings. Both of these occupations are involved in skin care and both are licensed specialists.
An esthetician will generally work out of a spa or salon as mentioned above. Medical estheticians generally work in medical settings such as hospitals, plastic surgery practices or medi spas. The biggest difference would be the clients they work with and the treatments or procedures available to them. 
Traditional & medical estheticians
These skincare specialists will analyse skin for health problems, offer temporary hair removal treatments, facials, aromatherapy and may also apply makeup. Their job is beauty focused and is all about improving the health and appearance of the client's skin.
Medical estheticians however have a more clinic focused role. They can work with burn victims and cancer patients. In addition, they can help to treat skin that has been damaged through burns, chemotherapy or surgery. They can provide treatments such as chemical peels, microdermabrasion, dermal fillers, botox and laser hair removal. They might find themselves working in Ethos Spa, Skin & Laser Center performing treatments unavailable in a day spa. Most estheticians are unable to perform these duties unless they have received further training. 
How do you become an esthetician or medical esthetician?
Both of these skincare specialists need to complete formal training and licensing. This will normally consist of attending esthetician school. There are different types of programs such as diploma, certificate or an associate's degree. But regardless of which program is taken a potential esthetician must complete and pass the training.
Esthetician school takes around 600 hours to complete the training, which for a full time student would take between 4 – 6 months. Part time students typically train for between 9 – 12 months. The time taken to complete the course differs from state to state with some expecting less hours and others much more. Check your local licensing laws for estheticians or contact your nearest esthetician school for more information.
The course will consist of a lot of hands-on work and during the time at the school you would learn the skills needed to work in this area plus they will prepare you for the state exam. The exam consists of two parts. One is practical and the other written. But both parts will need to be passed if you are to be successful.
After completion and licensing you would be able to work as an esthetician. If you wish to find work as a medical esthetician then you would need more training. A master esthetician licence is available in some states and this provides a longer course of training and studying.
What is a master esthetician licence?
This is where you choose to take extra training to be able to perform more complex procedures. The education program may last up to 1500 hours compared with 600 for the basic estheticians course and would allow the successful graduate to perform more duties and demand a higher salary. Master estheticians are not medical professionals but they can work alongside licensed healthcare workers and provide chemical peels, laser hair surgery, tattoo removal, microdermabrasion and more. 
Salary expectations
As in many jobs your salary will depend on circumstances as well as your qualifications. You may find you are more in demand in certain fields or areas of the country than others. An esthetician working freelance in Los Angeles may earn significantly higher than a medical esthetician working in a med spa in a small rural town.
The average salary for an inexperienced esthetician is just over $30,000 per year with a medical esthetician earning slightly more. After gaining more work experience the salaries of the two occupations will move further apart with the medical esthetician earning significantly more.
An esthetician however has the ability to earn money from commissions on beauty products, gratuities, bonuses and can work freelance. 
Summary
An esthetician generally works in salon and day spas performing beauty treatments while a medical esthetician can carry out botox, laser treatments and body contouring in a medical setting. They are both skincare specialists but require different training and have different career paths after the training is finished. Estheticians can work in exciting areas such as in the movie industry or on cruises but medical estheticians can provide valuable and rewarding services to cancer patients and people suffering from skin damage.