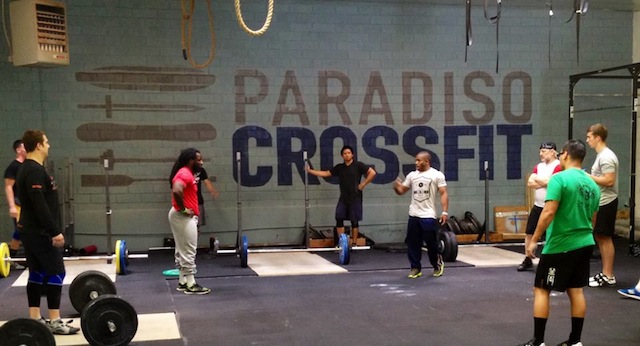 Earlier this year, before the CrossFit Games were even in peoples' minds, one question sparked debate in the CrossFit and weightlifting communities, "Is CrossFit saving weightlifting?"
With more athletes excelling in both sports by the day, CrossFit and weightlifting have continued to converge and intersect over the years. As living proof of the evermore closely bonded sports, Venice Barbell Club has expanded the sport of weightlifting into one of CrossFit's biggest markets through Paradiso CrossFit, one of the Los Angeles-area's best known CrossFit communities, who recently placed 33rd at the 2013 CrossFit Games as team.
After following programming from The Outlaw Way, Paradiso CrossFit coach and one of the gym's team members James McCoy's love for weightlifting compelled him to compete in USA Weightlifting as an athlete and complete his USAW certification as a Level 1 Sport Performance Coach. In addition, gym owner David Paradiso had received many requests from members that wanted to get better at Olympic lifts and needed more consistent exposure and programming outside of regular classes.
This Spring, the two decided to start Venice Barbell Club inside Paradiso CrossFit as a USAW-sanctioned barbell club. They wanted the club to be an organized, official opportunity for people to not only learn, but potentially compete in official USAW events. Since opening, VBC has hosted seminars with Olympian Kendrick Farris, in addition to its regular classes.
Paradiso said that a big motivation behind opening VBC was a desire to "help grow the sport of Olympic Lifting outside of using it as a training tool for CrossFit. I see people all the time that love the Oly movements. We want to encourage them and let them know that this is a sport!"
In a classic story of things happening at the right place and right time, while VBC was in its planning stages, Derrick Johnson, the youngest-ever head coach for an international competition for USAW and one of the country's best pound-for-pound weightlifters, reached out to Paradiso CrossFit about potential coaching opportunities.
McCoy and Paradiso, who knew of Johnson from watching his videos online, both called the opportunity to bring in a coach and athlete of Johnson's caliber and credentials a "no-brainer." Today, VBC has Olympic hopeful and USAW 2010 Developmental Coach of the Year as awarded by the United States Olympic Committee teaching its weekend classes.
About a quarter of Paradiso CrossFit's roughly 400 members attend a Venice Barbell Club class in any given month. 30 to 40 of these members have become regular VBC attendees and the club has also attracted a number of non-CrossFit athletes since opening.
Using much of what he learned from following programming from The Outlaw Way, McCoy has tailored the barbell club's programming to be focused on consistent strength training, while Johnson adds a unique level of technical expertise. With a different focus than a "traditional" CrossFit class, programming is substantially different from what you'd see in the gym's CrossFit WODs, though the coaching remains the same.
McCoy said of what he learned from The Outlaw Way, "Outlaw uses many of the classic ideas of weightlifting programming – wave training, periodization, conjugate method of assistance exercises, squatting three times a week, maxing out weekly, etc. The things that get people strong and proficient are never that different from program to program."
Johnson said of his programming style, "With my workouts as a lifter and coach, my focus is always on having great technique. The workouts I write have a lot of assistance movements to reinforce perfecting the positions."
Johnson's most important cues for the barbell club's athletes, the majority of whom were exposed to Olympic weightlifting through CrossFit, have been:
Focus on keeping your chest up and back flat the duration of the lift.
Not bending the elbows until finishing the extensions at the top.
Make sure the feet slide (no jumping) in the catch position on the Olympic movements.
He added, "I always have a lifter keep their feet as straight as possible when doing any type of lifting motion to go along with keeping their back flat," in minor contrast to the "slightly toed out, jumping position" that is often taught in CrossFit on-ramp classes.
Inevitably, the coaching methods and specialization from Venice Barbell Club have found their way into the traditional CrossFit classes at PCF as well. McCoy has seen a shift in the gym's athletes' technique. "The technique we now see from high level CrossFit athletes down to the most unassuming members of our gym is far more in line with how dedicated American and international weightlifters move," even when it deviates from how some of the barbell movements have been traditionally taught in CrossFit.
"The best example of [how weightlifters move] is making contact with the bar at the hips (or the "hit and catch" style), rather than pulling the bar as high as possible (or the "triple extension") without making contact against the body," said McCoy.
To ensure coaching consistency across VBC and PCF, Paradiso mentioned, "We do not teach our new CF athletes anything different than those athletes that are attending the VBC."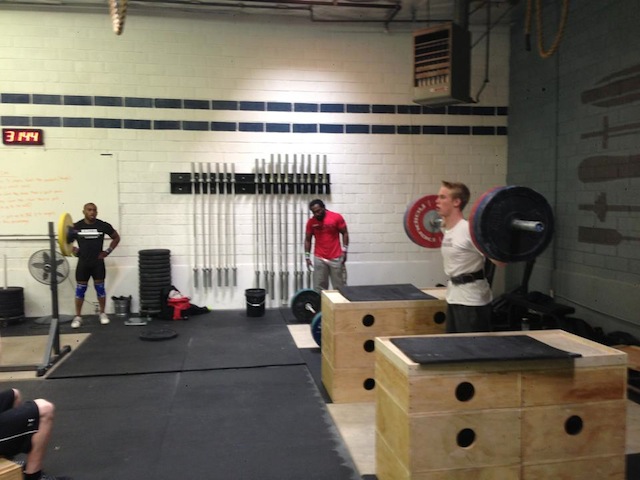 In addition to the different methods used for Olympic lifting, the high bar back squat is emphasized in Venice Barbell Club, instead of its low-bar counterpart, as it carries directly over to the lifts and many of the movement patterns in CrossFit.
McCoy has been excited to see the barbell club's athletes experience gains in their CrossFit workouts after they've committed to investing into their barbell work.
"Every member who has consistently attended the VBC classes has seen marked improvement in technique and strength. This carries over to their workouts because a stronger athlete uses less maximal energy to move a loaded barbell repeatedly," said McCoy.
What does Johnson, an elite-level Olympic hopeful, think about CrossFit's relationship to the sport he loves?
"CrossFit gives everyone of all different backgrounds the ability to compete in daily workouts, I have met so many people who said that they had never lifted weights in high school or in college, and that they tried CrossFit and were hooked," said Johnson.
The growth of CrossFit has also had a halo effect on how elite weightlifters like Johnson are able to train.
"With the explosion of CrossFit, people all around the world can lifts weights everywhere. Olympic weightlifters like myself can just about go to any state, city, or town and have a place to train. Growing up there were only select competitions I could go to. Now with the CrossFit community, there are sanctioned competitions through USA Weightlifting every weekend."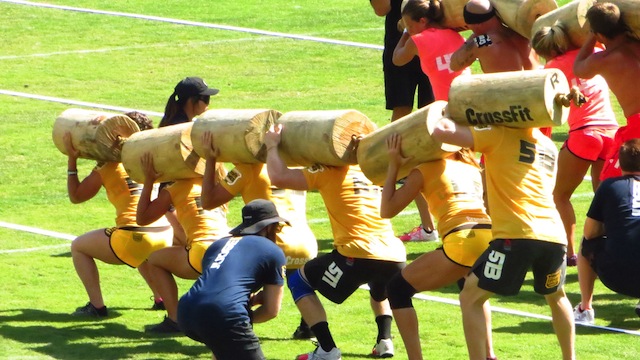 In regards to some of CrossFit's most often-vilified, weightlifting-focused workouts, Johnson said, "There is nothing wrong with Isabel or doing 30 snatches for time as long as the technique looks great while doing it because once a lifter becomes exhausted the technique will break down. Workouts like 'Grace' or 'Isabel,' in my opinion, should be watched very closely by coaches, kept at a moderate weight, and avoided if the positions are not maintained."
Though many would assume that joining a barbell club would only be for the most elite members of any gym, McCoy says that VBC is for "anyone looking to improve their weightlifting technique, get better at CrossFit, or just generally become more athletic and stronger."
Many of VBC's athletes competed the 2013 CrossFit Games, after PCF received a team invitation to the 2013 CrossFit Games after its fourth place finish in the Southern California region and the disqualification of Brick CrossFit.
With classes five days a week, VBC and PCF will continue to be a part of bringing the sports of weightlifting and CrossFit closer together through its training, results, and community in Los Angeles.