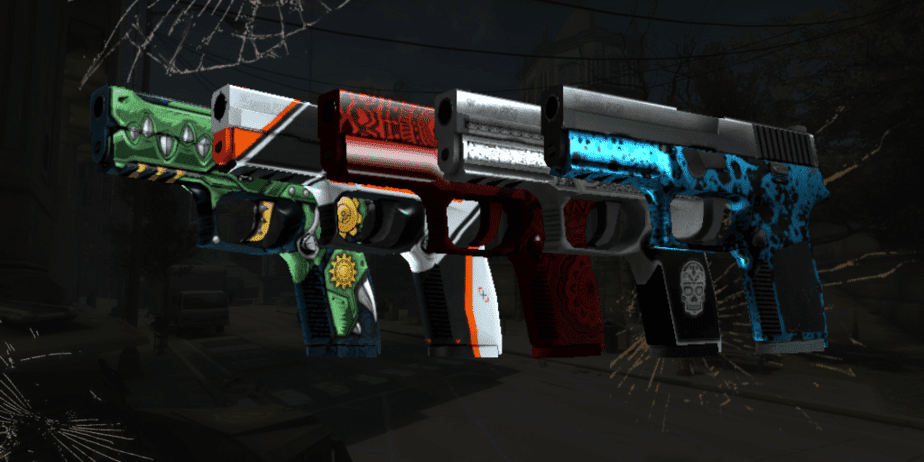 The P250 is a low-recoil semi-automatic pistol with a fast rate of fire and is a modestly priced option for use against armored foes. The pistol costs $300 in-game and has a capacity of 26 extra bullets in addition to 13 rounds per cartridge. The firearm is very easy to handle (though slightly more complicated than the spawn pistols). 
It has more significant basic damage against unarmored targets and a smaller damage dropoff than the Glock-18, allowing it to kill unarmored opponents with one headshot at a distance greater than that of the spawn pistols. Still, it cannot kill foes wearing helmets with a single headshot. If this type of pistol suits your playing style, check out our comprehensive list of the best classified P250 skins in CS:GO!
P250 | Mehndi
One of the most sophisticated designs in the game, the P250 Mehndi is a surreal piece. Part of the Winter Offensive Collection since December 2013, it's been a fan-favorite for a while. It has an exotic color scheme with gorgeous, free-flowing patterns inspired by Indian mehndi, also referred to as henna body art, and is painted black and red. Namaste!
The skin starts at just $11, and you can buy it from the Steam Community Market, directly from users, and on verified third-party trading platforms. 
P250 | Visions
P250 | Visions is one of the most popular designs on this list. With a mix of green, yellow, red, and overarching red, the gun paints a menacing picture. It has a starting price of a little over $4 and is available in the Recoil Case.
P250 | Asiimov
With a custom-painted futuristic space design featuring a color scheme containing black, white, and orange, P250 | Asiimov is a steal at just $1.82. Released back in 2016, the Asiimov skin is available in the Chroma 3 Case. We just love the tagline: "If you think I need a rifle to kill a man, you have no idea who you're talking to…" — Mikha Biton, Phoenix Sniper. 
P250 | Cartel
Coming in at $5.13, P250 | Cartel features an industrial-grade design with black accents, pretty engravings, and a skull at the bottom of the grip. While that gives it more of an aggressive look, the gun retains its grace by featuring a relatively minimal appearance throughout the rest of its chassis. All in all, it is a great skin to have, especially for the price. And, it is a great pickup if you aren't someone who likes to have a lot of pizzazz in their skin. 
P250 | Muertos
With designs of bright orange skeletons painted all over the pistol's body, the Nevermore skin looks ready to gouge your opponents' eyes out. Released in January 2015 and available in the Chroma Case, the skin starts at a meager $4. This is a must-have for any true fan's collection. Go ahead and claim your spot in the pecking order.