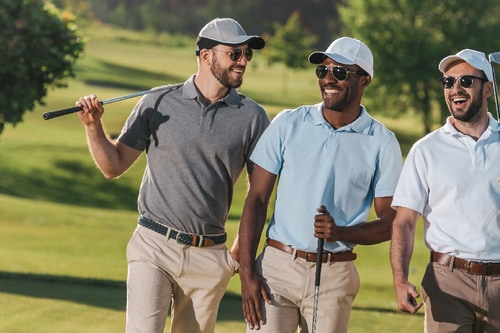 We love to play golf and we love to shop for new golf gear. It doesn't matter if you're talking about golf clubs, golf equipment, or golf accessories, golfers love to buy new stuff for the game they love.
The best feeling is when you find something truly unique. Yes, we want our new golf gear to help us play better, but we love when it impresses our weekend foursome. The best way to do this is with custom golf gear.
When you customize or personalize you create something new. Your new golf gear is an immediate conversation started on the first tee or the driving range.
We bet you aren't aware of all of the options. We can help!
Ways To Customize Your Golf Gear
1. Personalized Golf Bag
If you've watched the PGA tour on TV, you've probably noticed that all of them have their names on their golf bags. If Tiger Woods can have a personalized golf bag, why can't you?
For a small price, you can add two lines of text to your golf bag. It's added to the outside of the ball pocket and your bag won't stand out amongst the others.
What should you put on your custom golf bag? The most common approach is simply a first name and last name, but it's 100% up to you. Get creative. Do you have a nickname amongst your golf buddies? Add it to your personalized golf bag.
2. Custom Golf Balls
The golf balls you play with are the most customizable piece of golf gear. You can truly "make them your own." First, you can add up to three lines of text on the side of the ball. We've seen golfers use this text for many different reasons. Put your name on your golf balls. Put your favorite golf quote on them. Be creative and put a joke on them that'll amuse the player who finds it after you lose it.
Second, you can pick the number. In some cases, you choose from any number between 1 and 99. Finally, you may have also the option to put a logo on the ball. Maybe a fireball because you're going to crush some drives or a four-leaf clover for good luck.
Custom golf balls can be a great gift as a baby announcement or a groomsmen gift. They can be a perfect holiday present for the avid golfer in your life. A dozen golf balls might be a boring gift, but a dozen custom golf balls will bring a smile to their face!
3. Club Engravings
Did you know that you can add engravings to your golf clubs? It's most commonly done on putters and wedges, but you could do your full set of irons. We wouldn't recommend you try to engrave your driver!
This is the most expensive of the personalization options, but it does look cool and turns your club(s) into a "one of a kind." The most common form of club engraving is a short name or nickname.
4. Custom Golf Hats
We all wear golf hats when we play, so why not customize? You can do everything from text to the logo of your choice. A custom golf hat can be the perfect way to memorialize your annual "buddy golf trip."
Another great option is to use them to market your business. Give away a nice golf hat with your company's logo to participants in a charity golf tournament. All of a sudden, you'll have a bunch of small "billboards" walking around the course. Grow your business while protecting golfers from getting a nasty sunburn.
5. Embroidered Polo Shirts
We talked about "buddy golf trips" in the custom golf hat section, but we think every golf group should have a personalized golf shirt. Pick a fun color, add text to the shirt with the name of your group, and include the year. For example, "The 11th Annual Range Goats Trip."
They're cheaper than you might think and make everyone wear them on the first day. It'll make your crew stand out amongst all of the other players on the course. If you do team matches during your trip, get the different teams different colors. Make it feel like the Ryder Cup!
6. Custom Umbrellas
Custom golf umbrellas can be a great gift for your corporate meeting or for your wedding party. Golf umbrellas are large – even if someone doesn't play golf, they'll find this custom golf gear very handy the next time they get stuck in a rain shower.
7. Custom Golf Tees
Custom golf tees are the perfect personalized golf product for marketing or personal use. Do you need a reminder before you hit your driver to swing confidently? If so, put "Grip It & Rip It" on your golf tees. You'll see this mantra right before you hit each tee shot.
If marketing for your business is the goal, put your company name & contact info on your golf tees. After each tee shot, leave your tee on the tee box. Golfers behind you find them and use them to tee off.
While doing so, they might just notice your company and get interested!
Make Your Golf Gear Special
Personalizing your golf gear and golf equipment makes it mean more. It can give you a laugh, remind you of a special moment, or help market your business. Why do you want to play golf with boring stuff if you can enjoy the game with unique gear?
Of course, you don't have to customize every golf product you buy, but always take a moment to understand your options. Life is too short to use boring golf gear! Good luck and play well.