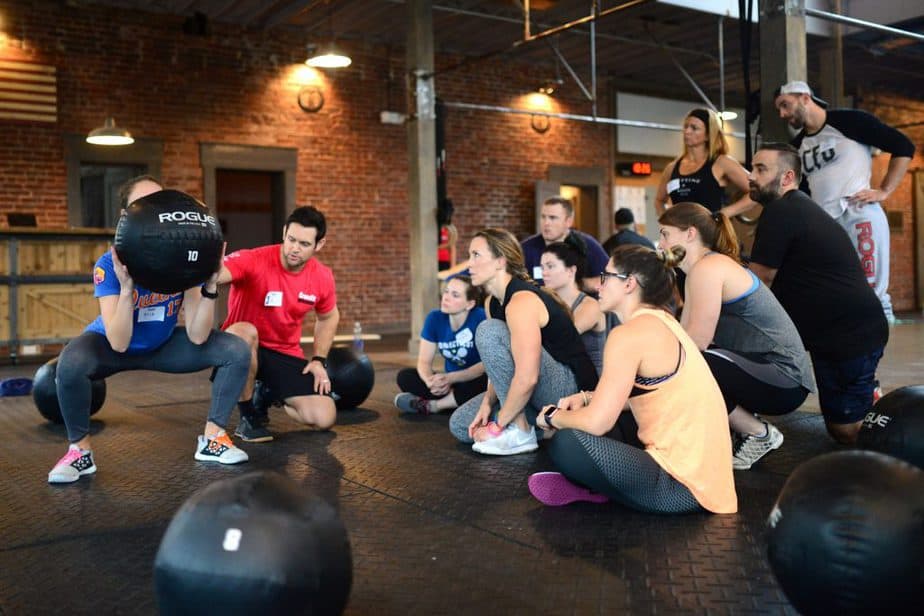 If you love latest fitness crazes like CrossFit, functional fitness and F-45, and want to help people to lead healthier lifestyles, then a job in health and fitness could offer the perfect career route for you. There is a huge range of diverse and exciting job roles in the health and fitness industry. Here are some of the most popular career choices to consider:
Personal trainer
Personal trainers work with individuals and create personalized exercise plans tailored to their clients specific fitness goals and abilities. They also work closely with clients and help motivate them to stick with their exercise routine and achieve their fitness goals. Watching clients develop and become healthier and stronger, makes becoming a personal trainer an extremely rewarding career for many people. With the right level of experience, personal trainers may have the opportunity to work with professional athletes and offer their services on a freelance basis. This gives them the freedom and flexibility to choose their own work schedule and be their own boss. It's also a career many can pursue without having to go through the process of completing an MBA degree or similar courses.
If you love fitness, enjoy spending time in the gym and want to help others become healthier and fitter, then a career as a personal training could be the perfect job for you. What's more, the personal training industry is growing year on year and is now worth around $9.2 billion dollars according to market research from IBISWorld. This makes it an excellent time to enter this exciting and hugely diverse industry. To become a qualified personal trainer, you must complete an accredited qualification and gain some industry experience. In CrossFit you need to complete an L-1 course to be able to coach and teach classes in CrossFit gyms. After all that, don't forget to get the proper personal trainer software to make your administrative tasks easier.
Dentist
Dentists help people lead healthier lifestyles by caring for their dental health and carrying out necessary treatment to ensure that patients teeth and gums remain healthy. Many dentists also help educate people about the importance of following good oral hygiene habits. These include brushing your teeth twice a day, flossing and avoiding too much sugar. Dentists are responsible for examining people's teeth and mouth in order to diagnose and treat any potential issues before they can develop into more serious health problems.
Dental work can have a massive impact on a person's physical and mental health. For instance, repairing chipped or broken teeth can massively improve a person's self-image and help them feel more confident about their smile. To become a qualified dentist, you must earn a dental degree and then become licensed in your state. Once qualified, dentists can choose to complete additional qualifications and practice in various specialties such as maxillofacial pathology or pediatric dentistry. You can find plenty of further information and advice on the different recognized dental specialties if you're interested in a career in dentistry.
Sports Writer
If you enjoy sports but don't want a career that requires you to be overly active, then you may be interested in a career as a sports writer. These professionals attend a variety of sporting events, then write content describing the game and giving their opinions on that particular sporting event. This helps fans keep up to date on the latest developments in the sporting world. Most sports writers specialize in a particular area that interests them; this could be NFL, NBA or college sports.
Finding a niche is one of the most effective ways to stand out and become successful in the industry. To become a sports writer, it's vital that you have a keen interest in sports, along with knowledge on the particular area you want to write in. Most sports writers also have a bachelor's degree in journalism or similar. Work experience is also an important way to build valuable connections in the sporting industry.
Nurse
It's a good time to search for weekend nursing programs near me, as becoming a nurse can be a highly rewarding career if you're interested in the healthcare industry and have a naturally caring personality. Nurses are highly trained healthcare professionals who use their specialist skills to treat a range of medical conditions and injuries. They work extremely closely with their patients and have the opportunity to develop strong personal relationships. Many nurses report feeling a great sense of pride and joy from seeing a sick patient make a full recovery. Or from providing comfort and companionship to people during their time of need.
Qualified nurses are in high demand and the job market is expected to grow by 26 percent by 2028, according to the Bureau of Labor Statistics. This is far higher than the average across other employment industries, meaning that nurses enjoy enviable career prospects and job security. To become a qualified nurse, you must complete a bachelor's degree and a certified nursing qualification; you must then become certified in the state you wish to practice in. There is also the option to specialize in different areas of nursing. For instance, many nurses go on to complete certified nurse midwife programs and become midwifery professionals.
Depending on your educational background, interests, and employment preferences you have the option to choose your career path among the numerous specialties of nursing positions. Nursing professionals have the ability to experience working in different medical settings and facilities such as hospitals, residential homes, aesthetic clinics, etc. during the working career. To learn more about the various types of professional opportunities check PRN Nurses job postings as well as Nursebuffs and J&J Nursing.
Sports Therapist
Sports therapy is an extremely diverse industry and qualified therapists can choose to work in a huge range of settings; from professional sports clubs to private hospitals. Sports therapists are responsible for diagnosing and treating a wide range of sports-related injuries, then designing customized treatment plans to help athletes recover and return to their peak physical condition.
With the right level of experience, sports therapists may have the opportunity to work with leading sporting professionals. They also provide expert advice and guidance on how to avoid injury and remain in optimal health while training for large sporting events. To become qualified, sports therapists must usually complete a minimum of a bachelor's degree in athletic training or similar. They must then obtain a license and become certified in the state they wish to practice. Gaining a masters degree can help sport therapists stand out from the competition and advance in their career.
As you can see, there are many exciting career options in the health and fitness sector. You have the option to enjoy your love of sports and fitness by becoming a personal trainer, or take on a less active role as a sports writer. Or, you could help people regain health and recover from illness and injury by considering a career in the healthcare industry such as nursing. Overall, a career in health and fitness provides many benefits and offers a rewarding career path for many people.