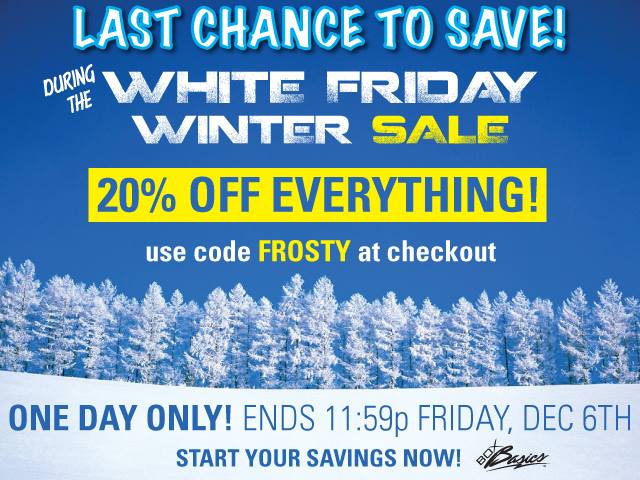 Black Friday might be over for another year, but that doesn't mean you still can't pick up some more amazing shopping deals this December.
Functional Fitness retailer Box Basics is holding a White Friday Winter Sale this week, offering a massive 20% off EVERYTHING on their site!
The 24 hour savings extravaganza kicks off on Friday, December 6 running all the way through to midnight with massive savings off all your favourite training gear and apparel.
To take advantage of the White Friday Winter Sale, all you need to do is take a look at the Box Basics online store by clicking here, choose what you want, then use the promo code FROSTY at checkout!
For those unfamiliar with Box Basics, it is a leading online functional fitness shop that sells everything from shoes, apparel, gloves, jump ropes, supplements and rollers!

What makes Box Basics even better is the fact they not only stock a large range of products from leading brands, but the they also offer free shipping to all 50 states in the good 'ole U.S.A!
With easy website navigation, a simple check out system, great customer service, and amazing bargains, purchasing from Box Basics is easier than a 10-minute Fran.
Remember, the sale is this Friday (December 6) only and runs for 24 hours until 11:59 PM (PST). Just but be sure to use FROSTY at checkout to get the 20% discount.
You can check out all the bargains from Box Basics during their White Friday Winter Sale byclicking here.
Additionally if you want to get in touch with the crew at Box Basics you can email them by clicking here, or follow them on Facebook to keep up to date with all the latest sales and deals!