We mentioned this story in our weekly news wrap last week, but here it is again in case you missed it.
One of our readers made us aware earlier this month that dual CrossFit Games champion Rich Froning Jr. appeared in a BSN advertisement in the December issue of Muscle and Fitness magazine.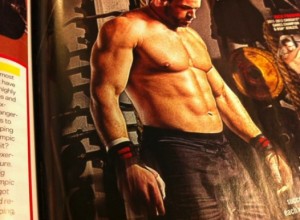 While that's nothing out of the ordinary, the controversial part is that the images the advertiser used appears to have photo-shopped out Froning's religious tattoo that runs down the side of his body.
As most of the CrossFit community is aware, Froning is a devout Christian, and he has always been proud of showing off his Galatians 6:14 tattoo.
The Rx Review contacted supplement maker BSN to find out more info on the issue, but at this stage they are yet to respond.
We'll keep you posted on their response as soon as we get one.