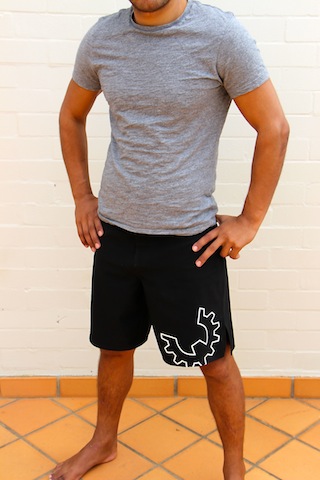 Over the last few months both Emma and John have each reviewed a pair of CrossFit specific shorts. So, I thought it was time for to me to throw my review into the ring.
This week we take a moment to review WOD GEAR'S range — In particular, "The Throwbacks Pro" shorts.
WOD Gear have worked hard at developing a clothing line that fits the CrossFit ethos. As they state:
WOD Gear Clothing Company (Work Out of the Day) creates comfortable, functional fitness apparel—with origins in CrossFit. Beyond apparel we aim to celebrate athletes of all kinds, support the community, and promote relevant social causes.
WOD Gear is as well known in the CrossFit community for their clothing and apparel as they are for the WOD Gear Team Series they hold each year.
Their line of CrossFit inspired clothing has been selling well and they recently opened a bricks and mortar retail store in South Pasadena, California.
So with that said, lets get to the review.
The Good:
Fit: I have a 30-inch waist, meaning I'm usually a medium in most sizes. Although as some of us have experienced, having only three sizes to choose from (small, medium and large) doesn't always equal the best fit. Which is why I was glad to see WOD Gear has a great selection of sizes (28, 30, 32, 34, 36 and 38). What makes things even better is their range of shorts actually run true to size.
Additionally many CrossFitters have larger than normal thighs and glutes from all those squats. So the worst thing that can happen after finding a pair of shorts that you like, that fits your waist, is to discover they are too tight around the glutes and quads. After putting these shorts on and doing the obligatory squat test, I'm happy to report these shorts passed with flying colors.
Look: This is always a little difficult to measure. We all know what one person loves another may hate. Although in this instance, I actually liked the style, cut and design of the shorts. The "WOD GEAR" embroidered logo on the front and back looks great, and is the kind of attention to detail I think makes them worth the $55 price tag.
Initially, I was a little worried the white design on the left side of the front leg may come off or peel away after a bit of wear and tear. Although after putting them through countless WODs and throwing them in the wash several times, they show no sign of deterioration or wear. One thing to note about these shorts is they actually look much better in person than they do on the WOD Gear website.
Feel: WOD Gear's shorts are made from 87% Polyester and 13% Spandex which give them a really nice feel. The combination of material means they feel solid enough you don't worry about rubbing the barbell down the front of them while doing a set of cleans, but they are also light enough that they feel breathable. The spandex also provides a significant amount of stretch that helps prevent them from ripping during a set of squats (an embarrassing situation that has actually happened to me several times to my dismay).
Pocket: One thing I always have an issue with these style of shorts is the lack of useable pockets. Many companies simply omit pockets altogether or the few that do place them on the inside of the shorts making them big enough for only a single key. It is honestly one of the things I'm always whining and complaining about.
So when I found WOD Gear had not only put a decent size pocket in the back of the shorts but had gone to the extent of adding a zip, I felt it was a Jerry Maguire kind of moment. "WOD Gear… You had me at zippo" (Ok not that Zippo, ahh forget it).
Quickdry: WOD Gear state on their website that the shorts are, "Water repellent and anti-microbia." I've now worn these in several chlorinated pools, at the beach and in the sauna. Each time I wear them and they get wet I'm surprised how fast they dry.
The Bad
Length: Some people prefer workout shorts that sit about mid thigh where these shorts are designed to sit just above the knee. Again this is a personal preference but something to note.
Waistband: These shorts come with a velcro closure waistband. Many people I've spoken to simply don't like velcro waistbands in their shorts. If you are one of those people, this is something to keep in mind. Personally, I like the velcro feature because it makes them feel a little more secure if I'm planning on getting dumped by a few waves at the beach.
Price: At $55 these are not the cheapest shorts on the market. So if you are price conscious these may not appeal. However, I will note for a good pair of workout shorts or even boardshorts they can run anywhere upwards of $100, so I think these shorts are pretty reasonable considering the market and quality.
Conclusion
When I first saw pictures of the shorts online, I have to say I wasn't too impressed. Although once they arrived I was surprised how nice they looked — As I mentioned above, I don't think the pictures on their website do them justice, so that is possibly something they should remedy.
I have now been wearing WOD Gear's Throwbacks Pro shorts throughout the year. Despite all the punishment I've put them through, they look and feel brand new. Not only a great for CrossFit but are awesome to wear to the beach.
The level of detail with the triple stitched reinforced seams, embroidered logo and good quality material means they have become one of my favorite shorts to wear. So if you are considering purchasing a new pair of CrossFit shorts, I think these are well worth a look.
[wzslider transition="'slide'"]