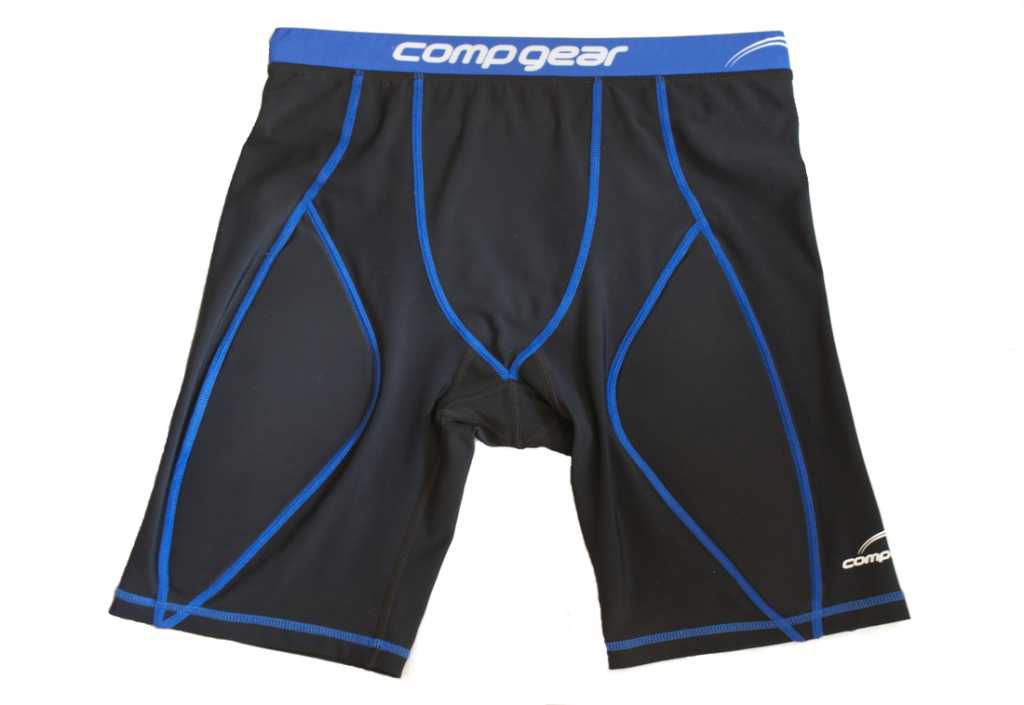 This week we take a moment to review a pair of CompGear's Padded Compression Shorts.
Item: CompGear Compression Shorts
Price: $35 USD
Manufacturer: CompGear
Purchase: www.CompGearUSA.com
Compression clothing has been a become quite popular in the fitness world over the past few years. Nowadays, it's not uncommon to see all types of athletes wear compression socks, shorts and even tops during training and competition.
It is widely accepted that compression garments can improve muscle power and strength, and also enhance recovery following hard exercise. In fact, some research even suggests it may increase brain function, so there's no denying there are many benefits to wearing compression clothing during and outside of training.
For me, compression shorts are a personal favourite. I literally wear a pair every game of football I play, and during winter, I try to wear them as often as possible while training in my CrossFit gym.
So when I heard about CompGear's padded compression shorts, I was naturally very interested in testing them out.
Unlike other compression shorts on the market today, CompGear's are also designed to offer specialised protection for athletes during standard functional fitness movements. Three pieces of strategically-placed padding are located in certain areas in the shorts to minimize irritation and bruising in your thights and buttocks region during exercises like sit-ups, and olympic lifting from the hang position.
Here is a look at some of the main features of CompGear's padded Compression Shorts:
Removable flexible EVA thigh and tailbone padding 
Breathable, moisture-wicking, quick-dry Nylon/Lycra blend
Crotch venting enhances comfort and breathability
Antimicrobial fabric treatment reduces sweat odors
Flat-lock stitching will not cause chafing or irritation
I first got my hands on a pair of CompGear's compression shorts earlier this year (2015) and have been using them regularly during training and sometimes out of the gym.
Here's what I thought of them: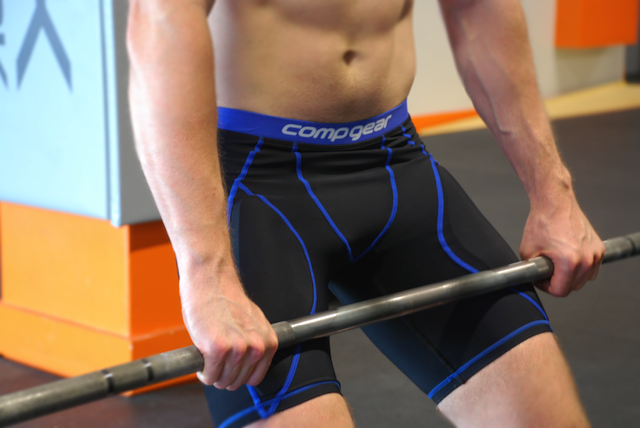 The Good
Compression: As expected, the shorts offer a decent amount of compression. They provided a snug fit on my upper legs and buttox area with comprimising my range of motion. While wearing the shorts I never felt like they were too tight, or that my blood flow was restricted, so all in all, the compression aspect of the shorts gets a tick.
Thigh Padding: The padding feature was the big thing that attracted me to these particular compression shorts. Like most CrossFitters, I often get banged up during tough workouts and end up leaving the gym with hand tears, bleeding shins, bruised thights and a chaffed butt from time to time. So the idea of having bits of padding to reduce the amount of bruising and chaffing was certainly welcomed by me.
Initially, I tested the thigh padding by doing some rounds heavy hang cleans, and it's fair to say they provided solid support. I certainly noticed less discomfort when the bar hit my thighs and I am yet to suffer any bruising of chaffing on my thighs while wearing these padded compression shorts. I should note that the amount of protection the padding offers is still minimal, so don't start dropping loaded barbells from the snatch position thinking your thighs are invincible. The thigh protection isn't meant to compromise your form, it's there to reduce the amount of bruising, chaffe and cuts your thighs may encounter during functional fitness training.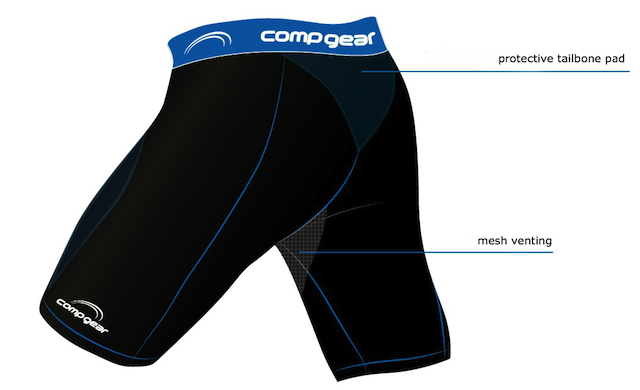 Strong Material: CompGear's Compression Shorts are made from a Nylon/Lycra blend that is breaathable, moisture-wicking and quick dry. It is also quite sturdy and strong enough to handle the rigours of high intensity functional fitness movements. At the time this article was published I had been using the CompGear shorts for nearly half a year and so far they have shown no signs of wear or tear. The three pieces of padding all remain in tact and are yet to rip or tear despite regularly being pounded by a heavy barbell. In additon, the short itself still provides solid compression and support and is yet to show any signs of falling apart.
Air Vents: These shorts also have venting mesh around the crotch area to enhance comfort and breathability. The 'ventilation' worked well in reducing the amount I sweated during training, and in turn minimised the amount of chaffing. The lack of sweating was also helpful in reducing the amout the shorts odour inbetween washes.
Style: I'm not too big on being stylish while training, but I still like to workout in clothing I at least like the look of. CompGear's Compression Shorts come in a nice black design with blue stitching and minimal branding. The design is easy on the eye and easy to compliment most training outfits.
Price: Initially, after a successful Kickstarter campaign in 2014, these shorts sold for $50 each. However, since then the price has reduced and you can now buy a pair of CompGear's padded Compression Shorts for just $35. Compared to other compression shorts on the market which can sell for as much as $90, that's a very competitve price.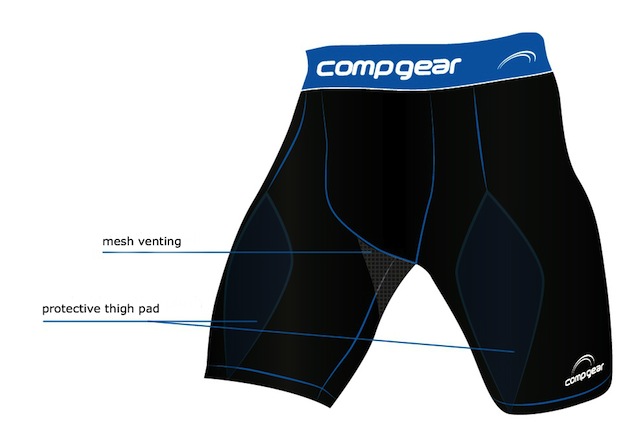 The Bad
Tailbone Padding: While i'm a big fan of the shorts thigh padding, I wasn't as impressed with the tailbone padding. At the rear of the shorts, there is a piece of padding designed to prevent chaffing in the buttox region  during movements like sit-ups. The very first time I used these shorts I did 100 sit-ups for time to test how effective the padding was. By the end of the 100 sit-ups I felt a bit of chafing in my backside and the next morning still had some stinging pain there.
A month later, I completed the workout again while wearing the shorts and this time I didn't suffer any chaffing in the buttox region, so maybe it was just a case of my body getting used to the shorts. If you do experience some early chaffing when doing sit-ups with these shorts, it might just be a teething stage you'll have to get over.
The good news is the pieces of padding are removable, so if you don't like the tailbone padding, you can always train without it.
Lack of Colours/Styles: At this stage, CompGear's Compression Shorts are only available in one style with no colour options apart from the standrd black with blue stitching. While I have no problem with the current design, it would be good to see a few different options avaliable in the future for those who like more vibrant, lighter colours.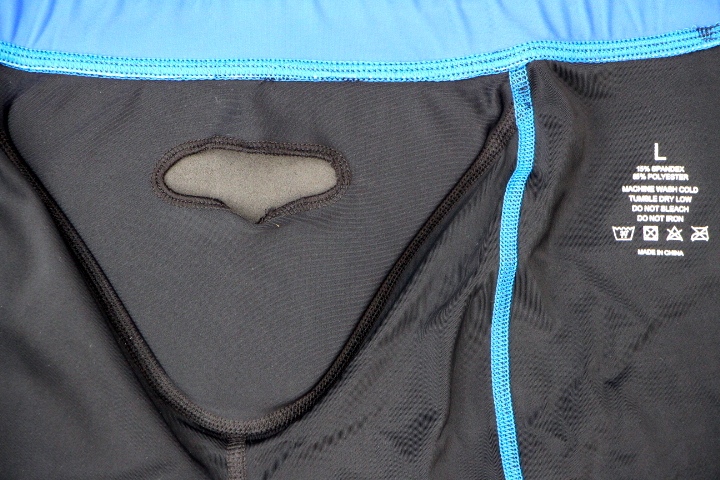 No Womens Version: Unfortunately CompGear's Compression Shorts are only available for men at the moment. However, we are being told that a womens range is on the way and will hopefully be available in 2016.
Compression: The amount of compression these shorts offer is fine and still gets a tick from me. However, compared to some other compression shorts on the market, they are not my 'go to' pair. But that being said, with the added feature of padding, and the cheap price tag, one can hardly complain.
Appearance: With the added padding the CompGear Compressions Shorts look a little different to other compression shorts on the market. It's not a big deal, but be prepared if you get a few people at your box asking you why you had padding on your thighs.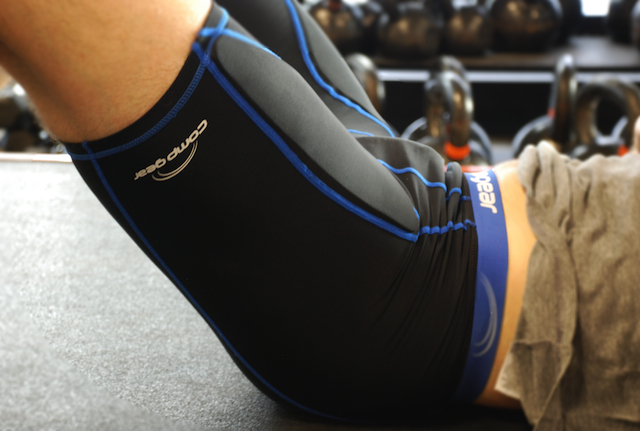 Conclusion
Overall, i'm a fan of CompGear's compression shorts. The idea of combining compressions shorts with padded protection has been well executed by CompGear and I think it's something that many athetes can benefit from.
During my time training with the shorts I noticed a reduction in chaffing and bruising in my thighs and also reaped the benefits that come with most compression clothing like increased recovery.
The shorts were also comfortable and easy on the eye, and the venting mesh around the crotch area ensured I wasn't drowning in sweat while training.
While I did have some initial concerns about the tailbone padding, they quickly went away the more I used it. Also, the fact the pieces of padding are removable means you can always take them out if they are annoying you.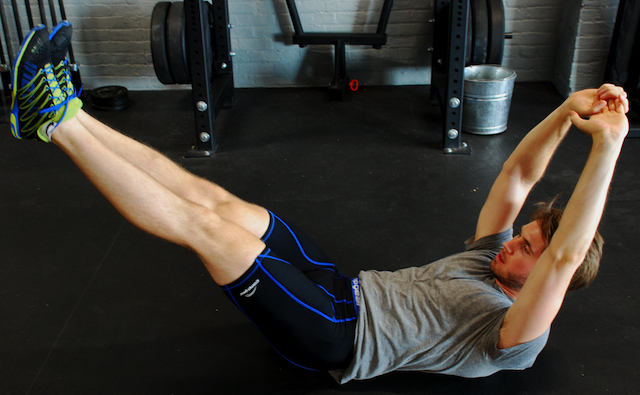 In summary, for $35, CompGear's padded Compression Shorts are great value for anyone looking for basic compression as well as a bit of proteciton during functional fitness training. In fact, the are a bargain for that price.
However, if you had a bit more money and were specifically looking for a pair of high quality compression shorts, then I probably wouldn't recommend these shorts. That's not to say these shorts aren't great, it's just that they aren't as good as some other leading compression brands on the market like SKINS and 2XU.
That being said. As a functional fitness athlete who does a lot of weighlifting and sit-ups, I will continue to wear these shorts while training out of my CrossFit Gym and have no hesitation recommending them to other people who want a bit of protection for thier thights and/or bottoms.