This week, we take a moment to review the AlphaFit Prowler.
Item: The AlphaFit Prowler
Price: $499 AUD
Manufacturer: AlphaFit
Purchase: AlphaFit
In the video review above, Michael talks about some of the good points of the prowler, some of the bad points, and whether or not he thinks you should buy the product. Here is some of what he had to say: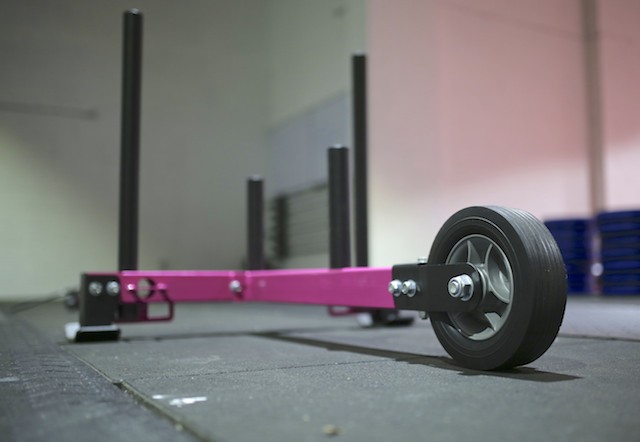 The Good
Wheelbarrow Function: One of the most interesting features of The AlphaFit Prowler is that it is not only a prowler, but it also has the ability to double up as a wheelbarrow. By changing the arms over from a vertical to horizontal position, the sled transforms into a wheelbarrow, allowing you literally wheel it around. This multi-purpose functions is a great feature of the product, and something lacking in many other prowlers.
Front Wheel: The AlphaFit Prowler uses a wheel at the front, instead of a steel base. Not only does this make it smoother to push on surfaces, but it also makes it a lot quieter. Traditionally, a regular prowlers make a lot of noise, especially on concrete surfaces as the metal is scraping along the ground. But the front wheel reduces a lot of this noise, making it much more practical to use, especially in the early hours of the morning.
Amount of Weight: The prowler is tested up to 300kgs, but its not recommended you put more than 200kgs on it. You can add the weight to four different areas on the prowler and distribute the plates evenly. The AlphaFit Prowler can easily hold enough weight to provide a tough workout most CrossFitters.
Look: As well as offering a great range of colours, AlphaFit have spent a lot of time ensuring this product is well built, well designed and eye catching. Having it in your gym will certainly turn heads.
Stack-abilty: The AlphaFit Prowler's are also designed to stack onto one another. If you own a CrossFit affiliate, or if you are running an event and have multiple prowlers, AlfaFit have made it possible to stack them one on top of each other, to allow for more room. You can get more than five of them comfortably stacked on top of each other, which is great for storage and space efficiency.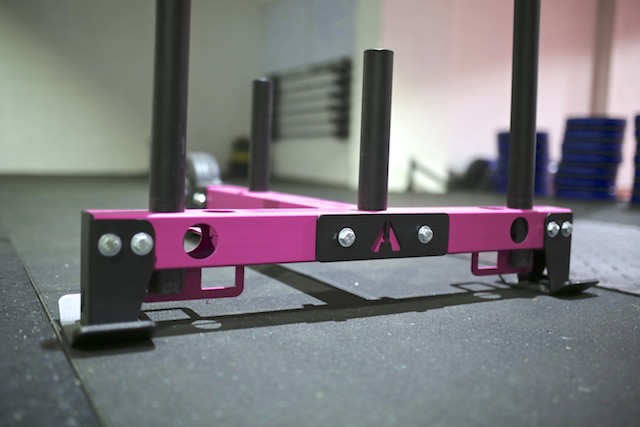 The Bad
Front Wheel: While it has it's positives, the front wheel can also be a bit of a nuisance. Once you push the prowler to the end of a street, or the end of a gym, you then have to turn it around to go back. The wheel actually makes this process a bit harder and can be rather frustrating if you're in the middle of a workout.
Front Arm: The front arm in the middle of the prowler is probably a little bit too short for my liking. Basically, the short length doesn't allow you to add as much weight as you'd like to the middle part of the prowler. Although that being said, the more weight you add to that arm, the more friction it puts on the front wheel, making it slightly easier to push.
Arm Holes: While it's great that the arms are adjustable and can be moved, I've found that the holes the arms slide into can be a little bit fiddly. A few times I thought I had them in position, only to find out mid-way during a workout that they were only half in position. When using The Alphafit Prowler always make sure the arms are securely in position as it can potentially be a safety hazard. I also found when the poles got banged up they became a little fiddly to get into their slots smoothly.
No Latch: On other prowlers I've used in the past, they often have a little latch at the back or front. With that latch people have been able to attach a rope and perform rope pulls or drags, adding another function to the prowler. The Alphafit Prowler doesn't have this addition, despite there being room for it. It really is only a small thing, but something I wish they could have included.
Price: The Aphafit Prowler is Austalian made, from Australian steel, and it is a durable and reliable product. But the downside of this prowler is the fact it retails for $499 AUD. Most of the other prowlers I've seen before retail for a lot less. It's a great product, but for those on a budget, the price tag is a little steep.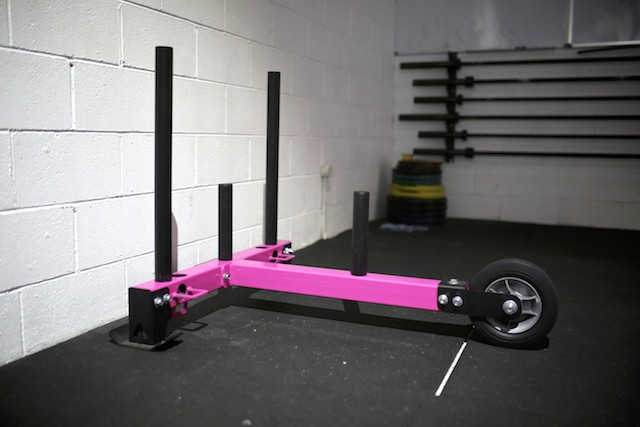 Conclusion
In summary, The Alphafit Prowler is one of the best prowlers I have used before, and is a great buy for anyone looking for a high-end sled.
It is strong, durable, functional, easy to use and comes in a slick design.
However, despite all the positives, I still find the price to be a little bit steep. If you have the money and are looking for a top range prowler, then The Alphafit Prowler is a great purchase and you will be hard pressed to find anything as good as it.
On the other hand, if you are on a budget, there are other items you can spend your money on that offer more value. Many lower range prowlers sell for around $250, and still give you what you need. In addition, you can always go to a Bunnings or a Home Depot and buy a wheelbarrow, or even push your car down the street if you want to save money. Heck in the past I've even used my own car to get a similar workout.
I think The Alphafit Prowler a great piece of equipment but it is not a necessity. So if you have the money, it's a great buy, but if you don't, maybe you are better off looking for something with more value.
[wzslider transition="'flash'"]