This week, we take a moment to review Rogue's Mechanix Vented Gloves.
Item:Rogue Mechanix Vented Gloves
Price: $27.95 USD
Manufacturer: Mechanix
Purchase: Rogue Fitness
What happens when one of the leading brands in functional fitness teams up with a leader in high performance gloves and hand protection?
The Rogue Mechanix Vented Gloves offer protection from rips, Mechanix's signature ventilation, and added grip on the palm area. If you're not familiar with Mechanix, its gloves are known for providing comfort and safety without sacrificing dexterity for hardware-heavy activities like automotive work, using power tools, firing weapons, and now, lifting weights really fast and taking your shirt off.
With over 20 years of experience in making high performance work-gloves, it's a welcome sign to see such a reputable brand like Mechanix expand into the functional fitness market.
To help provide some context on these reviewer's hands, I've worn gloves during CrossFit® workouts – every workout, every day – for nearly two years. Prior to joining Team Glove, I would rip about once a month, when 'Death by pull ups', 'Cindy', or 'Barbara' made it on the calendar. Since joining Team Glove, I haven't ripped in nearly two years. And yes, my gloves match my purse.
I've grown so accustomed to wearing gloves that I attempt and reach new (non-deadlift) PR's wearing gloves – most recently a 1.5x bodyweight clean, heavy enough for grip to matter. While I've sworn by the Under Armour Clean Up batting gloves for the past year because of their lifetime warranty and excellent fit, I was excited to put the Rogue Mechanix gloves through a 30 day, glove abuse chipper.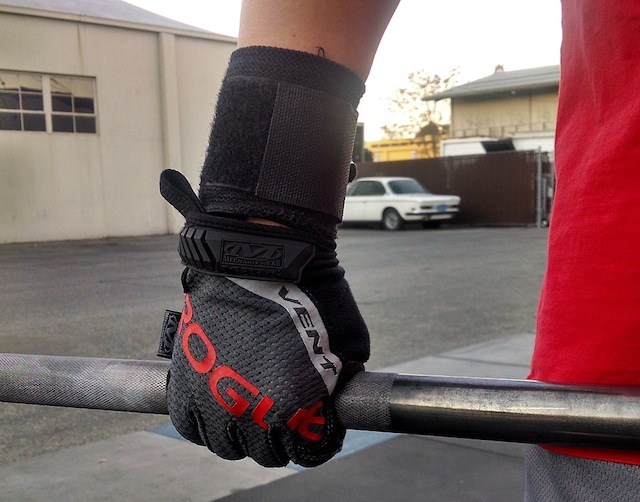 The Good
Material: To instantly burn a fresh pair of leather gloves, you climb to the top of a rope, then slide down with a firm grip. I dropped in to CrossFit Valley of the Moon, keeper of the highest ropes I've climbed in a gym, to put the Mechanix gloves to the test by sliding down the rope seven times with bad intentions. I was shocked to find the gloves not only held up, they showed no signs of damage from my malicious descents. For gymnastics movements, the gloves were no worse for the wear after I ended up doing over 200 pull ups for a particularly ambitious Team WOD – without the material stretching, pinching, or leaving burn marks that plague leather gloves.
Grip: Unless you're wearing coated wide receiver gloves (American football), workout gloves are not going to instantly turn you into Spiderman; the Rogue Mechanix gloves are no exception. That being said, the coated "R" on the palm side adds a bit of tacky surface area, which can be helpful when transitioning to wearing gloves. Let's be honest, some ways of grabbing the pull up bar just aren't conducive to wearing gloves and gloves will compromise your grip to varying extents. However, the material used for the Rogue Mechanix provides a grip as flexible and comfortable as I've experienced.
Breathable: True to its name, the Rogue Mechanix are vented with Mechanix's breathable mesh-like material on the top. The vented material helps keep hands comfortable, even during the longest and sweatiest of chippers. Also, the breathable material helps prevent the gloves from stinking up your gym. If you've worn batting gloves during a workout and didn't let them dry in open air, you know how terrible they can smell after just one workout – especially if you stuff them into the depths of your gym bag (that smell that follows you at the gym; it's you). The Rogue Mechanix should still be dried in open air, even though their cummulative smell is substantially less offensive than sweaty leather gloves.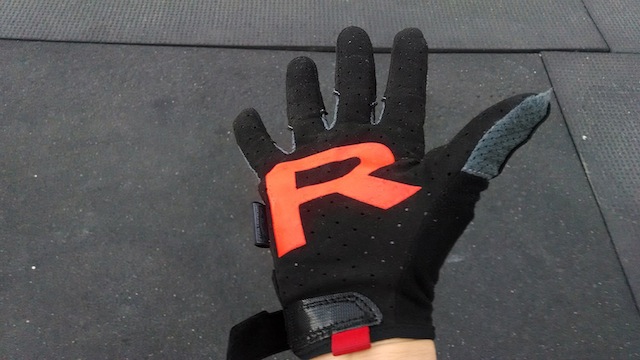 Secure: The best part about the Rogue Mechanix gloves is that the velcro portion is on the palm-side, rather than the top of your wrist. Instead of having to re-attach your velcro after you go into a handstand, rack position, or even toss your "impress the ladies" wall ball, the Rogue Mechanix velcro stays attached more consistently than a top-of-wrist set up.
Warranty: Though it doesn't compare to Under Armour's "Anytime, any reason" (including "They smell bad" or "I spilled juice on them") guarantee, Mechanix gloves are covered for 90 days from the date of purchase, where "extraordinary wear and tear is welcomed". You can feel confident that if your gloves rip during a 400 meter farmer's carry or your best Barbara performance, you'll be covered.
Works with touch-screens: Just in case you need to send a quick text or Instagram selfie between rounds, you won't have to take off your gloves!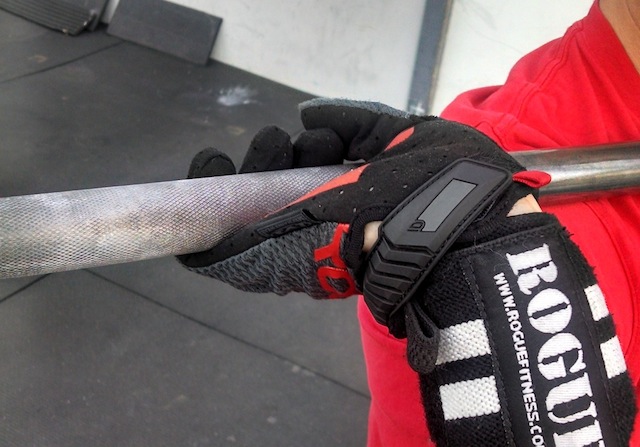 The Bad
Availability: So far, the Rogue Mechanix are only available from Rogue Fitness. As a result, they're not as easy to pick up as a fresh pair of batting gloves. Much like Rogue wrist bands have become synonymous with functional fitness gear, chances are they'll be sold in droves at the CrossFit Games and Regional Events throughout the year.
Stitching: Though I didn't have any trouble with my gloves after a month of heavy, versatile usage, some have reported that their gloves ripped on the seam between the index finger and thumb. That being said, it sounds like these cases happened early in the gloves' lives and should be covered under the Mechanix 90-day warranty if your gloves encounter the same fate.
Extra material: A small gripe, but if you experience a bit of Princess and the Pea sensitivity when it comes to material on your hands, the gloves have a bit more material inside the end of each finger compared to your average batting glove. They don't seem to negatively affect grip or protection in any significant way, but it's worth noting.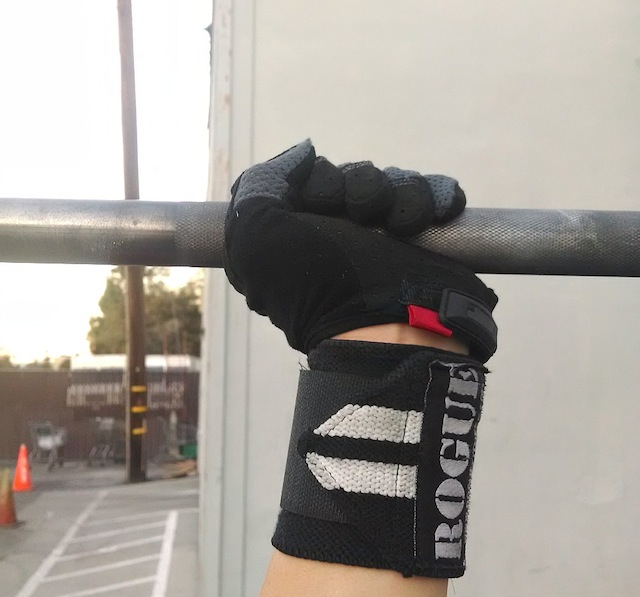 Conclusion
With breathable, yet durable material in the right places, the Rogue Mechanix are an excellent choice for functional fitness athletes in the market for a pair of gloves.
The gloves provide protection with grip that is comparable to, if not better than, most leather batting gloves, while being more comfortable during long workouts because of their breathable material. They provide better grip and durability on rope climbs than most leather gloves, are comfortable on the barbell and pull up rig, and aren't as prone to stretching and repulsive scents as sweaty leather gloves.
If you're looking for flexible and breathable gloves to protect your palms that don't break the bank, the Rogue Mechanix should be very high on your list.