This week, we take a moment to review the SPS Power Bar Jack.
Item: SPS Power Bar Jack
Price: $50 AUD
Manufacturer: SPS Gear
Purchase: www.SPSGear.com
It's a task most CrosssFitters hate – putting the weights back after a WOD!
Like most athletes, I like to push myself to the limits during every workout, meaning that when I'm done, I have barely any energy to take the weights off the bar and back on the rack where they came from.
So when I heard of the SPS Power Bar Jack, I was excited to try it out.
The SPS Power Bar Jack is a tool to help athletes take the weights on and off a barbell. Using the Jack is simple and easy. Designed in a 'V' shape, all you have to do is hook it under the bar, and then step down with your foot until the bar raises into the air. From here you can load and unload weights with ease. When you're finished simply lift up the handle to return the bar to the ground and you're done.
To get a better idea of how it works we filmed the video below:

The Good
Strong design: The SPS Power Bar Jack is made from sturdy metal and won't bend or break, no matter how much weight is on the bar. We tested it with 250kgs loaded (all the weight we had available) and the Power Bar Jack lifted it with the same ease of 60kgs. Impressive.
Easy to use: One of the funniest things about working out at box is watching people who just killed themselves in WOD, peal themselves off the floor and then struggle to take the enormous weights they were lifting off the bar. It often looks more like an episode of The Crocodile Hunter wrestling the biggest baddest animal, then a person taking a few bumper plates off a bar. With the Power Bar Jack this is no longer a problem and makes putting your weights away just that much easier. Additionally if you're a box owner you don't have to worry about newbies pulling their backs out and also means transition times on a day when you include deadlifts into a workout or cleanup post WODs is just that much faster. The jack slips under the bar with ease, and doesn't require much foot pressure to get it raised.
Perfect for partner training: Great tool if you are training with a partner of the opposite sex or anytime two people are sharing a bar and the Rx weights differ. Rather than drain yourself inbetween reps, the SPS Power Bar Jack makes the task of changing weights easy.
Price: Selling for AUD$50, the SPS Power Bar Jack is one of the best value products I have ever used!
Light and easy to transport: Weighing a mere 2.5kgs/5.5lbs the SPS Power Bar Jack is lightweight, measuring 52cms (about 20inches) making it easy to pick up and use whenever necessary.
The Bad
Can cause some damage: Unfortunately the product doesn't come with any padding or rubber in the hook area, and with regular use it can cause some slight damage. I used it several times on my black Rogue bar and had a bit of the paint scratch away. Nothing major at all and if you had a standard steel bar you would never notice it, but something to be aware of if you are really pedantic about your gear.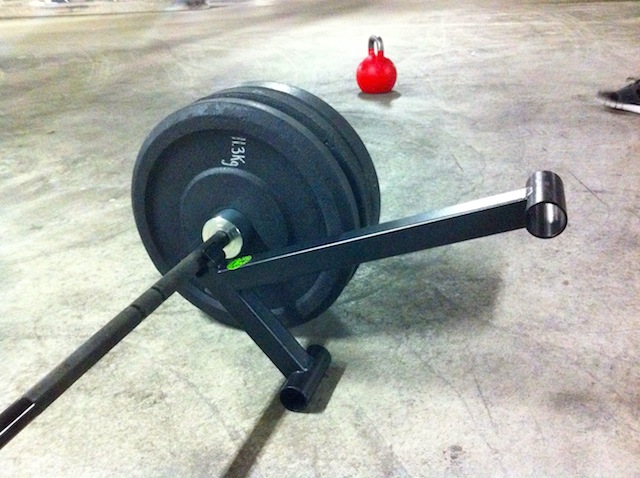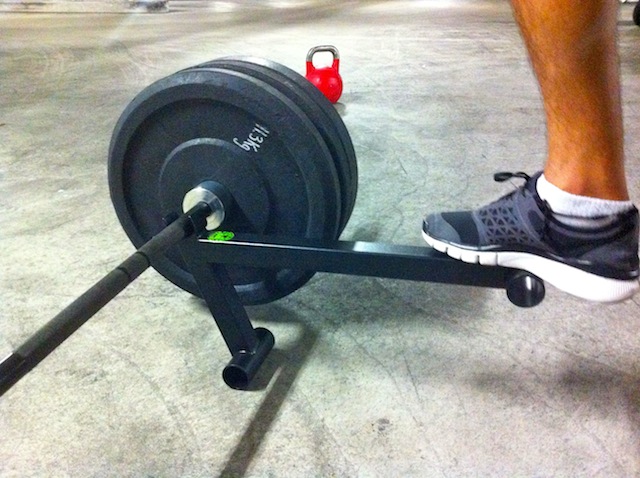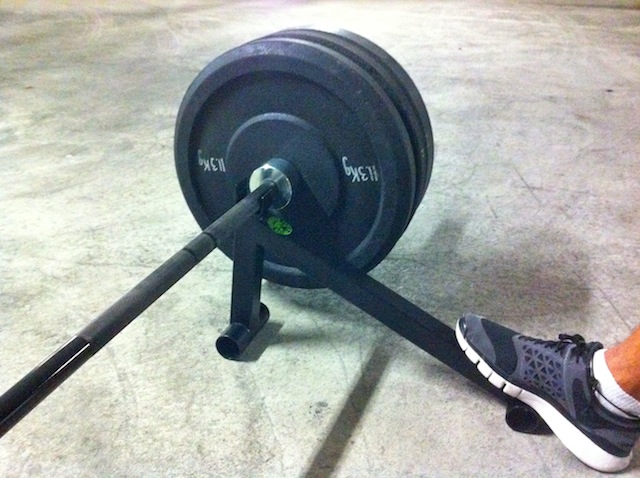 Conclusion
The SPS Power Jack is one of the most commonly used accessories in my garage gym and with a price tag of $50 AUD, it's pretty damn good value too. Personally I love the thing and for the price can't see why it is not in every box and garage gym.
Sure some people will say taking the weights on and off the bar is part of their workout but those people have not spent a week with the SPS Power Bar Jack. Trust me, it is one of those tools once you use it for awhile you will realise just how useful it is and begin to wonder how you lived without it.
The tool comes in handy in a bunch of workouts, especially working out with others. It also makes the task of loading and unloading weights so much easier, meaning you won't accidentally throw your back out trying to take weights off the bar when you're completely fatigued.
SPS has a bunch of great functional fitness items, but this is definitely one of our favorites. I would have no hesitation recommending this product to any CrossFitter, or anyone looking for a cool, handy accessory for their gym.
Rating: 10/10