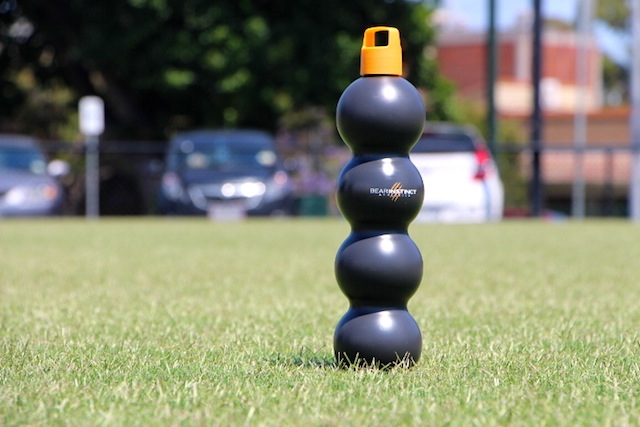 This week we take a moment to review the MyoBottle by Bear Instinct Athletics.
Item: Bear Instinct Athletics MyoBottle
Price: $44 AUD
Manufacturer: Bear Instinct Athletics
Purchase: www.BearInstinct.com.au
There are a lot of functional fitness products flooding the market these days, and I do mean a lot. Apparel, supplements, protein, equipment – you name it, and someone probably sells it. 
With so many products available for purchase, it can be tough to weed out the fluff and determine which purchases will actually help you to improve your overall levels of health and fitness. After using the MyoBottle from Bear Insitinct Athletics for the past year, I can safely say it is one of the better products I have purchased in my time. Unlike many other standard water bottkes, the MyoBottle, is designed by functional fitness athletes and comes a unique cross-functional feature.
Designed by Melbourne-based sports chiropractor and athlete Dr Benjamin Roufail, and brought to life with the help of industrial designer Rohan Bush and visual communications specialist Hayden Miller (both CrossFitters as well), the MyoBottle is like a massage-therapist-slash-water-bottle that fits in your gym bag.
The MyoBottle was designed to release muscle tension, improve mobility, and provide hydration for athletes. Its contoured design, a distinguishing feature of the MyoBottle, mimics the pressure of a health practitioner's elbow, allowing athletes to target deeper layers of muscle tissue, increase flexibility, mobility, and performance, and improve blood circulation. It also holds 1.5 L of water to keep you going through intense training sessions.
Let's take a closer look at Bear Instinct Athletics' MyoBottle: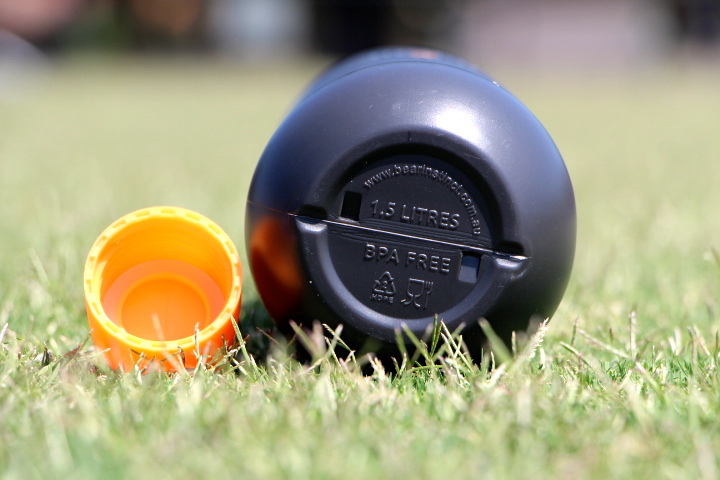 The Good
Cross-Functional Design: One of the best and most enticing features of the MyoBottle is its cross-functional design, which is right at home in a cross-functional fitness community. The MyoBottle's first function is, quite obviously, a water bottle. It holds 1.5 L of water, which is enough to keep me hydrated during an intense training session with few, if any, trips to the tap to refill. 
The MyoBottle's second function is, less obviously, a deep tissue roller. The MyoBottle's bubbly, countoured appearance is not just a nice aesthetic touch. The broad four-ball shape of the bottle serves a similar purpose to a traditional foam roller, but its hard surface mimics a health practitioner's elbow, allowing anyone who rolls out on the MyoBottle to target and release tension in deeper layers of muscle tissue.
Strong, Sturdy & Portable: The MyoBottle is made of strong, durable, high density polyethylene (HDPE). This is extremely beneficial for a few reasons. HDPE is strong enough to hold the weight of even the heaviest  athletes, so it won't bend, distort, or buckle when you start making 'mad gains'. The MyoBottle is also tough enough to stand up to clashes with kettlebells, bumper plates, or dumbbells, although we I wouldn't advise dropping a 25 kg plate directly on the bottle just for fun. HDPE is also a BPA-free, eco-friendly, dishwasher-safe material, which makes it safe for you, the Earth, and your dishwasher!
In addition to being strong and sturdy, the MyoBottle is far more portable than most other foam rollers. If you find yourself traveling to and from competitions quite often, or are just traveling for fun, the MyoBottle is a fantastic companion that stows easily in a backpack, carry-on bag, or suitcase. I've found the MyoBottle great to use at airports during layovers and to break up some of the muscle tension that builds up during long road trips.
Finger Loop Bottle Top: The bottle top also features a finger loop, meaning that you can pick it up and move it quickly during a WOD. The edges of the finger loop are also thin enough to slip between the clasp of a carabiner, allowing you to attach it to or hang it from just about anything.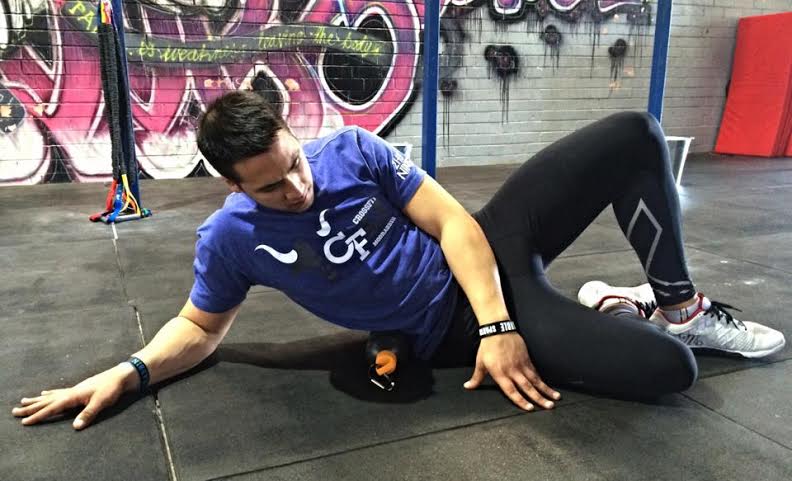 The Bad
It Hurts: When the guys at Bear Instinct Athletics say that the MyoBottle mimics a massage therapist's or health practitioner's elbow, they mean it. Using the MyoBottle is definitely an uncomfortable experience, but the pain is a beneficial sort of discomfort. Releasing muscle tension by activating deep muscle tissue is supposed to be uncomfortable, because it means that you're ridding your body of any little niggles that could turn into more debilitating injuries later on.
Low Height: When you lay the MyoBottle on its side to use it as a roller, it doesn't sit very high off the ground. You end up shuffling uncomfortably between your elbows and your hands to roll out, moreso than you would on a relatively large-diameter foam roller. If you're short, this is a mild annoyance, but if you're a bigger athlete, this is potentially very frustrating.
The Price: $44 for a water bottle, even one that doubles as a portable massage therapist, is a bit steep. The purchase of the MyoBottle is certainly an investment, but in my opinion its portability and durability translate into frequent, long-term use that negate the high up-front cost.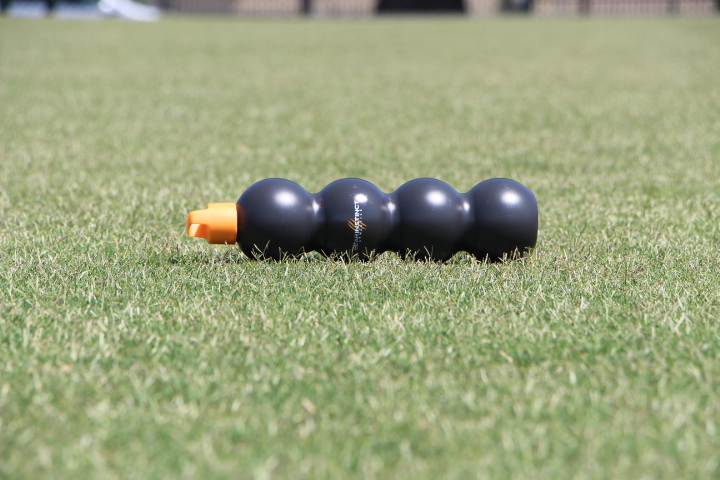 Conclusion
All in all, I love the MyoBottle. I was originally a bit skeptical that the MyoBottle would ever replace my beloved foam roller, but its cross-functional, sturdy, portable, and, most importantly, effective design has won me over.
This bottle can be used by athletes in their CrossFit gyms, at competitions, on the road, and even at home. It's also extremely beneficial for anyone who regularly participates in physically demanding activities, such as contact sports, running and weightlifting.
$44 is certainly a steep investment for a water bottle, but in this case, I think it's worth it. The MyoBottle delivers much more than hydration, and has the potential to remain any functional fitness athlete's close companion long after they purchase it.