We all know the girls—Fran, Annie, Diane, Helen, and so on—they're a few of the CrossFit benchmark workouts. But I'm not here to talk about those girls. I'm here to talk about the girls. Breasts, boobies, puppies, bust, fun bags, cans—whatever you like to call them, they need to be contained. When the girls are getting away or just plain getting in the way, it's time to buy a new bra.
I'm not at all big chested and am actually quite average when it comes to chest size. So when it comes to sports bras, I'm not looking for an over-the-shoulder-boulder-holder. Still, a little support can go a long way to making it through a MetCon.
Since I'm terrible at replacing my sports bras—in fact, I possibly still have one from high school—like the female that I am, I decided to ask around and find out what other girls use for their girls (and yes, we will talk about anything). I heard about a few different brands, but Lululemon definitely was the most popular. So that's the direction I headed. And the bra I landed on was the lululemon Run: Bound Bra.
The Good
Comfort: If the bra isn't comfortable, I'm not wearing it. Suffice it to say, that it fit like a glove. Still I put this bra through two different tests to confirm. Test one was the all day, no athletic wear. There's no way I'm going to run and test the athletic limits of an article of clothing if it can't stand up to hours of me lazily watching marathon Law & Order SVU reruns on my couch. Sounds silly, but you'd be surprised at how many pieces of clothing don't pass.
Test two was Nancy, which is a combination of running and overhead squats. Running is one of my least favorite things to do in the world. If my clothing annoys me in even the slightest way, it can make running my personal hell—and sometimes even cause me to walk (I'm not too proud to admit that). Let's just say that I ran the whole thing and never gave the bra a second thought. That's a win in my book.
Design: This is about the cutest freaking sports bra I ever owned. It's a shame to have to put a shirt over it—or maybe it's motivation to stop my ice cream addiction so that I could wear the bras as a top. The bra has multiple criss-cross straps that don't rub or get all twisted up.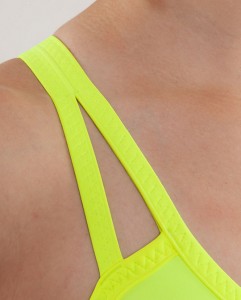 Let's Get It On…and Off: Some sports bras require contortionist-like flexibility to be able to get them on and off. And with the cute criss-crossy straps, I was convinced I would be tangled up in this bra in seconds. But I was proven wrong. I had no problems getting the bra on or off. I'm telling you, this is a sports-bra miracle for me!
Shape: This bra should be called the Justin Timberlake, because it's bringing sexy back. For a girl who is of average size, I don't get many opportunities for the girls to be tight together without the help of padding. While the Run: Bound bra has added space for padded inserts, all on it's own it was cleavage city—no trying necessary. I almost listed this as a bad, because I don't need that for CrossFit, but it's an added bonus when it's something you rarely get to experience.
Tagline: I know, I know, it has nothing to do with the bra, per se. But I'm a sucker for good marketing. I find this bra's tagline to be brilliant: "Running is full of ups and downs but let's leave the girls out of it." Kudos to that copywriter. 
The Bad
Colors: At the time of writing this, the Run:Bound bra is only offered in black, white with black polka dots, and blinding neon yellow. I wish more color options were available.
Size: The sizing was a tad on the small side. Not a big deal, but something to point out. However, for anyone female with big girls, I'm going to guess that this bra is not for you. Give it a try to check, but I'm pretty sure that you'll need more support than what is offered.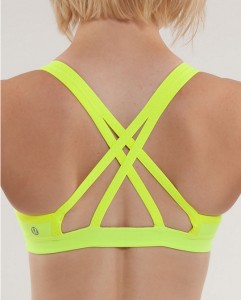 Back Fat: My body shape is a pear, so this wasn't really an issue. But if you're an apple with a little extra weight on your back, my craze for criss-cross straps might make you crazy. It's just an opportunity to say, hey, look at my back fat—now in fun patterns!
Pad Less: As I mentioned above, the bra comes with openings to insert padding, and even boasts about it on the tag.  But it doesn't actually come with padding. That just seemed a bit weird to me.
Price: I almost didn't bother listing the price being a bad, because it should be expected to come with the Lululemon name. The brand makes great workout gear that flatters a woman's shape while helping her excel in her athletic pursuits. That should come with a price tag. Still, at a retail cost of $58, it's not chump change either.
Conclusion
While I ended up having five goods and five bads, I was still very impressed with the performance of this bra. I felt the bads were minor and wouldn't sway me away from purchasing this bra in the future. Lululemon knows what they're doing with athletic gear. And my girls would like to thank them for it.
To find out more on the Run: Bound Sports Bra you can check it out on lululemon's website here. However the bra is currently sold out but don't despair because I provided the link to their full bra range here.
Rating:
9 out of 10
[wzslider transition="'slide'"]