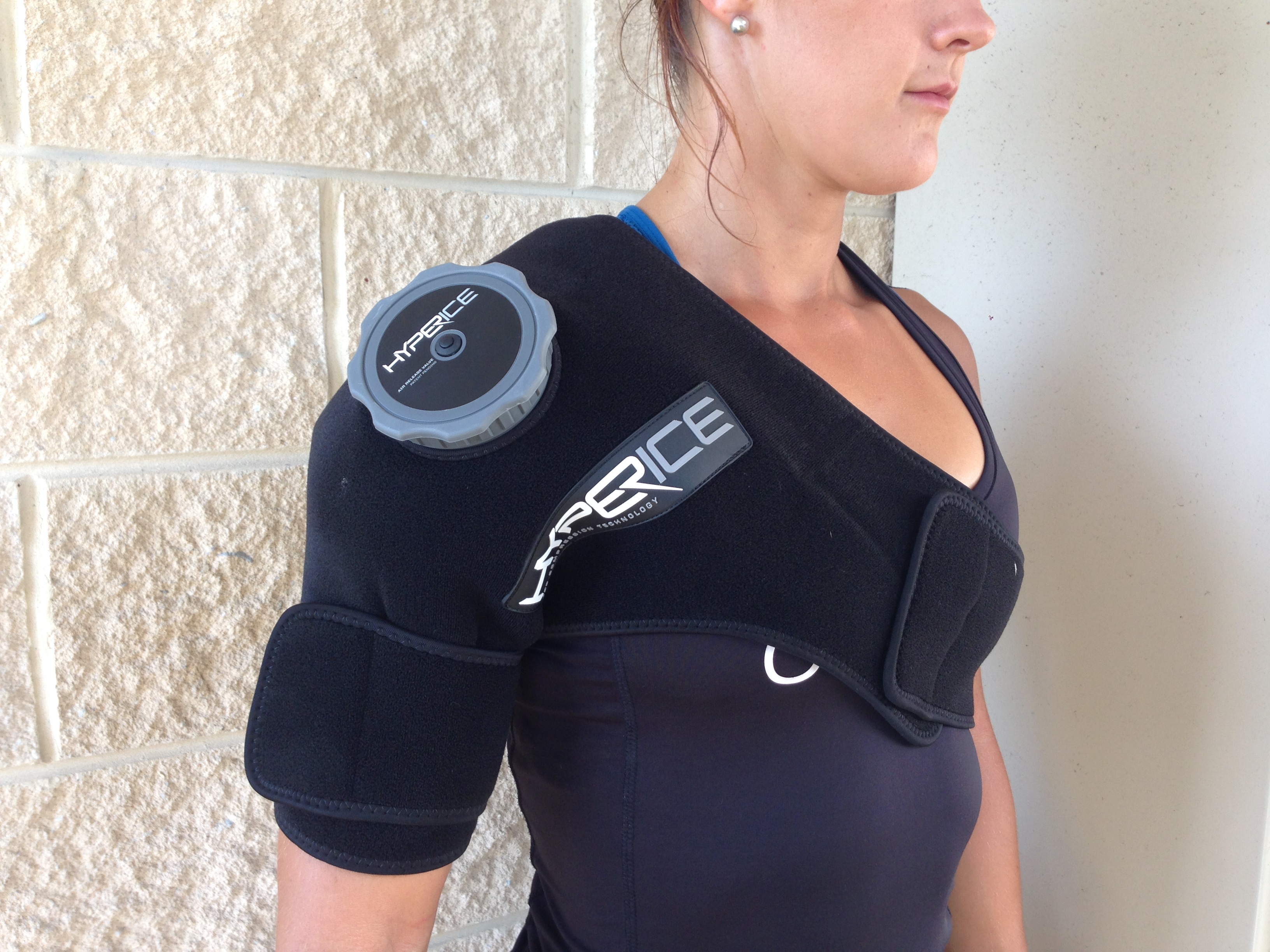 Item: HYPERICE Ice Compression Device: Shoulder
Price: $100 USD 
Retailer: HYPERICE
Purchase: www.Hyperice.com
For serious athletes, effective recovery is almost as important as the training itself. Ice therapy (cryotherapy) in its varied forms – icing, cold baths, contrast baths – is widely applied across many sports. Whether you are employing cryotherapy to a specific injury (usually as part of the RICE method – rest ice compression elevation) or using it to enhance recovery, the underlying principal is the same; applying ice causes your blood vessels to constrict (vasoconstriction) which reduces bleeding, swelling and can reduce pain.
Clinical trials surrounding cryotherapy do not provide conclusive results on the efficacy of using ice or ice baths to improve recovery or to minimise DOMS (delayed onset muscle soreness). There are a number of interesting articles you can check out if you want to learn more including Ice bath after exercise?, RICE revisited and The use of cryotherapy as a prevention method for delayed onset muscle soreness.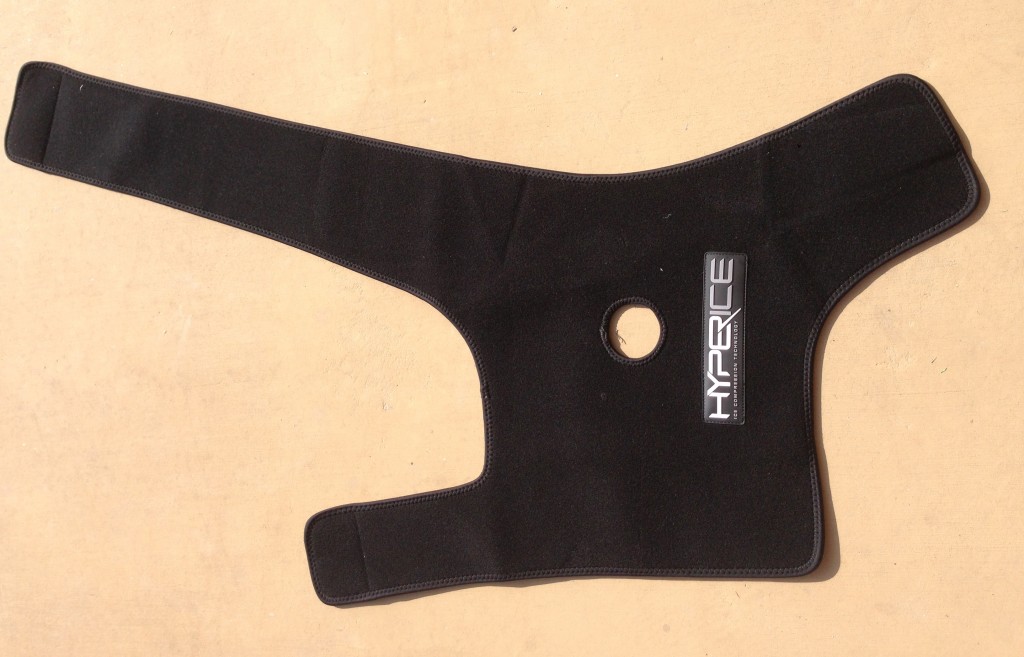 Although the clinical support might not be as clear cut as we believe, cryotherapy in its varied forms is widely practiced and endorsed by sports practitioners and health professionals. As athletes, many of us feel that the relief that an ice pack or bath can provide to achy joints or other injuries is indisputable. Despite our good intentions however, for many of us our icing practice consists of applying a bag of frozen peas to the affected area after we have received an injury. HYPERICE has come up with a much more sophisticated system that combines the benefits of compression with the application of cold therapy.
HYPERICE has designed a range of products to deliver ice therapy including the HYPERICE Ice Compression Device: Shoulder.
The key features of the HYPERICE Ice Compression Device: Shoulder include:
3mm premium grade compression neoprene with plush finish
Ice cell with air release valve for maximum compression
10″ x 10″ icing surface area
Secure design so that you can remain mobile while icing.
I used the HYPERICE shoulder device for a few weeks. I also passed it onto a few other athletes of varying sizes at my CrossFit gym to see how it worked for them in terms of fit and comfort.
Here's what I thought of the HYPERICE Ice Compression Device: Shoulder: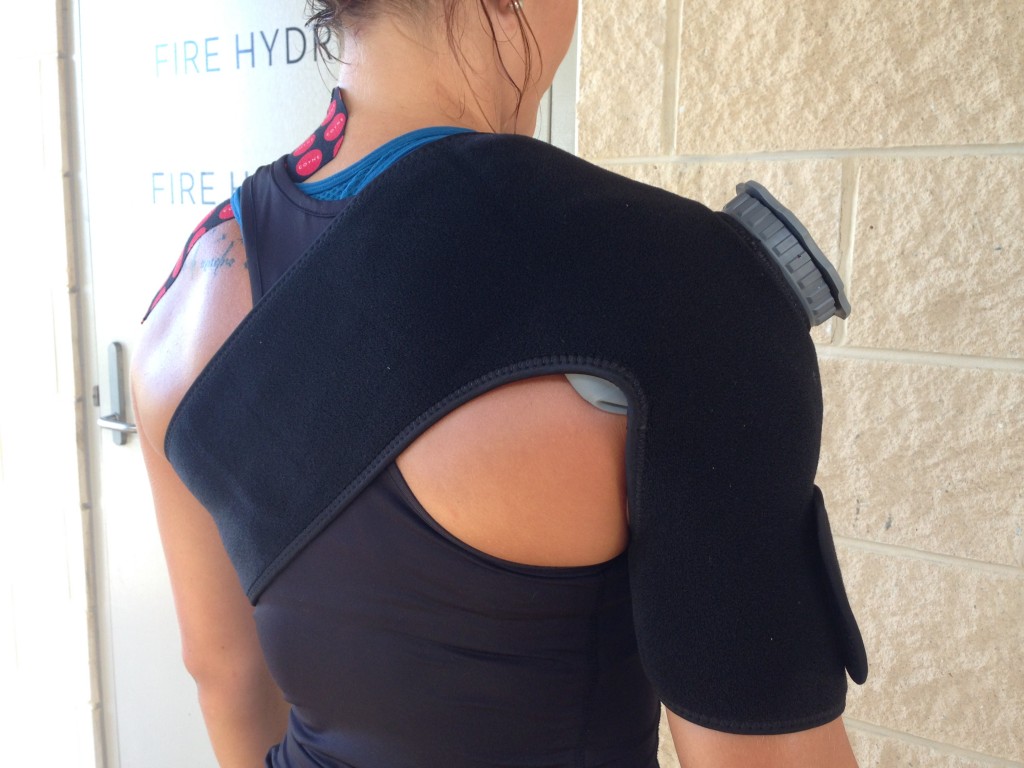 The Good
High quality: The device appears to be made of high quality materials and constructed very soundly. The neoprene is thick but soft to ensure a comfortable fit and all the seams are very low profile so it doesn't catch or irritate in places where it comes into contact with your skin. The Velcro style fastenings are very smooth and while they still fasten securely they don't appear to pick up as much hair and general debris as the rougher type fasteners
Ice cell and air release bag: The ice cell is made of a thin rubber latex that is approximately 10″ x 10″. It has a wide, screw-top cap which makes it very easy to fill with ice and to hold securely while you press out excess air and secure closed. The best thing about the ice cell is the air release valve which helps evacuate air once the cell is closed. As the ice melts, you can press the valve every couple of minutes to continue releasing excess air and to maintain the best possible moulded fit against your shoulder.
Mobility while icing: Unlike the DIY method, the HYPERICE compression device secures the ice pack to the affected limb which keeps both of your hands free and allows you relative freedom of movement. At the gym this means you could pop the device on and continue your cool down on a bike or stretch out other areas while you are icing. At home, the device allowed me to continue daily tasks rather than being stuck on the couch holding an ice pack in place for twenty minutes.
Once size fits all: You don't need to worry about measuring up of guessing your size with the HYPERICE shoulder device. The adjustable straps allow you to fit the device to most sizes. As a smaller female, I did find that I had to fold the seam at my neck because there was too much material, there were also a couple of extra buckles or folds in the material that athletes with broader shoulders did not experience. That said this did not have appear to have a detrimental effect on the compression or comfort of the device.
Other uses: HYPERICE promotes the fact that the shoulder device can also be used to treat shin splints or calf injury. I practiced this and it is easy to adapt the shoulder device to wrap around the lower leg too. I have a feeling that this handy bonus feature will be put to very good use.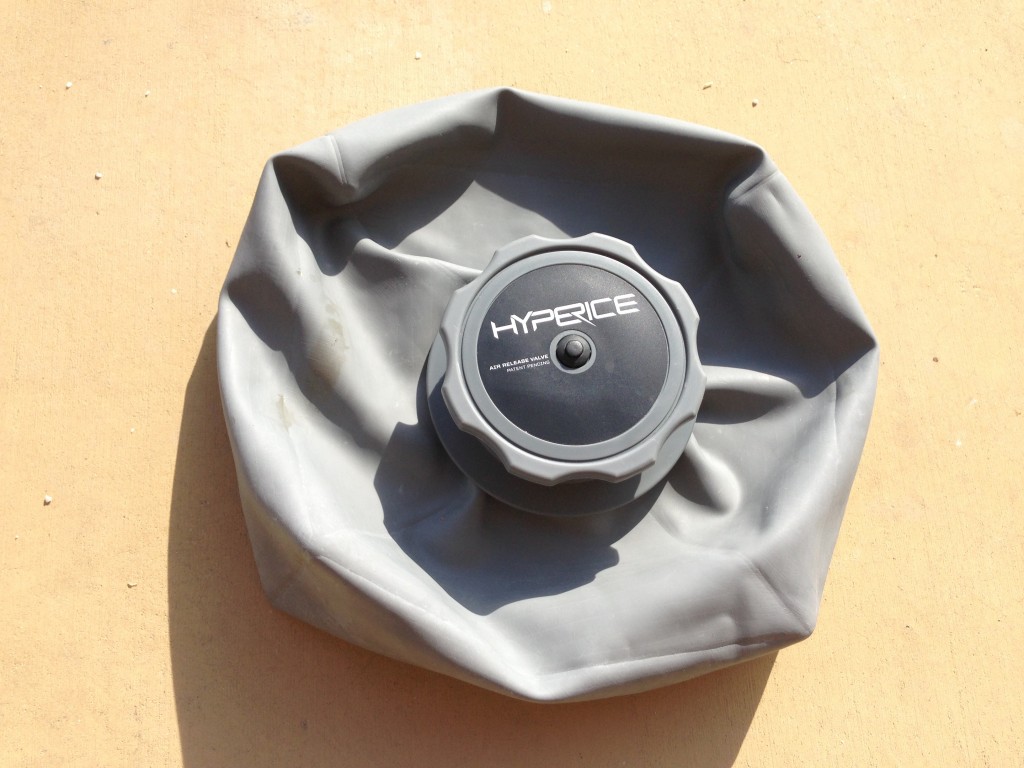 The Bad
A little confusing at first: Although there are general pictures, the device does not come with specific directions regarding how to fit the device. The first few times you apply it, it can be quite confusing to work out which way to lay it across your shoulder. Some printed arrows or direction on the inside would assist with this. Once you have worn the device a couple of times, it becomes easier.
No relief from cold discomfort: Sometimes I find that the continued application of ice packs causes some cold-induced pain and discomfort to my skin. Obviously if you are just holding a traditional ice pack in place you can alleviate discomfort by lifting or moving the ice pack for a few seconds. With the HYPERICE it is much harder to wiggle the ice cell around or to get your hand under it to provide relief if needed.
Unilateral application: At $100 USD, the HYPERICE Ice Compression Device: Shoulder is not a cheap investment so the fact that the device is designed for one side of your body only (right or left shoulder) is a considerable drawback. If you were using their knee device you could transfer this to either leg as needed however with the shoulder device it can only be applied to the dedicated side. This is not such an issue if you have particular injury on one shoulder however if you wish to use the device for more general prevention and recovery you would need to consider investing in a device for each shoulder.
Ice chips: The HYPERICE device works with all types of ice however the preferred type is crushed ice or small ice nuggets rather than traditional ice cubes. The ice cell will conform to your body better with the smaller ice particles but unfortunately this type of ice is much less readily on hand for most people at home or at the gym. That said, the device is still effective with larger ice cubes so this is a relatively small drawback overall.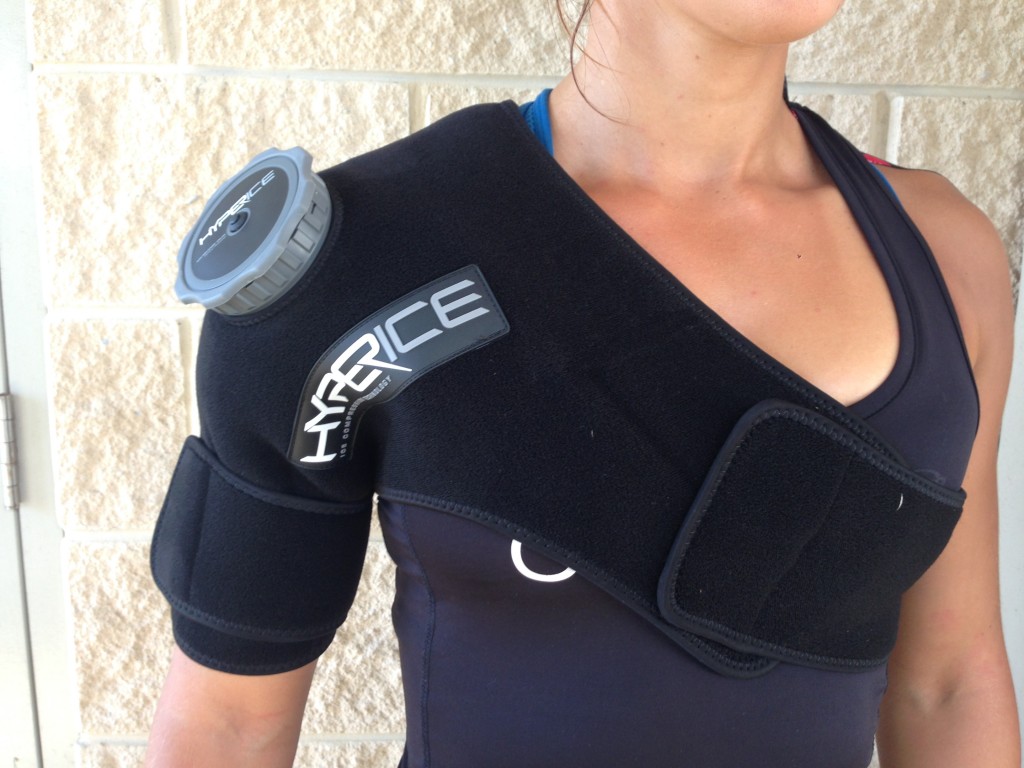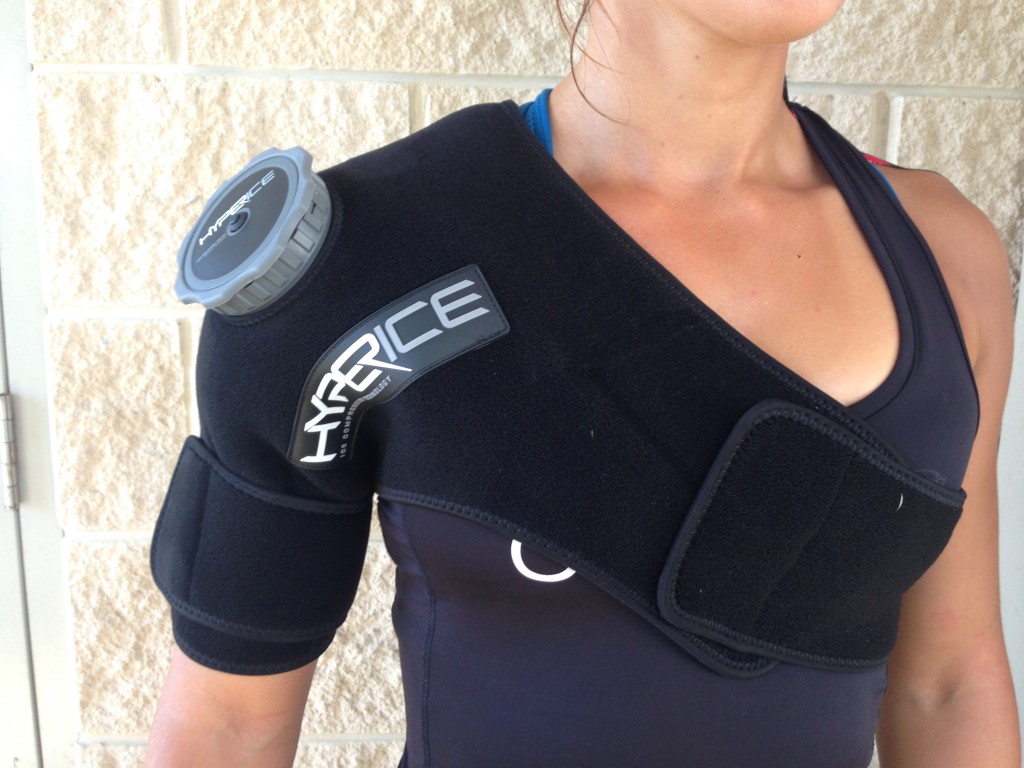 Conclusion
As an athlete with hyper mobile shoulders and a tendency to experience subluxation (partial joint separation), I am very happy to have access to the HYPERICE Ice Compression Device: Shoulder. I am also really pleased that it gives me an easy option for icing my shins and calves that still allows me to move around and do things.
One of the athletes at my CrossFit gym with persistent right shoulder issues also borrowed the device for a couple of weeks so that I could see how it fit on a male athlete. He loved it so much that he said it lived out on his dining room table so that he could use it after every training session.
I would certainly recommend it as a worthwhile investment for anyone using ice therapy to manage persistent shoulder issues.