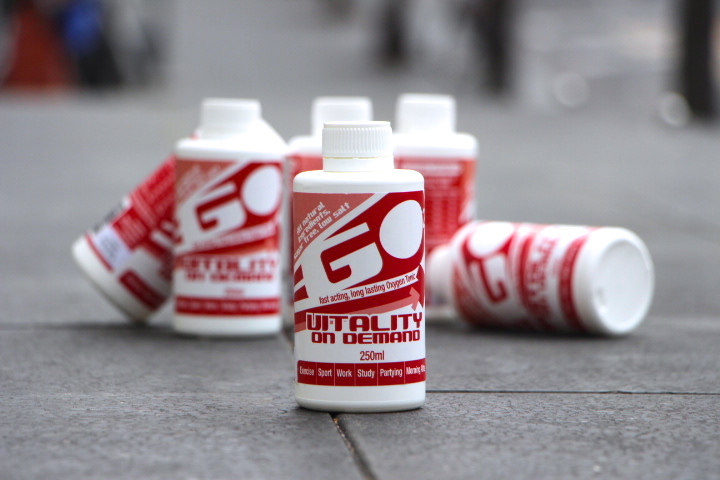 This week we take a moment to review the fast acting nutritional liquid: GO2 Oxygen Tonic.
Product: GO2 Oxygen Tonic
Price: $30 AUD (250ml)
Manufacturer: GO2 Life
Purchase: www.GO2Life.com.au
In recent years there has been a lot of research into just how important oxygen is in acheiving peak performance. It is widely claimed that increased levels of oxygen can assist in increasing energy levels, endurance, recovery, brain function, sleep quality and metabolism among many other things.
Nowadays, coaches and athletes are looking for as many ways as possible to increase oxygen levels. In recent years, fitness companies have also released a number of products to help achieve this, including the Elevation Training Mask, the O2 Trainer and Hyperbaric chambers.
However, it seems many have overlooked the simplest way to get oxygen into your body: ingesting it!
Unlike other products which help increase oxygen levels in your body, GO2 is an Oxygen Tonic that is consumed orally.
According to the GO2 website:
"It is a nutritional liquid that is highly concentrated with bio-available Oxygen – that is, Oxygen that the body can easily absorb and use. It increases the Oxygen level in the bloodstream to help meet the body's energy needs. GO2 can be used easily any time, anywhere as a healthy alternative to 'energy' drinks – and much, much more."
I first tried GO2 Oxygen Tonic in late 2014 and have been using it regularly over the past nine months before, during and after training.
Here are my overall thoughts on the product, including the good and bad features and whether or not I think it's worth buying: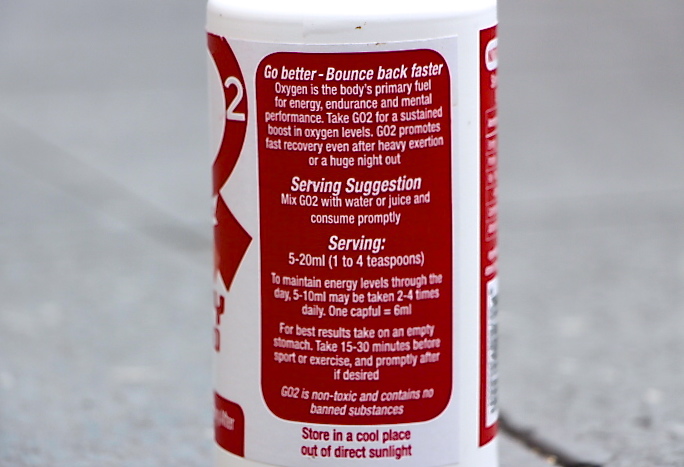 The Good
The Science: Now I'm no scientist or researcher, but some of things GO2 claims to acheive is quite impressive. Oxygen is the most important nutrient we consume, making up two thirds of our body mass. In short, it's responsibile for 90% of the body's energy. By taking GO2 daily, oxygen levels can also increase giving our body more life force.
GO2 claims that by drinking the Oxygen Tonic, athletes may experience increased power and explosiveness, better endurance, reduced lactic acid, faster recovery between sets and training days, less fatigue and better mental focus.
Endorsed by Respected Athletes: It is always comforting knowing a product you are using has been endorsed by professionals. GO2 has a number of sponsored athletes competing in a variety of sports (cycling, running, gymnastics), who all swear by the product.
The product itself is relatively new to the functional fitness world, but already a number of top CrossFit athletes are already using the product regularly. Two-time CrossFit Games competitor Khan Porter uses the stuff regularly and claims it helps his breathing and aerobic capacity significantly. Other former Games athletes who use the product include Denae Brown, Chris Hogan and Amy Dracup.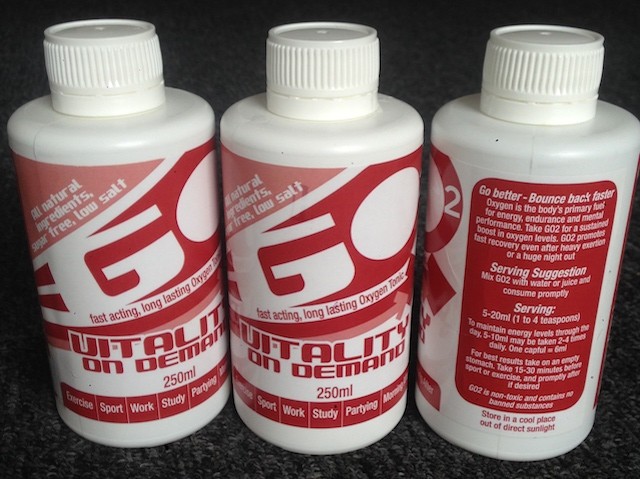 Sleep: One thing I certainly noticed while taking GO2 Xtreme Oxygen is an improvement in my sleep. Personally, I find it hard to sleep for more than eight hours on any given night, however, after taking GO2 I often slept longer than that. In addition, it seemed to be a bit better quality sleep, where I'd wake up feeling energetic rather than tired.
Good for Hangovers: Oxygen can help the body with many things, one of which is overcoming a bad hangover. On the bottle itself, GO2 encourages users to take a dose before going to bed after a big night of drinking. I usually don't get hangovers, so it's hard to gauge just how effective it is, but every time I took the Oxygen Tonic after a night out, I felt relatively fine in the morning.
Natural: GO2 Oxygen Tonic is made up of de-ionized water, Diatomic Oxygen and Atlantic Sea Salt – all natural ingredients. So it's fine for anyone gluten free, or for those who are fearful of taking supplements containing unkown chemicals and preservatives.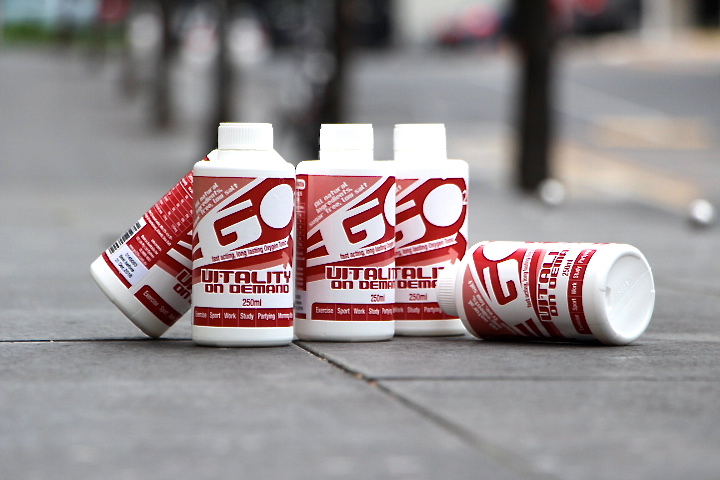 The Bad
Taste: The biggest criticism of GO2 Xtreme Oxygen is the taste. This stuff literally tastes like chlorine straight from a local pool!
Personally, I didn't find it THAT bad, maybe because I've spent a lot of time swimming and countless hours in local pool lanes. So I guess i'm just used to the taste of chlorine. Nonetheless, it's not a great taste and I often need a chaser afterwards to wash the after taste away. For those who really struggle with the taste, however, you can always mix it in a glass of juice to soften the blow.
All in all though, the bad taste is comforting to a degree. I mean, i'm sure GO2 could have added a ingredient to imporve the taste, but that would probably compromise the effectiveness of the product and make it less natural. So if anything, the bad taste is probably a reflection of how organic the tonic is.
No Huge Improvements: If i'm being totally honest, I have to say that I didn't actually experience noticeable gains while using GO2 Xtreme Oxygen. For a few months I was training consistantly while taking GO2 and my overall numbers and times were relatively consistent. Sure, I broke a few new PR's along the way, but that happens when you are training regulalry. Then, when I went off the supplement for a month, I didn't notice my numbers drop away at all. So I kind of feel like GO2 didn't really help improve my overall performance too much. I'm sure it did a little, but not enough for me to have a 'wow' experience.
That being said, it's not like my performance decreased while taking the Oxygen Tonic, so by no means were there any negative side effects. I did feel my recovery was slightly better while taking it, and I did feel a bit better during workouts, but when it comes to overall performance, I couldn't honestly tell you I noticed an improvement.
It has to be noted, however, that this is just my personal experience with the supplement. On the flipside, there are dozens of athletes who swear by the product and claim it helps improve thier endurance, explosiveness, overall wellbeing, recovery and athletic performance. You can read some of their testimonials by clicking here.
Price: A 250ml bottle of GO2 Oxygen Tonic sells for around $30 and contains around 25 servings. So if you're working out five days a week, one bottle will probably only last you a month. That means, if you want to include GO2 Oxygen Tonic into your supplement diet you're probably looking at spending around $300-$400 a year, which is a decent price to pay if you're on a budget.
That being said, $30 isn't a huge price to pay to try out a new supplement. So it's not like you have to invest a huge amount of money just to see what you think of it.
In addition, there are discounts if you buy in bulk, with a 1 Litre bottle selling for $84 and a three-pack (250ml bottles) for $80, so the price can be brought down.
Hard to Access: GO2 Life is a company based out of Australia with all shipments coming out of there. While they do deliver to all parts of the world, a lack of local distributors means the shipping fees may be a bit expensive for those outside of Australia.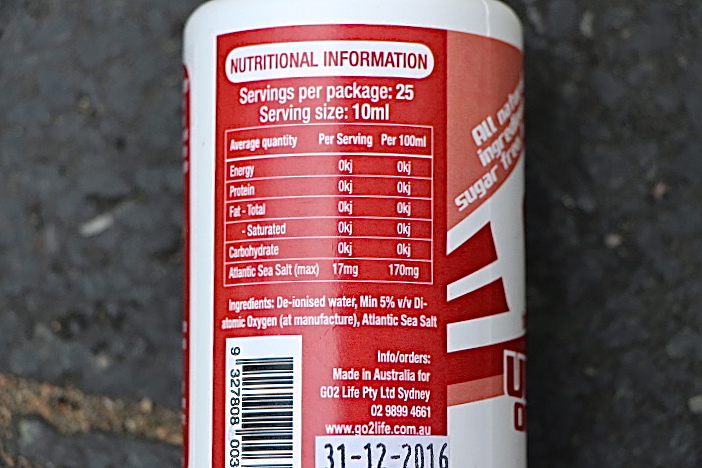 Conclusion
Overall, I'm still a bit undecided about GO2 Oxygen Tonic.
From a science point of view, I love what it's all about. And from what I know about oxygen and performance, this supplement is perfect for anyone. However, I never really experienced any significant increase in athletic performance while taking GO2 Oxygen Tonic.
As I said earlier, I certainly didn't notice a decrease in performance either, and there were no side effects, so there's no harm whatsoever in taking it. However, I was hoping for a more noticeable increase in performance than what I experienced.
That being said, I have still had a good experience while testing this product. My sleep improved, my recovery time seemed to improve slightly, and overall, my attitude to training and wellbeing was positive while taking it.
In addition, it helped with my hangovers after a big night of drinking (which might not apply to all athletes) and it's always good to know you're taking a supplement which is natural and free from any unhealthy chemicals.
In the end, it comes down to price for me. If I had a free, endless supply of GO2 Xtreme Oxygen, I'd take it daily as I believe it can only help improve your overall performance, and I did experience several benefits while taking it. However, for $30 for a months supply, and given the fact i'm not a professional athlete, I can do without it.
It must be said, however, this is just my experience with GO2 Xtreme Oxygen. I know many athletes who swear by the product and who have had noticeable improvements while using it. So maybe it's worth trying it for yourself…