Just moments ago Director of the CrossFit Games, Dave Castro made the announcement at the Civic Auditorium in Santa Cruz that the final workout of this year's CrossFit Open is:
CrossFit Games Open Workout 13.5:
4 minute AMRAP of:
15 Thrusters (100 / 65 lbs)
15 Chest to bar Pull-ups
*4 minute bonus for every 90 reps (3 rounds) completed.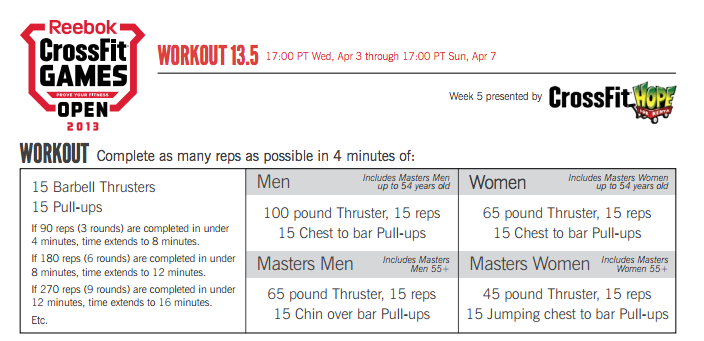 Make sure you check out the full workout description of the 13.5 workout here or here.
Now it's time to watch some top Games athletes do the workout with Camille Leblanc-Bazinet and Samantha Briggs throwing down first, before former Games champions Jason Khalipa and Rich Froning go head to head.
Movement Standards
Additional Details For 13.5