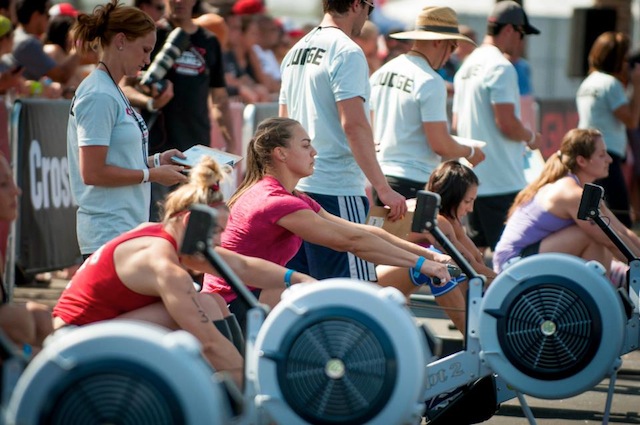 There's something for everyone in this 5-movement chipper coming at us in the CrossFit 14.4 Open Workout!
While the chipper format can be an attractive one at first glance, a workout like this is often deceptive in how hard it will hit you. Take a look for example, at any one movement. You could roughly estimate your pace for the given reps of that exercise; however, once the chipper hits you, all bets are off.
Like any of the workouts during the Open (and in CrossFit at large), athletes will be best served by taking a close assessment of their strengths and weaknesses that appear across the exercises. Being too conservative in any one area will cost you time, but blasting large sets out of the gate will inevitably lead to longer rest periods. It will be up to each athlete to be as aggressive as possible while ultimately finding a way to keep moving.
Before breaking down each movement, I want to suggest to athletes who are planning on getting to (and through!) the muscle ups to consider how much time they need (or want…) left on the clock when they reach the rings. From there you can almost work backwards with pacing each part of the chipper so you have some hard deadlines of when you need to move forward at each station.
The Row
The pace of each athlete will vary quite a bit, but needless to say you shouldn't sprint the row unless you are a rowing specialist and you know your body will recover immediately. Use your pre-workout warm-up to pace out 6-10cal intervals so you know what the splits feel like and what they look like on the monitor. It will serve most people to start off strong and hold a pace through the first 50 calories, then slow down just a bit for the final 10 calories in preparation for the next stage.
Toes-to-Bar
My approach would be to break up the reps sooner than most in hopes of keeping away from singles for as long as possible. The real key here is to keep a strong position on the kip so that the swing is doing most of the work and the abs don't need to pull as far. The stronger the back swing, the easier your legs will snap forward to the bar. Rest fast and jump right back up there. Small sets don't have to hurt your time if you can eliminate rest and grab the bar for the next rep.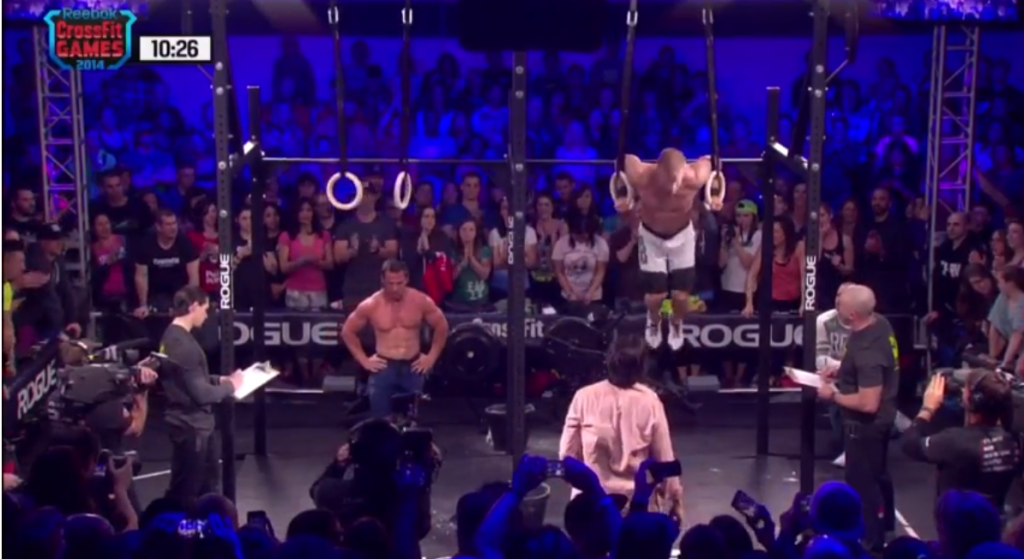 Wall balls
However uncomfortable or challenging for some, this can be an excellent place to recover for others. Whichever way you feel about wall balls, use this time to move as efficiently as possible and avoid any wasted energy. Focus on some simple key points – weight in your heels, knees out, squeeze your butt, catch high – and make each rep better than the next. With wall ball, I often distract myself from any discomfort by focusing on the accuracy of a perfect throw to the target.
Cleans
Moving to the power clean will be when the affect of all that has come before starts to wear the athlete down. It took two of the fittest men in the world over 2-minutes to complete this portion as 30 singles. If a power clean is your thing and you plan on making up some time here, my advice would be to start with a few singles just to keep moving and then switch to larger sets as you find your rhythm.
If you're planning on sticking with singles for all 30-reps, you'll save energy by not controlling the bar back to the floor, but you will open yourself up to 30 more chances to rest so follow the bar down and grab it as soon as it settles.
Lastly, if this is where your workout ends because you don't yet have muscle ups, you will need to pick a slightly different strategy in order to charge the clock and finish the 30 cleans with a fast split time. No holding anything back, sprint those clean to the finish line!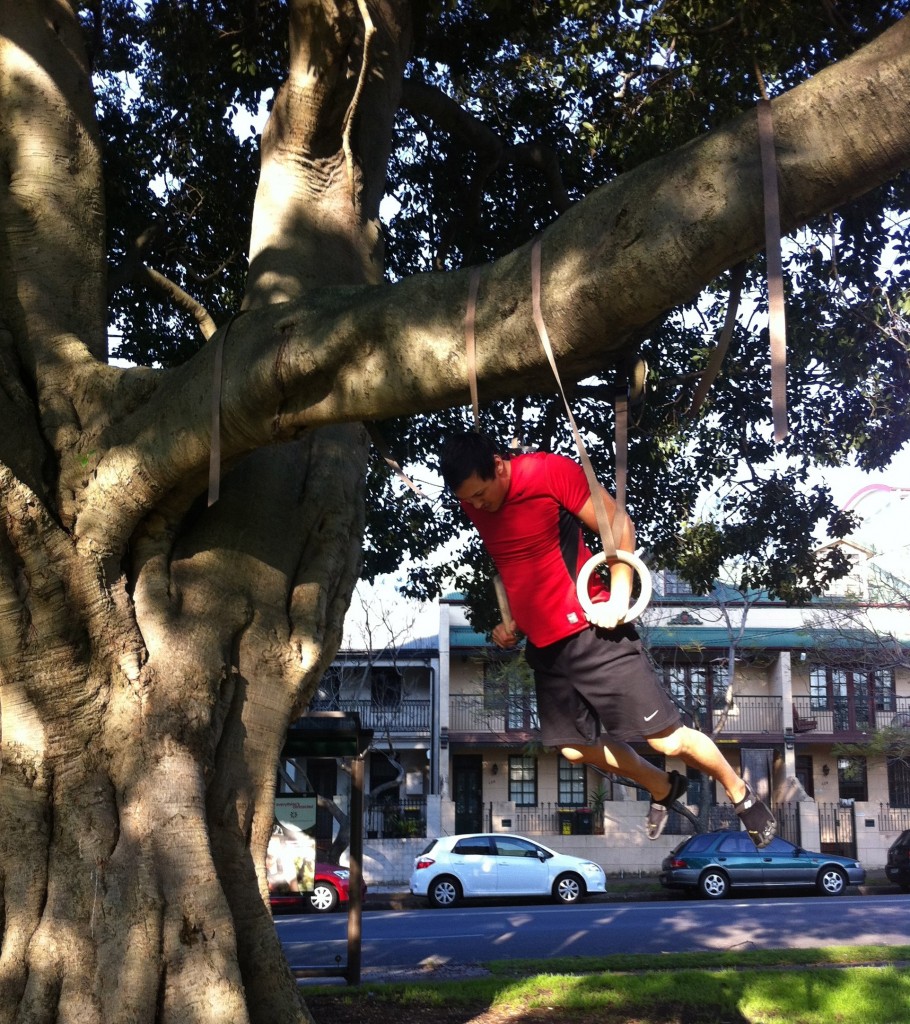 Muscle-ups
When you reach the muscle-ups, the fatigue that has set in will cause a lot of athletes' mechanics to break down some. Don't be alarmed if your first few muscle up attempts are a bit off. Remember a few simple cues that get you back on track – big swing, aggressive hips, head through fast – so that you get stronger with the more reps you do.
For the muscle up monsters, you need to charge those 2s or 3s while you can, hit a single as a recovery or a reset and then get back on another double. It seems easier said than done, but when you're tired you need to recruit that bigger and tighter kip swing to save the arms from doing too much work. If muscle ups are still a weakness for you, don't waste your time and energy jumping back up too soon and risking missed reps, but instead stick to a recovery count that you know works for you (e.g. muscle up, chalk, 5 count, GO!)
Take this workout one movement and one rep at a time. You know where to push yourself and where to recover better than anyone, so stick to your game plan and don't get sucked into someone else's. Good luck and have fun!