After very recently announcing their first sponsorship of Elisabeth Akinwale, Bos Creek is quick to add a second member to the grass-fed beef team with their selection of Katie Hogan.
"I am so excited to have a sponsor that can provide me with quality beef to fuel me for my training and competitions," says Hogan.
"My nutrition is a huge part of my training and recovery. I have been on a very high protein diet for the past year and a half, which has helped my performance across the board. In addition to the macronutrient balance that my coach has me on, it is also very important that I keep the quality of the food high."
Bos Creek, a dependable supplier of premium grass-fed beef exclusively for the CrossFit community, was drawn to Hogan's passion for nutrition.
"Bos Creek is trying hard to build a team of athletes that represent more than fitness," says Kenneth Chung, owner of Bos Creek. "We look for athletes that embody certain values because we are more than a supplier of artisan beef, we are a lifestyle."
Hogan's CrossFit career began in 2008, but she came to her first WOD with an impressive athletic resume that included being an All American in both volleyball and track and field.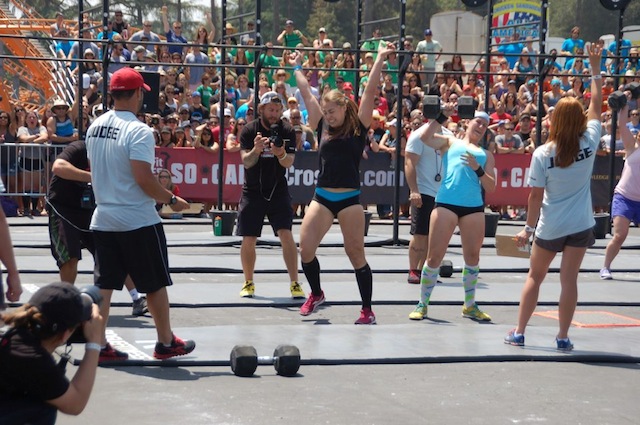 "Katie is an easy fit into the Bos life," says Greg Russo, Bos Creek Chief Marketing Office. "She exemplifies the attention to detail in both training and diet that it takes to become an elite athlete, in CrossFit as well as in her past success as a collegiate athlete."
Having a beef company sponsor Hogan is huge change from the 13-year vegetarian she used to be.
"I think nutrition can work differently for everyone, but my body was telling me that it needed something more. Once I started eating meat again, I gained more lean muscle mass, lost fat, and increased my performance in all areas of my sport," says Hogan.
The nutritional impact has led Hogan to compete in both the 2009 and 2011 CrossFit Games, tie for first place in the 2011 SoCal Regional, and reach an Elite Total in an SPF powerlifting meet.
Bos Creek adds to a lengthy list of Hogan's current sponsors, which include Reebok, Muscle Pharm, Kill Cliff, Well Food Co, and RockTape.
With Akinwale and Hogan making up the current Bos Creek team, one has to wonder if the ladies will continue to take the lead. "We are working on selecting some male CrossFit athletes, and are currently in talks with some big names in the community," says Russo. "Stay tuned."