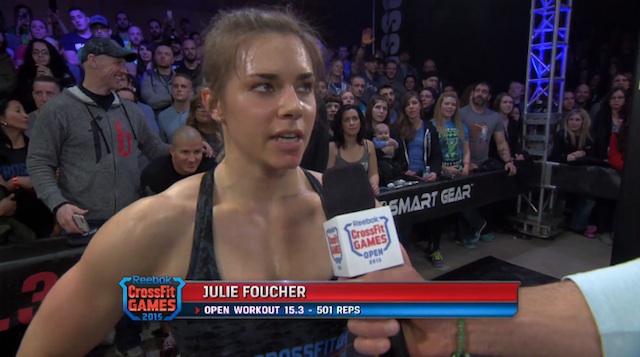 After a tough 14 minute triplet AMRAP, made up of muscle-ups, wall balls and double-unders, it was Julie Foucher who beat Lauren Brooks in the live workout announcment for 15.3.
The workout itself is similar to a few Open events we have seen in previous years, although it was the first time we have ever seen muscle-ups begin a workout! For many athletes it may be a struggle just getting through the first 7 MU reps, however for Foucher and Brooks, they had no such problems.
From the beginning both athletes cruised through the opening sets of muscle-ups with Foucher looking slightly more at ease on the gymnastics movement.
By the end of the first 50 wall balls, Foucher had built a nice little lead, but it soon evaporated as she struggled with the first set of double-unders, failing on multiple occasions. By the time the girls finished the opening round, Brooks had actually snatched the lead for the first time all workout.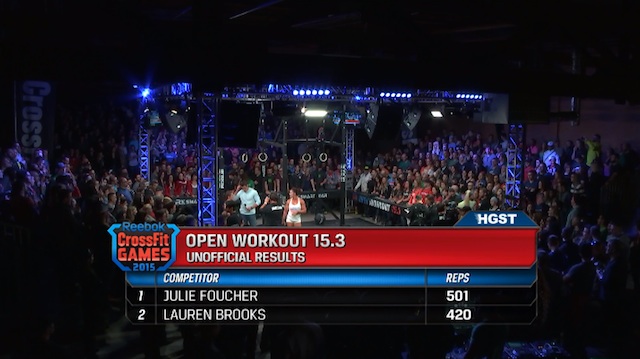 However, the medical student Foucher, quickly regained the upper hand as she cruised the through the second set of muscle-ups while Brooks broke her reps down into smaller sets.
For the next two rounds it was a case of Foucher extending her lead on the muscle-ups and Brooks reducing the deficit in the double-unders. But by the time Foucher started her fourth round she had built quite a large lead, with more than 100 reps on the scoreboard at one stage compared to Brooks.
It was on her final set of muscle-ups that Brooks started to really show her fatigue, breaking her reps down to singles and often failing. In contrast, Foucher was doing sets of three reps in the muscle-ups and was flying through her fourth set of wall balls when the clock entered it's final minute.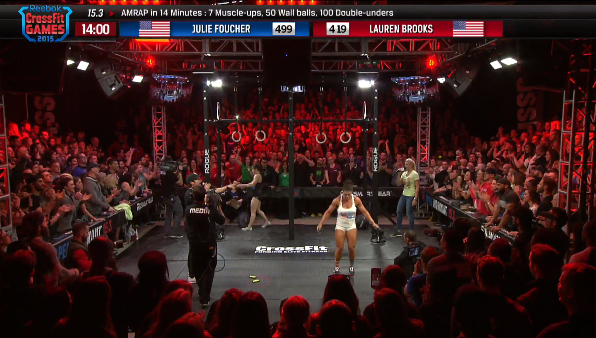 With just seconds to go Foucher went unbroken on the wall balls as she tried to break the 500 rep barrier. She did so with just two seconds on the clock and ended the workout on a score of 501, which will surely be hard to beat.
Brooks also finished the workout strongly to end up with a score of 420.
For a full breakdown of the Foucher vs Brooks head to head battle in the CrossFit Open 15.3 live announcement workout, check out our live blogging of the throwdown, which can be found by clicking here.
For the full description of 15.3 you can find the workout details here, and for the full breakdown for all divisions you can find that info at the CrossFit Games website by clicking here.