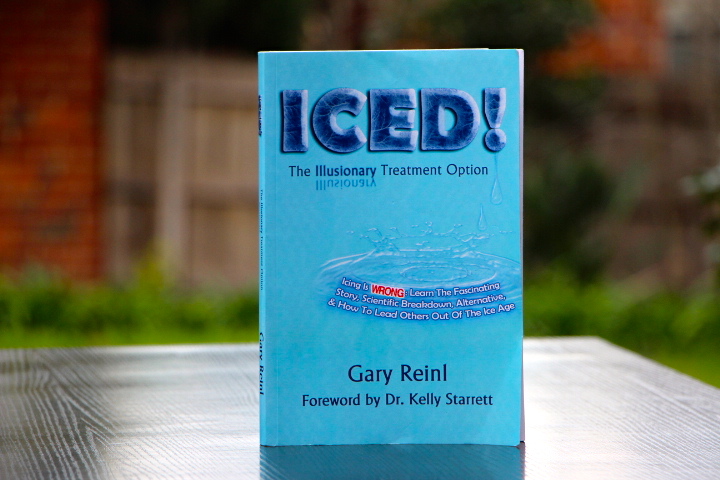 This week we take a moment to review the book "ICED! The Illusionary Treatment Option" by author Gary Reinl.
Item: ICED! The Illusionary Treatment Option
Price: $16.99 
Author: Gary Reinl (Foreword by Dr. Kelly Starrett)
Page Count: 205
Purchase: Amazon
I'm going to start this review by stating that for the majority of my life, like millions of other people, i've been an 'icer' when to comes to injuries. After a tough game of football, i'd jump in an ice bath. When I sprained my ankle, I iced it. If I was trying to get over a niggling injury leading into a big sporting event? You guessed it, I iced it!
There is no hiding the fact that up until this year, I have been an avid user of ice as a treatment option.
But after reading Gery Reinl's book: ICED! The Illusionary Treatment Option I'm starting to question why I have been so obsessed with using ice for so many years.
For those who have never heard of Gary Reinl, he's a trainer/physician with over 40 years experience in the fitness industry. During his time he has worked with some of the world's leading athletes and sporting teams. In the functional fitness world, many of you may have heard his name after he featured in a collaborative video post with Dr. Kelly Starrett a few years ago where they two revealed some hidden truths about icing.
It's far to say Reinl is one of the world's biggest advocates in changing the way we think about ice as an effective treatment option. Throughout his book, Reinl basically argues that icing the human body is not always ideal and that decades of poor medical advice has led to a culture of icing, which is not the most effective treatment option.
I must admit, when I first picked up the book, I was quite skeptical about Reinl's claims. Like many people who been icing injuries for years, it's hard to believe you have been doing it wrong for so long just because one man says so.
However, after reading his book, and doing a bit of my own research, I tend to agree with what Reinl is talking about. What I got from the pages was a new found opinion on effective treatment options for injuries, and more of an understanding of cold therapy and what it really does to the human body.
ICED! The Illusionary Treatment Option is definitely an 'eye opener' and a book that will leave you questioning why you've spent so many years icing injuries?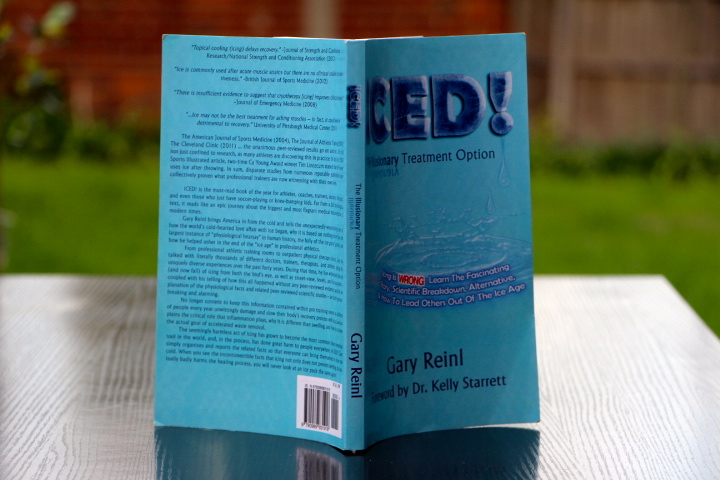 The Good
Solid Argument: As I mentioned earlier, I was already skeptical of Reinl's claims before I even opened his book. However, he presents a very valid and well constructed argument about how society has got it wrong when it comes to icing. The book starts off talking how our obsession with icing came about and how it soon evolved from something we'd do when we sever tissues (like cutting a finger off), to something we now do every time we damage tissues (like sprains, bruises etc.). Reinl makes the point that it didn't take long for homes across the world to be stocked up with ice packs, and sporting doctors calling out for ice every time an athlete injured themselves. Then, using stats and real life examples, he goes on to talk about why icing isn't as great as we may think it is.
Backed Up with Research and Studies: Reinl is a veteran in the fitness/medical industry and knows what he is talking about. This is evident in his detailed use of research figures and study results throughout the book. It's clear that Reinl is not some backyard critic with an opinion, but rather an informed professional who can back his claims up with solid stats and figures.
Good Narrative: Reinl is a good story teller and the book is full of real life examples and captivating stories from his own life that work well to emphasise his arguments. Reinl also writes in a captivating way which makes it easy for readers to understand his point: that icing only delays the healing process in the human body and that inflammation is now actually a bad thing, but rather a critical stage that must occur for the body to heal itself. Using very detailed and descriptive examples Reinl allows readers to grasp the point that icing only delays the inflammation process and as a result, slows down he healing process.
Endorsed By Kelly Starrett: It's always easier to have faith in a product, service, or treatment methodology when it is endorsed by a trustworthy figure. In CrossFit, Kelly Starrett is one of them. Starrett, like many other doctors around the globe, are right behind Reinl in his push to change the way we think about icing. His foreword at the beginning of the book only makes it easier for us to have faith in what Reinl is writing about.
Offers Alternative Treatment Options: While Reinl spends most of the book telling us why icing is bad, he also gives us a detailed breakdown of which treatment options we should be using for specific injuries. Toward the end of the book he lists of a number of alternatives for specific injuries like lower back, shoulder, knee injures etc.
Some Good Analogies: It's generally easier to understand and grasp an argument through the use of good analogies. Throughout the book Reinl uses grocery shopping to compare inflammation and swelling, and likens a toothpaste tube to fluid dynamics. His use of analogies makes it easier to understand his claims about ice.
In Depth: This book is very in depth and certainly gives readers a detailed understanding of many issues surrounding icing and cold therapy. I have no doubt a number of people will walk away from reading this book thinking they are experts in 'icing' and how to treat injuries in the most effective manner.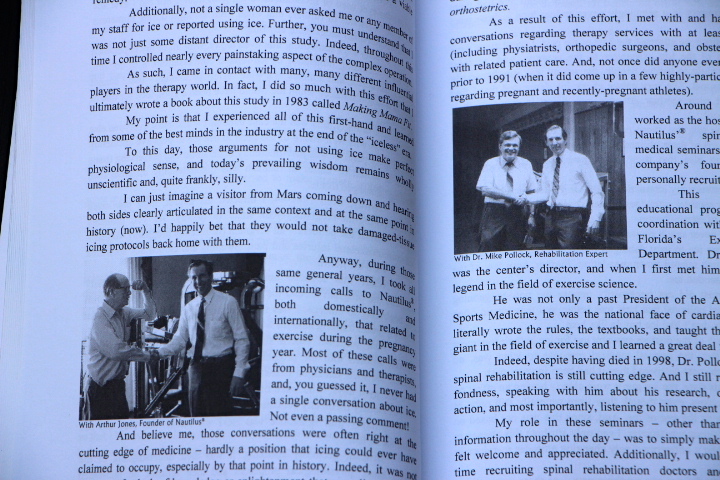 The Bad
Repetitive: While ICED! The Illusionary Treatment Option is very detailed and informative, it is also a bit repetitive at times. I definitely felt like I was reading the same thing over and over again a few times during the book and would often read the same argument, or point, made in a different way later in the book. Personally, I think it's about 50 pages too long and felt I could have grasped the same understanding with fewer pages.
Too Much About His Personal Life: While Reinl's life certainly comes across as interesting and unique, there is probably a little bit too much about his personal life included. It's all good to use examples of your life to illustrate a pint, but at times I felt it was more a case of storytelling and occasionally went of track.
Spelling Errors: By no means was this book littered with spelling errors, but I did notice a few along the way. Not a huge criticism, as we all make spelling errors from time to time (this site included), but I felt another thorough proof read before publication may have eliminated some of them.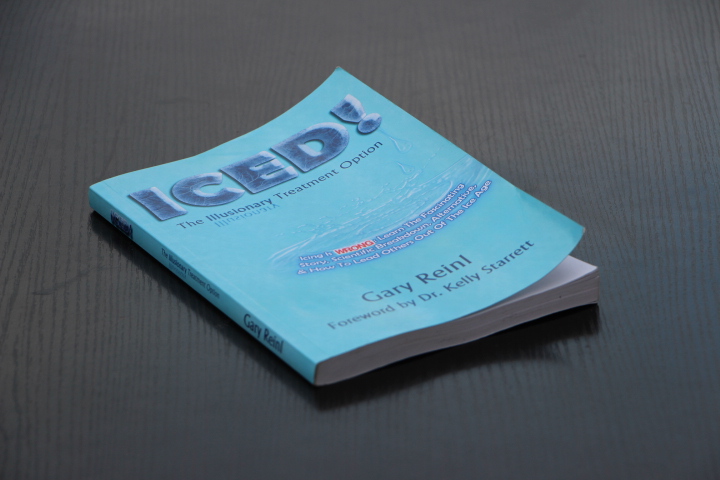 Conclusion
I'm very happy I was given the opportunity to ready this book. Had I not, I may very well still be icing my body on a weekly basis, still believing it to be an effective method of treatment.
ICED! The Illusionary Treatment Option is a great insight into icing and the hidden truths about cold therapy. As I read the book I could really relate to what Reinl was stating and his arguments and points all make complete sense to me.
While it may be a little repetitive at times, this book is a great eye opener for many people, and no doubt it made me question some of treatment methods I had been using for decades.
I would encourage any athlete, trainer, or coach to read this book and make their own mind up on the matter. Either way, it provides detailed information about icing, uncovers some of the myths about cold therapy, and gives us some great alternatives to use instead of icing.
There is no doubt the book has made me question the way I use ice and cold therapy moving forward.