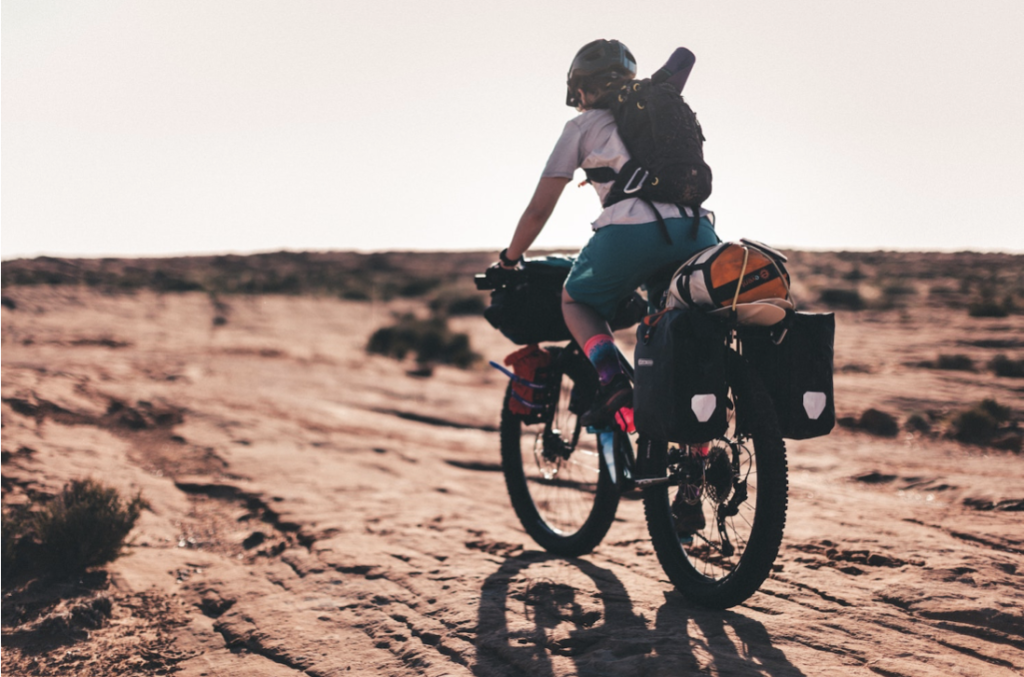 Are you a backpacker who is looking for a new sport? Or a cyclist who tours but wants to try a rougher trail? Then maybe you want to combine both adventure and start bikepacking. Go outside and try traversing some less traveled trails and roads with your backpack and bicycle.
What is bikepacking? You are most probably familiar with backpacking, carrying with you all the essentials you will be needing on your adventures such as food, water, and equipment for an overnight or multi-day journey. The same principles apply to bikepacking, only that you apply them to riding your bike.
There's no hard and fast rule to bikepacking. The only thing that you should ensure is being self-sufficient on the bike, bringing with you everything you need for survival on your overnight or multi-day adventures. In contrast to backpacking, you can go further with bikepacking, whether traversing mountain bike trails, forgotten dirt roads, on or off-road, or traveling on an expedition.
There is a common misconception that you can only appreciate bikepacking if you have complete quality gears. Although it is never wrong to invest in those perfect bikes to use, the custom bags to bring, and ultralight gears for camping, you can always start bikepacking with the things you already have. Then pick a short route just near your home for an overnight adventure. You will then discover what else you need as you experience it yourself.
For your first expedition, we have put together some helpful tips for you to go through. These include gears, bike setup, equipment needed, and even planning routes. For college students, this will help with research paper making regarding essential things to remember for first-time bikepackers. 
What bicycle to use?
The best bike to use is the one you already own since you already are comfortable riding on it. You just have to ensure how much you are carrying and adjust it to the tire pressure and suspension making sure it compensates for the additional weight of your custom bags. As you travel more, you may want to adjust your gearing so that when you pedal your way, it will become easier on your knees. Remember that you will be spending plenty of time riding on a bike so make sure comfortability is at its finest. Make sure to have a comfortable saddle to sit on, an upright riding position, an ergonomic grip that fits you, and anything that gives you comfort.
What kind of bikepacking bag to carry?
Use soft bags that fit the frame of your bike. Remember though that your space is limited so make sure that your load must be lightweight so that it won't affect your bike's handling. An ultralight quality bag is an advantage but you can start with just what you've got and discover what you need along the way. No one's telling you what should and what should not as there are no hard and fast rules to this sport. You just need to customize it with your own preference and comfortability.
The steering should not feel heavy so the front must carry lighter weight like sleeping gears. The seatback will contain heavy things like clothes and food and much heavier items will be placed in the framepack. Then add some accessory bags for some snacks or smaller things. A top tube bag at the front and rear of the top tube and stem bags fitted by the bars for the items on the go and can be easily accessed.
What Essential Gears to bring?
You will get the best out of your bikepacking if you also pack light. So, you need to pack smartly and efficiently as it is a cost-effective way to travel light. First to pack is the usual riding gear keeping a kit that adapts to different weather conditions. Then you will need your camping equipment like sleeping gear, food, and clothes for camp. For sleeping gear, you may choose a sleeping bag and mat or you opt to have a tent. Then bring with you your cooking gear too. Your choice will be a gas or alcohol stove but for now, a gas stove is better to start with for more flexibility in cooking. Then bring with you an aluminum pot for cooking convenience.
What route to take?
Planning the first route might be intimidating but it should not feel that way. You can use routing planning software or take the route where you feel comfortable, somewhere you already know. Remember that you will be carrying heavy loads for your essentials while riding on a bike for a few days, so start with the shorter ride where you think you can cover the distance to and from. However, be aware that you may experience some trial and error, uncertainty, and adventure during your first ride. Whatever things you experience, treasure and gather them as they will be helpful for you on your next planned adventure.
Get Started and Go Bikepacking
Nothing's going to be perfect, especially on your first ride out. The key to a successful start of bikepacking is to just go out and observe what you can do in every single situation that may arise. So, you'll just gain the right kind of experience for your next further routes. Whatever exploration you may take- off or on the road, gravel, or mountain bike trails- remember that you do ways differently from others and various ways to carry all the gear you need. Whether you are fast or slow, light or heavy, comfortability is your priority. So ride safe and enjoy your expedition, a newbie explorer.