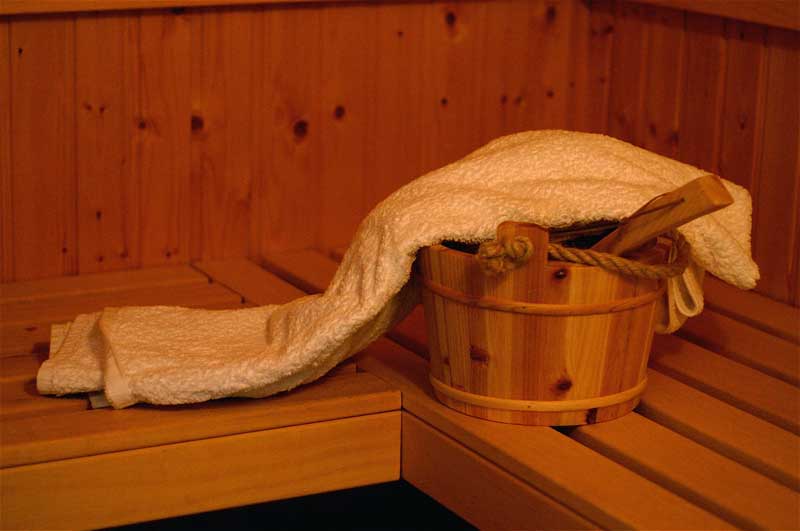 You've derived health benefits and spent so many enjoyable moments in your sauna, either with friends and family or alone in silent contemplation. To continue to do this, you have to make sure to maintain your sauna, not only to keep it sanitary but to prolong its life.
Some saunas, like the infrared models, will require little cleanup or overall maintenance because they utilize dry heat to do their work. It's important to give your sauna a quick clean after each use. This just involves wiping down the benches and other surfaces to remove excess moisture, and leaving the door open so that the surfaces can dry out properly. Let's take a look in Audacia on how to clean a home sauna so that you can enjoy the benefits of home sauna for years to come.
If you own a more traditional one, like a cedar wood sauna, here are 6 tips you can follow to keep it clean and functioning.
1. Use towels while in the sauna
Using towels over time in the sauna prevents the wood from being stained by users' sweat. Over time, this not only undermines the integrity of the wood but creates situations where the wood harbors harmful bacteria that can get you and your guests sick.
To encourage towel use, place towels in easily accessible places for your guests. You can use a heated towel rack to give your guests the treat of a warm towel. Also, you can browse online for your  Sauna accessories here, where you can find what best fits your needs. What you must do is ensure your guests and family know the house rules by stipulating they wear towels in the sauna in advance.
Make sure you clean your towels regularly as well. Colour and thread count are up to you.
2. Do not apply paint or varnish to the interior of your sauna
It may be tempting to try to protect the wood on the interior of your sauna from humidity creeping into the wood with a finish. This is not advised because the high heat of the sauna may create toxic fumes that could harm users.
If you want to coat the interior wood, there are sealants created especially for saunas that are nontoxic and protect the wood from moisture leaching into it.
If you wish to maintain the finish of the wood, as well as get rid of any stubborn stains you may have acquired in the sauna, you can sand the wood down to reveal a cleaner, clearer layer underneath. This should be done annually.
You can apply varnish to door handles as they will experience heavy use and are on the exterior. If your sauna is outside, you can also protect it against the elements with a treatment on the exterior surface.
3. Clean your sauna regularly
In Finland, where the sauna originated, saunas were considered to be the cleanest room in the household. It's easy to understand why they kept them so meticulously. Illness-causing bacteria could breed and thrive in the wet and humid environment as well as mold, which is unsightly.
You can keep your wood sauna clean by passing a soft hand brush and some water over the surfaces after each use. This will prevent sweat, dirt, and water stains from setting into the wood. Once a month, you should also wipe down the interior surface of your sauna with water and a mild detergent, or a weak mixture of water and bleach.
You can also use a sauna cleaner specially designed for this purpose.
Don't forget to disinfect the stones and other parts of the heating element you are using in your sauna occasionally. Wait until the stones are completely dry before replacing them on the heating element and turning it on. Clear off particles left by the stones from the heating element as this could cause damage to it.
After cleaning, leave the door open so the interior can dry completely before its next use, as well as allow any chemical residue to dissipate.
Don't clean the sauna while the heating element is in operation.
4. Check the wood for heat seepage
Saunas are meant to be airtight to keep the heat in so that they can do their job effectively. As time passes, weather can cause outer wood bands to shrink, meaning that air escapes and water can get in. Check for this occasionally and add wood bands as you need to.
Over time, humidity and high temperatures can cause damage to the wood which will let the heat seep out as well as cause resin leaks. Resin is a natural material that is contained within the wood. These leaks can cause serious burns. To prevent this, do not use temperatures above 80 degrees Celsius in your sauna. To keep temperatures low, you can apply moisture to your benches before using the sauna. This is why it is important to only use good quality cedar saunas materials from G&B Quality Cedar Products.
This will result in longer life for your wood surfaces.
If you are building your own sauna, be sure to insulate it properly as well. Insulating the ceiling well is most important since the majority of the heat tends to be lost there. A well-insulated sauna keeps your heating costs lower over the course of your sauna's lifetime.
5. Replace the stones in your sauna and check the heating element occasionally
The stones in your sauna can last as long as ten years but they will eventually need replacing. When needed, replace with stones that are compatible with your heater. Using the wrong-sized stones can cause damage to the heating element by creating poor airflow, causing it to overheat. Bad airflow can also cause the sauna to heat up inefficiently, preventing it from working the way it's supposed to.
Regularly reseat your sauna rocks within the heating element for this reason. Every 2-3 months should be adequate. Badly stacked rocks will reduce the level of heat your users will get and the poorly circulated heat can cause your heating costs to increase. They can also cause heat to be overly concentrated on parts of the heating element, leading to damage. 
6. Watch out for limescale caused by hard water
When operating or cleaning your sauna, do not use hard water. Once it cools, hard water causes limescale build-up that can result in unattractive, hard-to-clean stains on your finish. A weak mixture of warm water and vinegar can help with stains that have already set. 
With proper care and maintenance, your sauna can provide you several years of use and enjoyment. Take care of it with these tips.