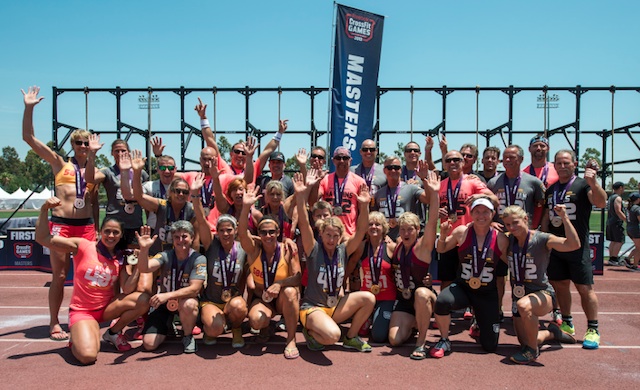 The 2014 Masters Qualifier is over, with the online leaderboards now closed for athletes across the globe.
For the first time ever, Masters athletes were put through an additional stage of qualifying this year, and couldn't just rely on their performances in the Open to qualify for the CrossFit Games.
In 2014, more than 37,000 Masters athletes competed in the CrossFit Open, with the top 200 in each division advancing to the next qualifying stage – the Masters Qualifier, which took place from April 17-21.
Over the four day period, qualifying athletes were required to complete four workouts and submit their scores online. The four workouts were:
Event 1
1 Rep Max Clean
Event 2
Amanda
9-7-5
Muscle-Ups
Squat Snatches
Event 3
3 rounds of:
50 Calorie Row
15 Handstand Push-Ups
50 Double-Unders
Event 4
100 Pull-Ups
100 Wall Balls
With the 2014 Masters Qualifier now over, athletes will be ranked by their performances in the above four workouts, and their overall placing in the Open. The top 20 Masters athletes in each Division will be invited to compete at the 2014 CrossFit Games in Carson, California in July.
While submissions for the qualifier are now closed, the leaderboards are still changing with affiliates and the Games Team validating the scores submitted over the past four days. The leaderboards will finally become official at 5 p.m. PT on Wednesday, April 23.
This year we have a few familiar faces on top of the leaderboards already, including 2007 CrossFit Games champion James Fitzgerald, who is currently inside the top 20 in the 40-45 men's division.
Other notable athletes to take part in the 2014 Masters Qualifier include Games competitors Cheryl Brost, Amanda Allen and Becky Conzelman. However, there were also a few big names who chose not to compete, including CrossFit's Bill Grundler, who finished the Open in first place in the 45-49 men's division.
We'll have the list of qualifiers in each Masters Division when the leaderboards are made official on Wednesday.
Also, HQ has revealed the prize-money for the Masters competition has increased by US$120,000 with the winner of each age division to receive $10,000. Second place will take home $5,000 with the third in each division pocketing $3,000.