For individual competitors, Friday's schedule was composed of an endurance workout, an all-out sprint, and a more traditional CrossFit-style workout, which helped introduce new faces atop the event leaderboards.
After the workouts were complete, the Men's division set itself up for an extremely competitive weekend, while the Women's division saw a new leader emerge going into Saturday's workouts.
Event 4 – Burden Run
Run 2.1 miles
Flip the Pig 100 yards
600 yard log carry
Drag the Iditarod 66 yards
Men's
On a misty morning in Carson, the Burden Run took this year's competitors through a constantly varied trek that combined endurance, strength, and moving heavy loads for distance.
NorCal CrossFit's Garret Fisher, in second place after the first day of individual competition, jumped out to an early lead on the 2.1 mile run. Fisher was the first athlete to start flipping the 490 pound "Pig" apparatus, only to be surpassed by fellow NorCal CrossFit athlete and current overall Men's leader Jason Khalipa, among other competitors.
Khalipa, who had an impressive first day of competition, carried the 100 pound log with ease before finishing with the 310 pound sled pull. He earned his third-straight, first place event finish at this year's Games.
Ben Smith came from behind to finish in second place, followed by Daniel Petro. Two-time defending Games' champion Rich Froning finished in seventh place, while the event's early leader Garret Fisher finished in fifth.
Khalipa's top finish had the StubHub Center buzzing about the former Games' champion chance at making a serious run at this year's title, five years after winning the CrossFit Games.
Fisher's early lead on the run left him in second place overall, while Froning's performance brought him back into serious contention for his threepeat as he climbed to third place overall in the Men's division.
Women's
A favorite to take this year's Women's title, it came as no surprise that Samantha Briggs started the Burden Run in the front of the pack, making it to the 310 pound "Pig" before the rest of the field.
Though Briggs maintained her lead early on, Kaleena Ladeairous overtook Briggs on the log carry and never looked back. Ladeairous would take first place in the workout, while Briggs would hang on to third place in the event.
Even with Briggs releasing her early lead, her third place finish was still enough to keep her in first place overall in the Women's division.
Event 5 – ZigZag Sprint
50 yard sprint with 4 obstacles
(4 round bracket-style tournament)
Men's
After three first place finishes in a row, it was clear from the start of this event that Jason Khalipa was not going to make the ZigZag Sprint his fourth.
Khalipa didn't make it out of the first round, finishing in a tie for 43rd place for the event. If the door was going to open for other competitors to start catching Khalipa this weekend, the ZigZag Sprint represented the best opportunity for other competitors to take that challenge.
With his track background and sixth place finish in the 2012 CrossFit Games, Dan Bailey went into the event as one of the clear favorites and he did not disappoint. Bailey would ultimately finish the event in second place, losing by inches to fellow Central East competitor Marcus Hendren in the finals. Bailey was followed closely by Aja Barto in third.
The Sprint continued Hendren's positive momentum after his ninth place finish in the Burden Run, leaving him in potential striking distance of the podium if he can carry this momentum through the weekend.
Women's
Like her Men's counterpart leader Khalipa, Samantha Briggs didn't advance out of her first heat, ultimately finishing in 25th place for the workout.
After finishing no higher than 25th place in the previous four events, the Sprint was a welcome sight for the event's winner Michelle Crawford.
Crawford displayed a burst of speed on the Sprint's straightaways coming out of the obstacles that others couldn't match. Lindy Wall and five-year CrossFit Games veteran Stacie Tovar battled it out for the event's next top spots, finishing in second and third respectively.
For Tovar, her third place finish represented her first top ten finish at this year's Games, setting her up to make a run at the podium this weekend.
Event 6 – Legless
27 Thrusters
4 Legless rope climbs
21 Thrusters
3 Legless rope climbs
15 Thrusters
2 Legless rope climbs
9 Thrusters
1 Legless rope climb
Men's
After watching the Team competition take on this workout and the first few Women's heats, fans watching in Carson began to ask each other whether anyone was going to be able to finish this previously unannounced workout.
While light thrusters (95 pound / 65 pound) and rope climbs may not sound like much on paper, the workout's Legless x-factor appeared to catch some of CrossFit's top athletes off guard. Those who went out too fast were quickly punished by failing grip strength and muscle fatigue, stalling near the top of the rope before crashing down to the stadium floor.
However, Gary Helmick proved it was possible to finish the workout and earned what was likely the loudest applause of the night at StubHub Center. After other athletes saw Helmick complete the workout, athletes appeared to approach the workout more methodically to make sure they could finish, rather than focusing entirely on speed.
Topping Helmick's time, however, would be Josh Bridges, who took first in the event by going unbroken through the thrusters. While Bridges has been relatively quiet after he started out with a strong third place finish in Event 1, his first place finish in Legless acted as a reminder that he should not be forgotten this weekend.
Men's leader Jason Khalipa finished in 27th place, ultimately finishing the workout and doing enough to fend off Fisher and Froning from the overall top spot, who finished in 18th and 8th place respectively.
Going into Saturday's workouts, Khalipa has left the door open for other athletes to take the top spot in the Men's division. With Froning continuing his consistently good finishes and Bridges proving that he's not out of the competition just yet, the Men's division is set up for a dramatic conclusion during this weekend's more traditional CrossFit workouts.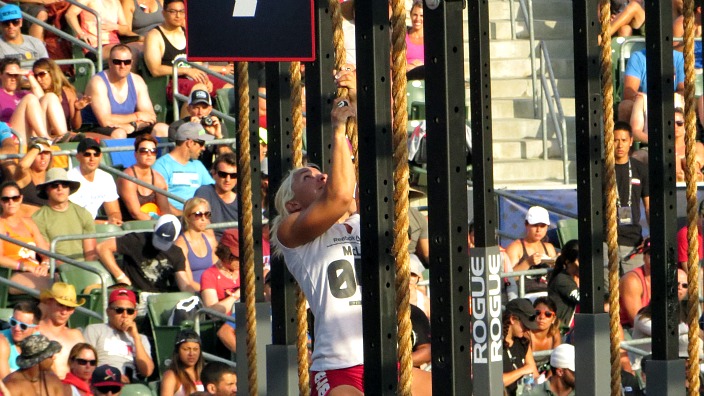 Women's
After the high repetition thrusters, athlete after athlete could be seen stalling near the top of their rope climbs. Many athletes who started the workout wearing gloves could be seen throwing them to the side to improve their grip.
Many of CrossFit's top athletes, including Camille Leblanc-Bazinet, Kristan Clever, and early leader Samantha Briggs, struggled with their rope climbs after coming too quickly out of the gates. Those who went out too fast and burned out on their rope climbs struggled to recover. Even with the sport's top athletes on display, fans saw dangerous fall after dangerous fall down to the StubHub Center floor as athletes struggled with the legless rope climbs.
With Briggs ultimately finishing in 16th place in the event, Christy Phillips took second place in the event to overtake Briggs overall in the Women's standings. Phillips' consistent performances in the Games so far, as compared to Briggs' recent challenges in Friday's workouts, should make the battle between her and Briggs one of this wekeend's biggest storylines.
The Legless event's winner, Alessandra Pichelli, currently stands in third place overall.