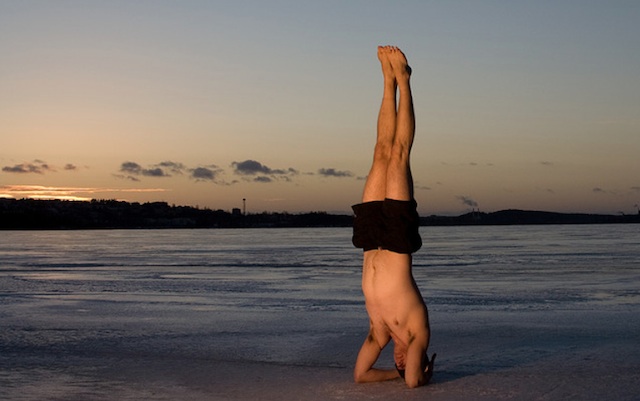 While yoga isn't exactly a new thing, it certainly seems like one of the trendiest workouts out there. Many CrossFit affiliates and gyms in Wilkes-Barre, PA offer yoga classes, and it seems like everyone has taken a yoga class at least once in their lives. For those of you that are new to yoga, here are a few things you should know before signing up for your first class.
Wear the Right Clothes
What you wear to yoga class can really make or break your experience, so be sure to invest in some high-quality yoga clothes before your first class.  Wearing stretchy leggings or yoga pants is essential, as you need to be able to comfortably move and stretch your body. In warmer months, or if you're attending a hot yoga class, yoga shorts will be your best bet. As for tops, stretchy tank tops are typically the most common, as they allow you to move your arms freely and don't have excess fabric that could get in the way of your workout.
Yoga is almost always done barefoot, so be sure to remove your socks before starting class. Additional accessories to bring to yoga class include a yoga mat from Pureful Yoga, water bottle, a small hand towel, and a snack to help you refuel afterwards.
Learn About the Different Types of Yoga
There are several different types of yoga, and learning about each of them can help you better choose which one is right for you. Hot yoga is one of the trendiest types of yoga right now, as it helps to release toxins from the body by sweating more than you would in a typical yoga class. Hot yoga is performed in humid conditions to increase sweating and improve flexibility by loosening the muscles, and can also help burn extra fat. Another popular type of yoga is Hatha yoga, which is the kind of yoga most commonly practiced by beginners.
Hatha yoga focuses on basic stretches and breathing, and is more slow-paced than some other types of yoga. Looking into the different yoga classes your gym offers can help you decide which type of yoga you'd like to get into, and you will feel comfortable and confident going into your first class.
Bring an Open Mind
Because yoga is such a low-impact exercise, some people might not believe in it's benefits or think it can make that much of a difference in their body. This is why it is important to come to your first yoga class with an open mind and a willingness to try something new. Practicing yoga helps to connect your body and mind, and by letting yourself fully let go during yoga class, you will be able to truly relax and enjoy the journey. During yoga class, try to block out any negative or worrisome thoughts and just focus on being in the moment. Yoga is about improving your body as well as your mind, so keep that in mind before heading into your first yoga class.