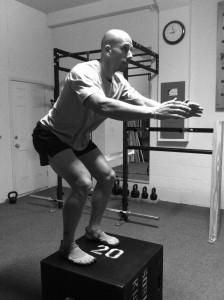 In the world of CrossFit where the focus is on personal bests and reaching new heights, it's quite easy to forget that world records are occasionally broken by some of our athletes.
Earlier this month, I spent a good hour working on improving my box jump, which was holding me back from good times in a number of WOD's. At the end of the session, it got me wondering just what is the world record for the highest box jump??
To my surprise, the mark was actually held by a CrossFitter named Darren Jackson, who trains out of Sydney, Australia. It was also surprising to find out the height wasn't as high as I thought it would have been.
While I'm a long way off the 58 inches Darren jumped to break the record, i still would have thought a professional basketball player or gymnast may have held the record and gone past the box height of the Australian CrossFitter.
Regardless, it's a great effort by the Aussie, who now has his name etched in the infamous Guinness Book of Records.
In case you were wondering, the guy who held the record before him was also a CrossFitter – Ryan Moody, who trains out of CrossFit 801 in Utah.