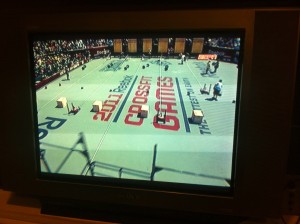 What is that blurry picture you might ask? Well it is none other than the CrossFit Games on ESPN!
Yes, despite the Games airing in the US recently, we here Down Under had to wait until last night for the Australian debut showing.
I had already caught a few glimpses when it first aired in the US by accessing it though ESPN3 online. However, because I am on a Mac, it required me to use a virtual PC software program. When I finally got it up and running it kept freezing and was so slow I gave up. Fortunately, I didn't have to wait too long as I was able to watch it on television last night.
My initial thoughts on the show was that it was just was ok. I'm going to reserve my judgment till after I see a few episodes. I will say the fact it was not shown in real time and that the show kept cutting to introductions of every competitor did make it somewhat difficult to follow.
I guess the question is, if I was watching this for the first time and had no idea about CrossFit would I have stayed tuned in? I have to say I'm not sure I would. I've watched a lot of Ironman competitions and surf life saving events in the past, which are similar to this first event, considering the unexpected ocean swim and run in this years Games. Yet despite not knowing anything about those sports, I often find myself captivated by these events and sporting events in general, all thanks to the informative knowledge of the commentators alone.
Last night it sounded like Miranda and Rory were the ones doing the commentating and despite having a wealth of CrossFit knowledge, I'm not sure they were able to translate this to the viewers. I realise it may be a result of all the editing that was done to air the show rather than an indication of their ability, so I guess we will have to just wait and see.
Anyway I am still optimistic because ESPN should know how to package this. I'm keeping me fingers crossed it gets better as it moves on.
For the meantime I am just happy to have see it finally make its way to Australia.