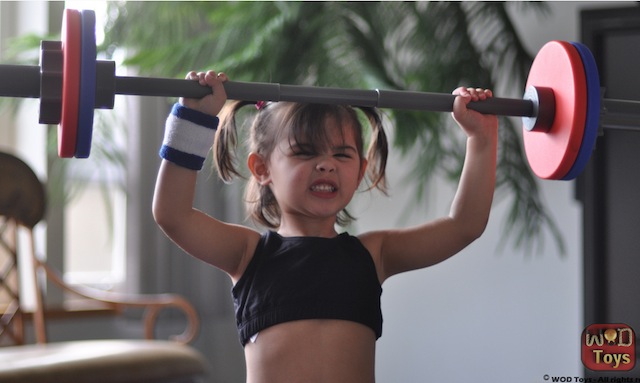 As many of you know of the last few months we have written about and done several giveaways for the Seattle based toy company, WOD Toys.
For those unfamiliar with the brand, WOD Toys specialise in a range of toys for children aged 3 and up. The CrossFit inspired products they produce include replica barbells, kettlebells, plyo boxes and plyo balls.
WOD Toys was launched in April this year by CrossFit enthusiast, Ernest Ebio. Ebio is now using the popular crowdsourcing site, indiegogo to help him raise funds in order to mass produce an extended line of toys.
WOD Toys hopes to expand their market share, but in order to do this Ebio knows it means offering his products at a more competitive price point.
As he notes, "despite our recent success our toys are still a bit pricey, and in order to get these toys in the hands of more kids we must manufacture in bulk. We hope to complete our first mass production run this November and this is why we need your help."
Earlier this year we reported the story of Carin and Bryan Smith who were seeking $7,000 from a similar site, Kickstarter for their film Box of Salvation. In the end, not only did they  raise the funds but they ended up securing a total of $9,199.
WOD Toys is hoping to do the same, only this time attempting to obtain $65,000 in 30 days. To incentivise people to support them, they are offering a range of "Perks" you can purchase from $5, all the way to $9,900.
As Ebio says, "We need the support of those who truly believe in a healthy tomorrow for our children. I'm just a concerned dad, but I know that with the help of others who want to see our kids get back to a healthy lifestyle, we can all make a difference."
If you would like to contribute or find out more, you can watch the video below or click on the indiegogo link here.