Imagine being able to train with the likes of CrossFit Games champion Graham Holmberg, Ben Smith, Spencer Hendel, Austin Malleolo and Carl Paoli all in one week?
Thanks to WOD Tours this can now be a reality!
We wrote a short article about WOD Tours about a year ago when they first launched as a business. At the time, they were the first and only travel company dedicated purely to functional fitness.
Now, WOD Tours offers a number of camps and tours in the US, Australia, Europe and Canada.
If it's training at Mikes Gym with Coach Burgener, throwing down with Holmberg in Calgary or working out with Iceland Annie at Paoli's new gym in Alicante Spain, they have it covered.
The latest tour to be added to the WOD Tour's schedule is 'One Stop Shop' trip, which will be held at Boston's Reebok CrossFit ONE.
The tour runs for five days from the 18th – 22nd of June 2013. During that time you will be coached by, and given the opportunity to throwdown with, Spencer Hendel, Ben smith, Graham Holmberg, Austin Malleolo and Carl Paoli.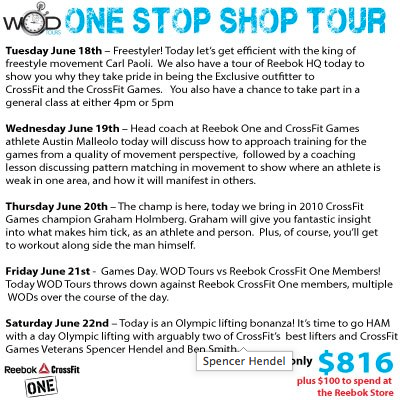 The package also includes a tour of Reebok headquarters, plus a gift voucher worth $100 to spend at the Reebok store, all for only $819!
A maximum of 35 people will be able to take part in the seminar and coaching tour, so make sure you book your place soon if you're keen.
But if you miss out, WOD Tours has a number of other tours just around the corner, including the CrossFit Games Tour, that not only includes entry into the Home Depot Center this July, but coaching sessions with Coach Burgener and Coach Carl Paoli.
You can find out more details about the Boston 'One Stop Shop' tour by clicking here, or for more info on any of WOD Tours' other packages you can find them here.