Along with Chris Spealler and Rebecca Voigt, Matt Chan is one of the longest competing athletes in the sport of CrossFit.
The 37 year old has competed at six CrossFit Games, including four top ten finishes with his best result being runner-up to Rich Froning in 2012.
However, in 2014, it seemed his glittering career may have come to an end. First, a back injury forced him to pull out of the CrossFit Open, and subsequently dash his chances of competing at the StubHub Center in the CrossFit Games. Then, a few months later he almost lost his life in an horific bike riding accident in Colorado.
During a ride with his wife Cherie on July 4, 2014, Chan was involved in a freakish fall which saw his handlebars force into his right hip. The crash resulted in Chan severing his femoral artery, one of the largest arteries, leaving him in a pool of blood, miles away from any medical help.
Remarkably, he managed to make it to the hospital where they began repairing his damaged veins. With his leg also under severe pressure from compartment syndrome, doctors had to perform a limb-saving fasciectomy which left his leg looking like something out of a horror movie, with his muscles completely exposed.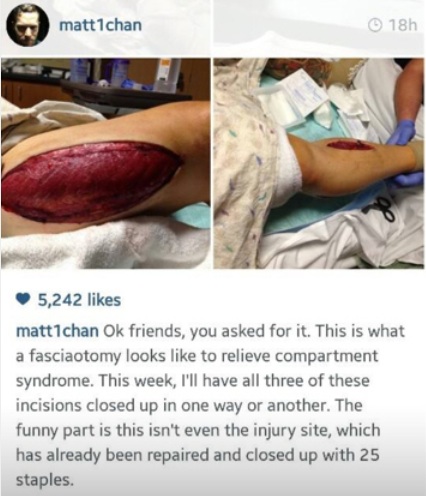 In a recent interview with CrossFit, Matt Chan opened up about his near death experience.
"If I had hit my handlebars in a slightly different angle I could have broken the skin and died," Chan told HQ. "If that had punctured my skin, I would have died and Cherie would have had to been there by herself. That injury could have been the end of everything, not just competing, that was it. I'm reminded on a constant basis when I look down at my leg not just to have it but to be able to exercise and still do what I do."
While doctors told him he would eventually make a full recovery, Chan spent weeks on crutches, unable to spend long periods standing up before his leg would swell. However, determined to continue training Chan seeked advice from Kevin Ogar, who was paralyzed from the waist down while competing at the 2014 OC Throwdown.
At the time many thought Chan would never be able to make it back to the level requirted to compete at the CrossFit Games again. However, five months after his accident, he matched a PR back squat of 445-lb, and befoe the end of 2014 he hit a 300-lb snatch.
With his body now recovered and his training back to the level it was before the fall, Chan once again has his eyes set on an appearance in Carson, California in July 2014.
If Matt Chan does qualify again in 2015, he would join Spealler as the only men in the world to have qualified for the Games seven times.