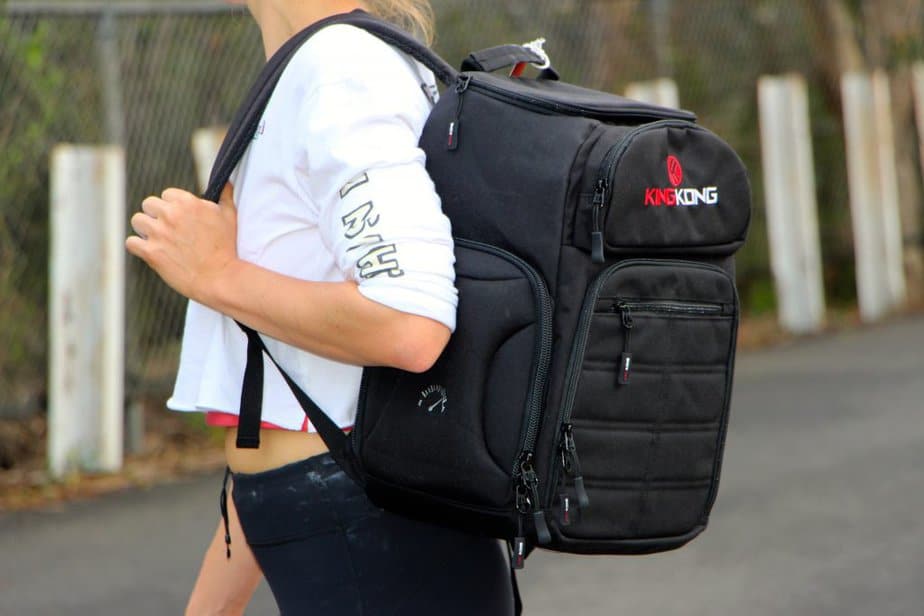 Having some necessary and practical items to carry with you will make your life much simpler if you are one of those who frequently visit the gym and cares about your health and fitness levels. These accessories may add additional enjoyment and excitement to your workout, increasing your comfort level and motivation to keep going to the gym and maintain your physical fitness. In order to do this, we have put together a list of some of the most fascinating and practical items that gym fans ought to carry to the gym.
Gym bag
You must have a gym bag as your very first item if you want to carry your basic workout gear. When purchasing a workout bag, make sure it meets your needs and choose one that is roomy but not overly large. Not only will the proper-sized bag fit all of your necessities, but it will also be simpler to tote on public transportation. If you want more energy for your workouts but live a little bit farther from the gym, consider that. A lightweight gym bag would be handy in this situation. Look for amazing designs that are also highly beautiful and distinctive.
Water bottle
It's crucial to stay hydrated throughout your workout to avoid dehydration, improve the quality of your activity, and make it more enjoyable. Therefore, be sure to pack a water bottle in your workout bag along with other necessary items.
Choose a leak-proof water bottle to prevent spills in your exercise bag. Reusable bottles are better for the environment and help to keep water cooler for longer. Moreover, the various options as seen at Iron Flask Inc. can keep beverages ice cold for up to 24 hours. Warm drinks maintain their heat for up to 12 hours. Make sure you get a bottle made of sturdy, superior-quality stainless steel that is BPA-free.
Snack
The worst thing in the world is to get a powerful surge of hunger just before you start your workout. Luckily, little snacks like protein bars may assist, since they can both fuel your workout and aid in your recovery afterward.
To maintain a healthy blood sugar level and improve your exercise results, pack some protein bars, your favorite fruits, or some walnuts. Moreover, a high-carb snack is also fine if you don't have time to feed your body beforehand.
Gym sneakers
Your time spent working out at the gym will be more comfortable and enjoyable if you wear a pair of shoes that are comfy and designed for improved power transfer with a solid grip.
Gym shoes may seem like a straightforward item to have, but it's important to wear the correct shoes for the training you're doing. Sneakers are great for lifting, low-impact exercises, and fat-burning activities. Additionally, if you are a professional runner, you should get shoes designed specifically to withstand the rigors of the road. If you're just starting out, it's best to stick with inexpensive, basic pairs of gym shoes; if you've been working out for a while, it's advisable to switch to more costly pairs that will provide additional features and comfort. In order to prevent your feet from becoming painful after working out in them for a long time, you should also look at the amount of support they provide.
Exercise mat
An exercise mat is needed when performing bodyweight exercises in order to build strength. In addition to protecting your joints, it also makes kneeling activities more pleasant, particularly if the floor is uncomfortable.
Exercise mats are ideal for core and basic stretching activities. You will need it to perform the warm-up exercises, even if you are performing deadlifts. Purchase a stretching mat that is large and thick enough to shield you from the ground's roughness and friction.
Microfiber towel
Gym towels might not always be the best option and might not be as excellent as the ones you can bring. Bring your own towel from home so that when you finish your workout, you have a fresh and clean one. Compact microfiber towels made by health and fitness firms are excellent for carrying with you wherever you go. Before working out, simply pick your favorite color and place it in your bag. Terry towels are an additional choice. These, however, have a rough texture that works well to absorb perspiration but is insufficiently absorbent for wear during activity.
Wrist straps
A wrist strap enables you to lift greater weight while also offering stability and support. People who suffer from wrist injuries or restricted wrist motion might also benefit from them. It's critical that wrist straps fit snugly so that you don't experience any pain or discomfort while lifting weights. Additionally, check that the straps aren't too tight because this may reduce the amount of weight you can lift. The wrist strap's composition is crucial. It should be cozy to wear and silky. The ideal wrist straps are those that are velcro-fastened and adjustable so that they stay in position and help you lift safely and effectively while performing the exercises.
Weightlifting belt
You should keep a weightlifting belt with you at all times in your gym bag to help safeguard your back and hips, as it protects and stabilizes your lower back. The greatest lifting belts are constructed from premium materials, are user-friendly, and are resilient enough to withstand repeated usage. Make sure a weightlifting belt is adjustable before purchasing. The best belts are those that can be adjusted to fit your body size.
You should also pay attention to the lifting belt's material quality. For instance, leather belts may not be as pleasant as nylon belts despite being more resilient.
Deodorant
Deodorant is great for making you smell good and feel confident and focused on your exercise. When you are in the gym, perspiration tends to accumulate on your skin, leaving you smelling unpleasant, but you may avoid this by using deodorant, which blocks the sweat's odor.
We hope that this post will assist you in gathering all the items you need to bring to the gym, making your workout more enjoyable and motivating you to work out more in the future.