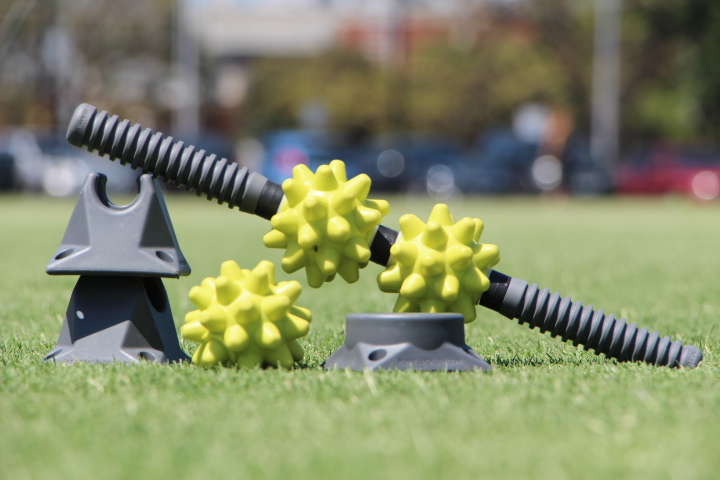 This week we take a closer look at RumbleRoller's 'Beastie Range', which includes a Beastie Ball, Bar and Stands.
Item: RumbleRoller's Beastie Range (Ball, Bar and Stands).
Price: Ball and Base ($25 in the USA/Canada, $45 in Australia/NZ)  Bar and Stand ($60 in the USA/Canada, $95 in Australia/NZ).
Manufacturer: RumbleRoller.
Purchase: Amazon/PhysioSupplies.com.au/TheWODLife.
When it comes to self-myofascial release devices, the RumbleRoller is one of my favourites. Armed with a pattern of 'bumps' which act as 'the thumbs of a massage therapist', RumbleRollers help knead the muscle rather than just rolling it, making it more effective than other foam rollers.
So when I heard RumbleRoller were expanding their range of therapy tools, I was eager to put them to the test and find out just how good they were.
The new line of products, called the 'Beastie Range' include massage balls and hand tools. This review will look at the following:
Beastie Balls
Beastie Balls are basically a set of therapy balls designed for trigger-point muscle relief. However, unlike other massage tools like lacrosse balls and BakBalls, Beastie Balls come equipped with an an extra element – bumps! These well spaced bumps make it a lot easier to get deep into your muscles and a lot more effective at relieving muscle tension.
The Beastie Balls also come with a detachable base, allowing you to target areas of your body without the balls moving away.
Beastie Bar
The Beastie Bar is made up of a rubber bar with two spinning Beastie Balls in the centre. The Beastie Bar is very similar to The Stick, in that you can use it yourself to target certain areas of your body. Holding the handgrips at either end, you can use the bar to roll over your calves, quads, hamstrings and other areas. There is also a small gap between the two Beastie Balls in the middle of the bar, making it a great tool to massage your back and spine.
Just like the Beastie Balls, the Beastie Bar comes with stands, meaning you can set it up on the floor or on the wall and target certain areas you might not be able to reach using your hands.
I've used both the Beastie Balls and Beastie Bar consistently over the past few months. Here are my thoughts on both of them:
The Good
The Bumps: As well as making the Beastie Balls look mean and slick, the bumps on the balls are SUPER effective at relieving muscle tension and targeting trigger points. These bumps make Beastie Balls a lot more effective than other alternatives on the market and kind of like lacrosse balls with horns – devils! I've used plenty of massage balls in my life and I can honestly say these Beastie Balls are one of the best at getting in deep and relieving any tension or muscle tightness. It might hurt like hell at times, but the bumps certainly make Beastie Balls one of the more effective myofascial release devices on the market.
The Bases: One of the great features of the Beastie Range are the bases that come with the Bar and the Balls. Basically, they stop both from moving away while you use them, allowing you to get a deeper and more targeted massage. In addition, the bases come with screw holes in them, meaning you can also mount them to a wall, making it a lot easier to target hard-to-reach areas.
Versatile: Using the Beastie Bar and the Beastie Ball, I was able to give myself a deep tissue massage on almost every part of my body. The bar was effective in relieving tension in my shins, hamstrings, calves, thighs and glutes, while the ball was great at getting into my hip-flexors, lower back and beneath my foot. In addition, when I mounted the bar and the balls, it was a lot easier to target my traps, upper back, shoulders, neck muscles and other areas of my body that are usually out of reach.
Portable: Neither the Beastie Ball or the Beastie Bar will take up much room in any gym bag, and are easily small enough to take away on almost any trip. Beastie Balls can be thrown in your handbag, car glovebox, top drawer at work or even in your pocket. The Beastie Bar is a little bigger, and might not fit into your handbag, although it certainly won't take up much room in any backpack or suitcase. I've taken both with me on interstate trips, and usually use a Beastie Ball when I am sitting on a flight, or going for a long drive in my car.
The Look: While i'm not one to care much about the appearance of mobility tools, both the Beastie Balls and Beastie Bars do look pretty cool. Coming in a nice lime colour, the balls are made of firm rubber and also feel nice in the hand.
Waterproof: Beastie Balls are made from hard, waterproof rubber, while the Beastie Bar and bases use a combination of rubber and smooth plastic. In short, if you drop either of them in water it won't cause any real damage. As a result, you can use them in a pool, spa or even ice bath if you wish! The non-absorbent surface of the ball also makes it easy to wash-off and keep clean.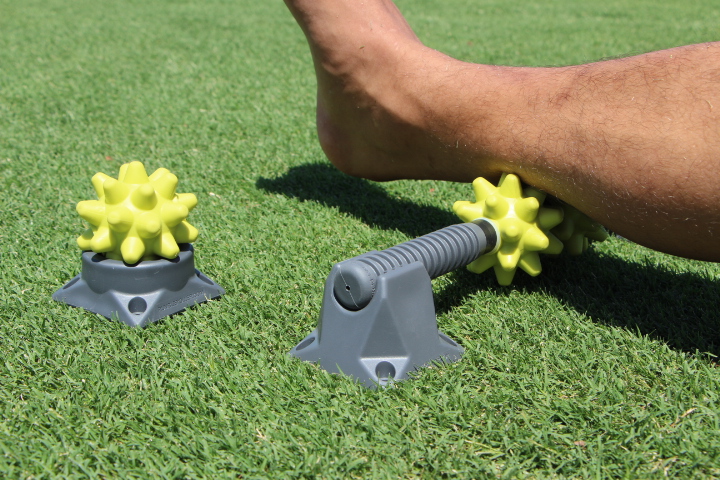 The Bad
It hurts: The Beastie Balls and Beastie Bar might be effective at getting deep into your muscles, but they are also quite painful to use. Unlike a lacrosse ball or other 'smooth' massage balls, Beastie Balls dig right into your body, pressing a lot harder and deeper into your muscles. It took me a while to get used to the pain, and I still fear the idea of using them at times because I know how much they hurt! That being said, if you can push through the pain barrier, it is worth it, as the Beastie Balls and Bar do a a great job of relieving muscle tightness and tension.
Price: Depending on where you are in the world, a Beastie Ball will set you back around $25-$45, while a Beastie Bar could cost you anywhere from $60-$95. Compared a lacrosse ball which can be purchased for less than $10, or The Stick, which sells for around $30, both items are fairly pricey.
Firmness: As mentioned numerous times in this review, these Beastie Balls are very firm. In fact, some may say they are too firm! One time I spent around 45 minutes sitting on one, trying to relieve tension in my glutes. The next morning I woke up with a 'bruising' feeling in my butt which stayed for days! Some people new to self-myofascial release devices might find these Beastie Balls a bit too intimidating due to thier firmness and might want to start with something a bit softer and less painful. The good news is that Beastie Balls are available in a 'softer' clear colour, which won't hurt as much.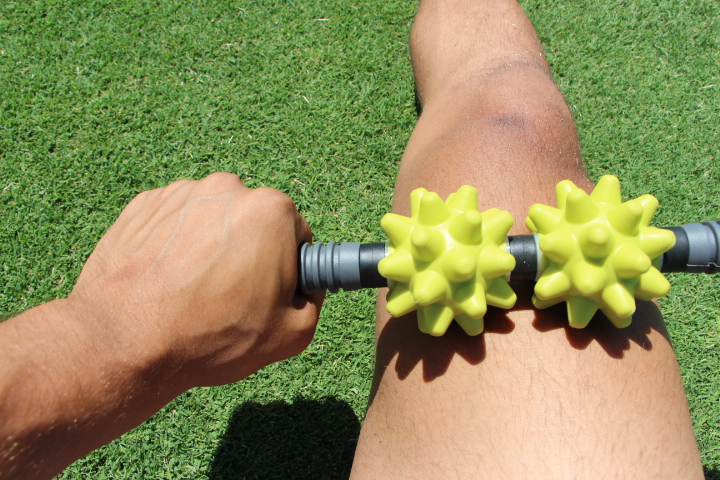 Conclusion
RumbleRoller's Beastie Bar and Beastie Ball are effective self-myofascial release tools and offer a number of improvements on other similar items on the market.
The rubber bumps on the Beastie Balls give them a point of difference not seen on too many other 'massage balls', and make them more effective at hitting trigger points and relieving muscle tension. In addition, the ability to attach the ball and bar to a base, and mount them to a wall, make it even easier to hit hard-to-reach areas on your body.
There is no doubt you will experience some discomfort and pain using the Beastie Ball and the Beastie Bar, but shouldn't you expect that with self-massaging tools? If you want a deep tissue massage to relieve muscle tension, you should expect to feel some sort of pain and discomfort.
The bottom line is the Beastie Bar and Beastie Ball do a great job of providing an aggressive massage, and are effective at hitting trigger points and getting deep into muscles. While they might be more expensive than some other similar products on the market, there is no doubt they are effective massage tools that many athletes can benefit from.