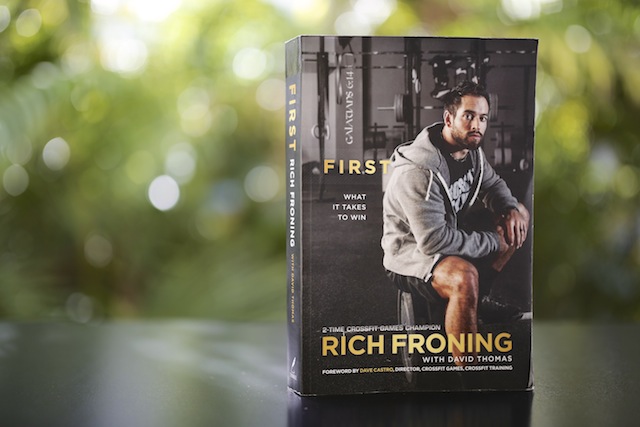 This week we take a moment to review the autobiography by three-time CrossFit Games champion Rich Froning titled "First: What it Takes to Win".
Item: FIRST: What it Takes to Win
Price: $15.99 
Publisher: Tyndale House Publishers
Author: Rich Froning & David Thomas
Page Count: 304
Purchase: Amazon
Publishers Notes: 
Physical Strength Can Only Take You So Far 
Reigning CrossFit World Champion Rich Froning is "The Fittest Man on Earth." He's fast. He's strong. And he's incredibly disciplined. But it takes more than physical strength to compete and win at an elite level. It takes incredible mental and spiritual toughness as well. And it is the precise balance of all three that makes Rich Froning a champion. 
In First, readers come alongside Rich as he trains for and competes in back-to-back-to-back CrossFit World Championships. Along the way, Rich shares invaluable training tips, motivational techniques, and spiritual insights that, in keeping with the CrossFit philosophy, will prepare you to respond to any real-life physical, mental and spiritual challenge.
As an aspiring CrossFit athlete and Rich Froning fan I was ecstatic to learn that his biography, First: What it Takes to Win, was being released. Finally I would get to learn all the tips and tricks that have made him the undisputed Fittest Man on Earth. I was sure that by the time I finished the 200 page book I would go from aspiring CrossFit athlete to Games competitor. First was sure to be the key.
After opening with the career defining rope climb that cost Froning the 2010 CrossFit Games, First takes the reader on a journey through his childhood. It depicts him as a junior athlete and shares the home life that gave him his never quit mentality.
Through hard, often meaningless work like pulling nails from railway sleepers, Rich Froning Sr. gave his son mental and physical toughness long before CrossFit was invented. This work-filled childhood got him to the podium; however, it was the spiritual toughness Froning developed between the 2010 CrossFit Games and the 2011 CrossFit Games that made him the almost unbeatable athlete we see today.
By the time First had reached the 2010 CrossFit Games my plan was well and truly shot to hell. I realised that I might not reach supreme athletic heights using Froning's 'tricks' quite simply because there are none. He is the perfect example of what sheer hard work and a small dose of good genes can do. What I did get from the pages; however, was a new found ability to question my motivation as a CrossFitter and the confirmation that nothing beats mental strength.
First is full of wisdom and inspiration for any athlete, regardless of background or goals. It definitely won't make you Rich Froning, but it will certainly make you work harder and strive higher.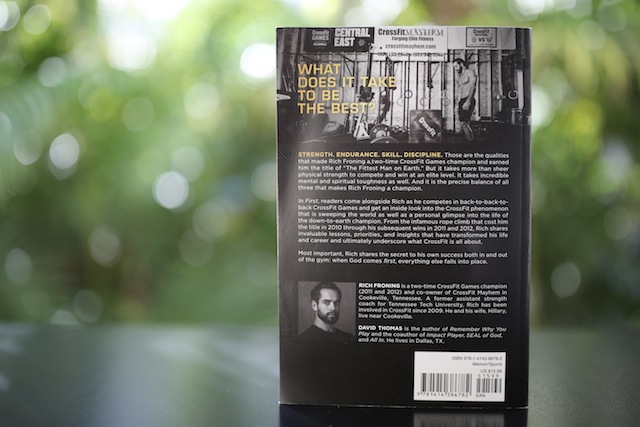 The Good
Pacing: Anyone who knows anything about Rich Froning knows he is virtually incapable of sitting still. He works out multiple times per day with little to no rest days. First seems has a similar mindset as it relentlessly pulls the reader at rapid speed from that first rope climb through to Froning's second consecutive Game's victory.
Accessibility: First breaks down the fundamentals of CrossFit and defines the key movements and translates what is otherwise an often dirty sounding foreign language into plain English. It's not just a book for CrossFitter's, but anyone searching for inspiration.
Balance: Froning has spoken about his urge to find a balance between preaching the word of God and fulfilling his responsibility to his religious community, and I feel like First did a solid job of finding that point. Not only did it establish a good balance with Froning's spirituality but between training, the Games and the man behind the muscles as well.
Honest: Rich Froning is not the kind of athlete to blame anything but himself for his failures, nor to hide how he's feeling. First, like Froning, enters into ever aspect of Froning's life with honesty and integrity, which is inspirational in itself.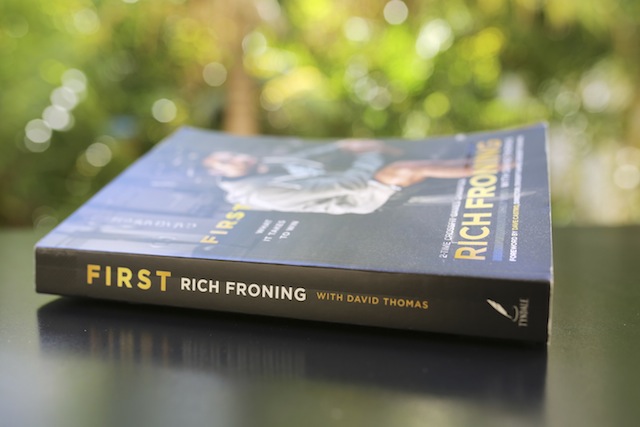 The Bad
Voice: There is something very difficult about saying the words "I don't like" and "Rich Froning" in the same sentence, paragraph or week – just in case someone mistakenly links the two – however, this was one aspect of First that I didn't enjoy. Regardless of the topic or situation there is no emotion in the writing. The Rich Froning fans have gotten to know in interviews is a passionate and engaging individual. Unfortunately, the Froning found between the pages falls short of his real-life self. Fortunately; however, he's so beastlike that not even poor writing could make me stop reading.
CrossFit Defined: The very thing that makes First accessible to non-CrossFitter's is something that constantly bothered me. Every few pages the story was broken for a mid-paragraph definition of a particular acronym or movement. While this WOD dictionary is completely necessary, I feel it would work better as footnotes rather than disrupting the narrative.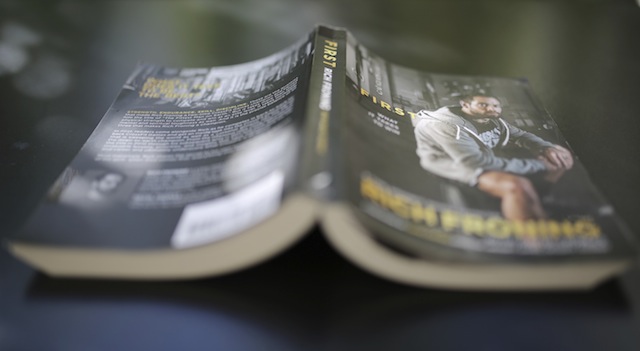 Conclusion
If you have aspirations of being the best in any aspect of your life First is a must read. Sure, it isn't perfect and the lack of strong narrative voice can make it tough to engage with, but the story and the man himself more than make up for those weaknesses. First is an unparalleled window into what it takes to be the Fittest on Earth and it is rare to find a champion so humble.