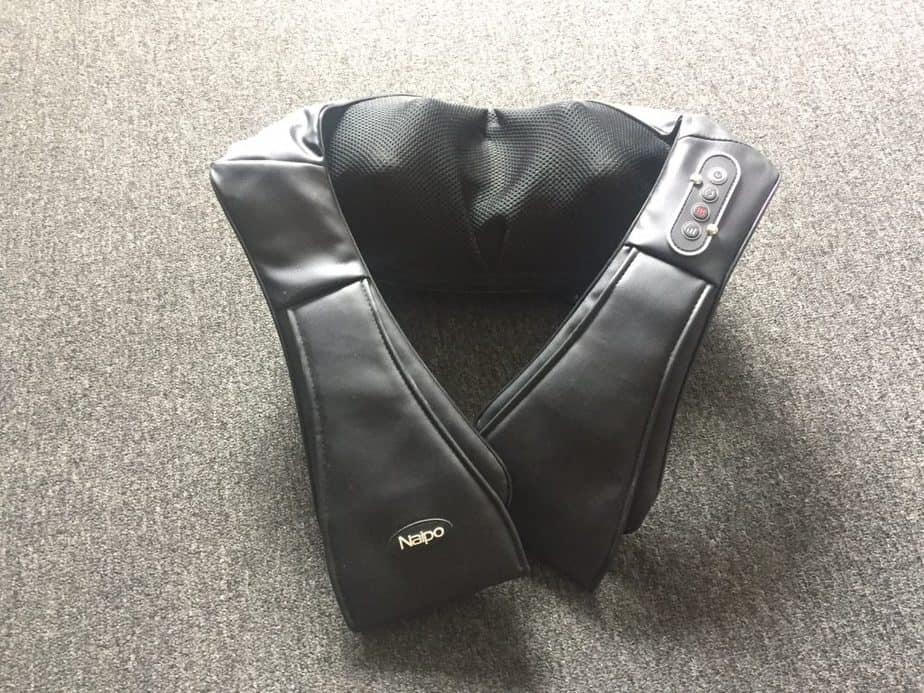 This week we take a moment to review the NAIPO Shoulder and Neck Massager: Designed to treat your muscles through Shiatsu Kneading Massage and Heat.
Item: NAIPO Shoulder and Neck Massager
Price: $49 USD
Retailer: NAIPO
Purchase: www.Naipocare.com
Functional fitness athletes are no strangers to shoulder and neck massagers. Simply go online and type in those words in Google and you will be bombarded with a list of items, all claiming to relieve muscle tension in your neck and shoulders.
In the busy world we live in, many of us simply don't have the time (or money) to visit a professional to get rid our our knots and muscle issues. That's why we try to do it ourselves using self massaging tools.
During my time reviewing self massaging tools for this site, I have covered almost all types. Everything from the Theracane, to the Compex, to the Vyper, to simple and cheap tools like lacrosse balls and foam rollers. However, i've never tested an electronic self-massaging shiatsu device until I got my hands on the NAIPO Shoulder and Neck Massager.
As the name suggests, the NAIPO Shoulder and Neck Massager is a electronic device used to treat your neck and shoulder muscles using heat and Shiatsu kneading. Just like similar versions from Brookstone and Bruntmore, they are designed to be used by yourself. Changing the settings and levels that you desire.
According to their website:
"At Naipo, our mission is to provide affordable, comfortable and reliable massage products that utilize modern technologies and support healthier lifestyles. We focus on traditional and contemporary therapy options that maximize customer health and well-being."
I've been using the NAIPO Shoulder and Neck Massager for several months now. I have used it before and after training. I have also used it at regular periods while watching TV, or even relaxing in my room.
Here are my thoughts on the self-massaging device and whether The Rx Review believes it is a worthwhile purchase: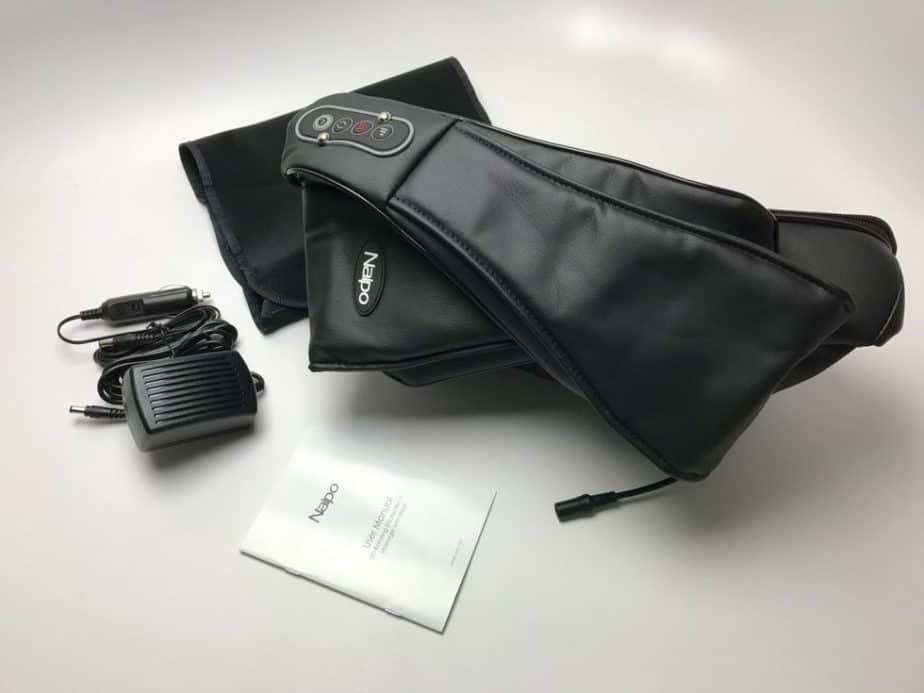 The Good
It Works: The NAIPO Shoulder and Neck Massager does what it claims to do – massage your muscles! The device works by you putting your arms into built-in slings, and using pressure to move the electronic massager into a desired area. It also has three levels to choose from (low,medium and high), depending on your preference and the built-in heat function transfers mild warmth to muscles. I personally found the device very easy and effective to use, and certainly felt more relaxed after using it.
Can Be Used All Over Body: The NAIPO Shoulder and Neck Massager is designed for certain areas of your body. However, I used it on my lower back, glute are and upper thigh area and also experienced great results. The device features 8 deep-kneading Shiatsu massage nodes. So really, you can use it on most areas of your body, not just your neck and shoulders.
Car Charger: It was a welcome surprise to find a car charger adapter in the kit when it arrived. Basically, you plug the charger into a car charger and you can use the massager while in a vehicle! Of course, you need your hands for driving, so it's best you don't use it while behind the wheel. However, if you're a passenger and going for a long ride, then take the NAIPO Shoulder and Neck Massager with you and use it while on the road!
Cheap: Selling for just $49 USD online, the NAIPO Shoulder and Neck Massager is certainly one of the more affordable self massaging tools on the market. 
The Bad
Not Cordless: The biggest gripe I had with this item is the fact it isn't cordless. It became a real pain in the butt having to always find a nearby wall charger to use the massager. Always having to worry about the cord getting tangled, or even ripping out of the well charger also became annoying. There were also times where I found the cord too short to sit on the couch and use it. I would enjoy the NAIPO Shoulder and Neck Massager a lot more if it were battery operated and wireless. NOTE: A cordless version of the massager is now available but it is more expensive than this version.
Too Soft?: I certainly got a great massage out of the NAIPO Shoulder and Neck Massager. But sometimes I felt like I needed a deeper massage. When I use the device, I always put it on the highest level, and at times still feel it isn't strong enough. But that is more of a personal opinion, as many others use it with satisfaction at the lower levels.
Bulky: The NAIPO Shoulder and Neck Massager weighs around 4 pounds (2 kgs) and is fairly large in size. It makes it hard to take with you on a holiday if you're packing light, and also takes up a fair bit of room to store in your gym bag. Unfortunately, the way this device is designed, there's not much you can do with the size. You just have to accept it.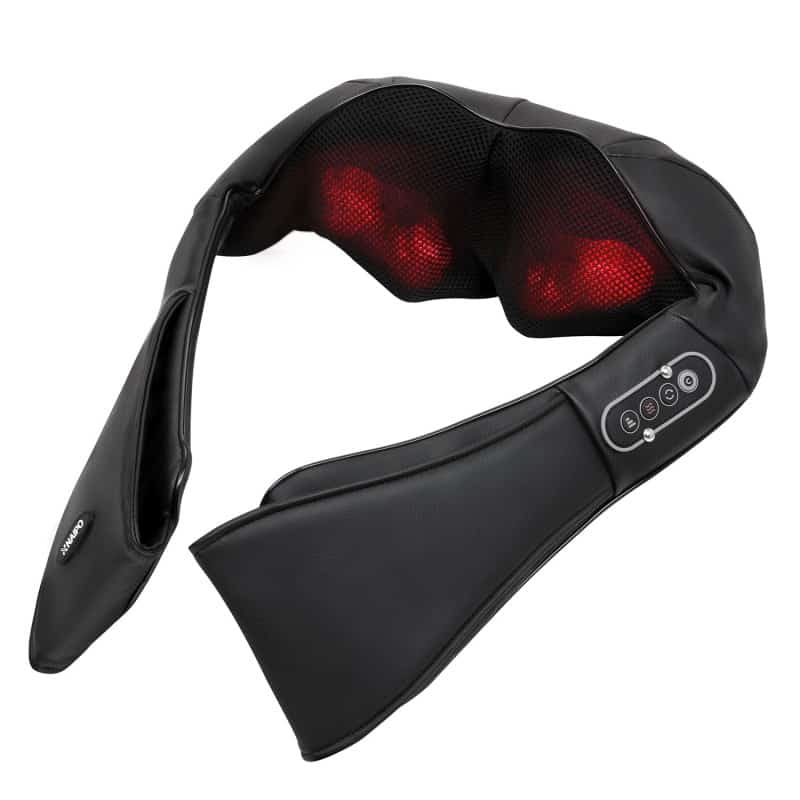 Conclusion
Overall, I quite enjoyed using the NAIPO Shoulder and Neck Massager.
The electronic device is actually quite effective in targeting certain areas of your body. It's easy to use, efficient and always left me feeling relaxed and less 'tight' muscle-wise.
There were a few slight gripes I had with the device. The size and weight of it, lack of ability to really target deep tissue, and the fact it wasn't cordless. However, for the price you pay for it, you really can't complain.
If you're after a deep tissue self massage tool that will almost hurt to use (but also relieve muscle tension and issues), then the NAIPO Shoulder and Neck Massager isn't the device to go for. However, if you want to relax and enjoy the 'shiatsu' massage experience, then this is exactly what you want.