This week, we take a moment to review the MobilityWOD Super Nova.
Item: MobilityWOD Super Nova
Price: $39.95 USD
Manufacturer: MobilityWOD
Purchase: Rogue Fitness
With its unique, sphere-shaped, grippy design, the MobilityWOD Super Nova offers 'more shear, more better, more awesome' mobility in a portable size.
Developed by the author of Becoming a Supple Leopard: physical therapist Dr. Kelly Starrett, the Super Nova was recently re-designed and re-released in late 2013. The Super Nova feels gentler than other advanced mobility tools like the Rumble Roller, and the grooved, flat surfaces help it reach larger muscle groups more efficiently compared to the lacrosse balls sitting inside your gym's paint bucket.
For those who regularly browse the Rogue Fitness site, it's no secret that the compact Super Nova comes at a steep price ($39.95 USD) – especially when compared to the price of a budget foam roller, or a ball you could steal from your dog or near the fence of your local school. If you've been considering buying the Super Nova, here's a deeper look at the mobility ball.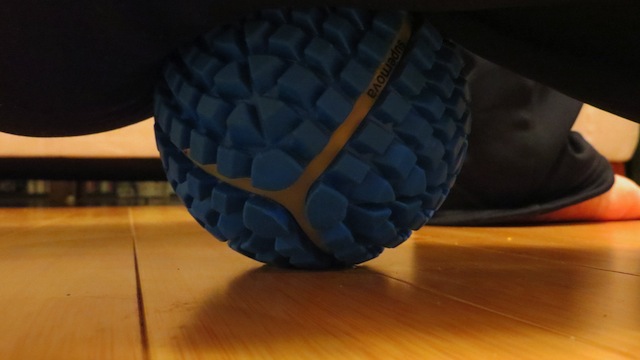 The Good
Grip: Thanks to its grooved channels and 'fingers', the Super Nova stays where you want – whether you're lying down, sitting down, or just rolling and twisting the ball over your quads or chest. You can move around more freely with more comfortable angles compared to trying to negotiate the position of a smooth lacrosse ball, especially when doing the 'bear scratching his back against a tree/wall' move.
Size: One of the best parts about the MobilityWOD Super Nova is its portable size, especially when compared to foam rollers. Slightly larger than a softball and about the size of a moderate grapefruit, the Super Nova fits nicely into a travel bag or gym bag for your on-the-go mobility needs. I recently took my Super Nova on a trip to help ease a tweaked back muscle and found it worth every cubic centimeter and the added 1.5 lbs in my carry-on bag.
Form factor: With its 'smedium' sphere shape, the Super Nova seems to be just the right size to get into problem areas effectively. Lower back areas, hamstrings, between your shoulders, the psoas muscle, the ever-popular IT-band, and beyond are all fair game with the Super Nova. You should have no problem getting your way into most of your major muscle groups without having to contort your body into positions that could lead you to injure other muscles.
It doesn't hurt (much): Like any mobility tool, the Super Nova could hurt if you want it to hurt. The good part is that with the Super Nova, unlike many other mobility tools (I'm looking at you, Rumble Roller), your body work doesn't have to be painful. The firmness of the Super Nova falls somewhere between the very firm feeling of a Rumble Roller and a typical dense foam roller. Because the Super Nova is larger and more forgiving than a lacrosse ball, you can stay in stretches and positions longer because you won't experience the intense poking or jamming feelings like you would with the 'edge' of a small ball. If you're someone who holds your breath through painful mobilizing with hard mobility tools, you'll breathe a little easier with the Super Nova.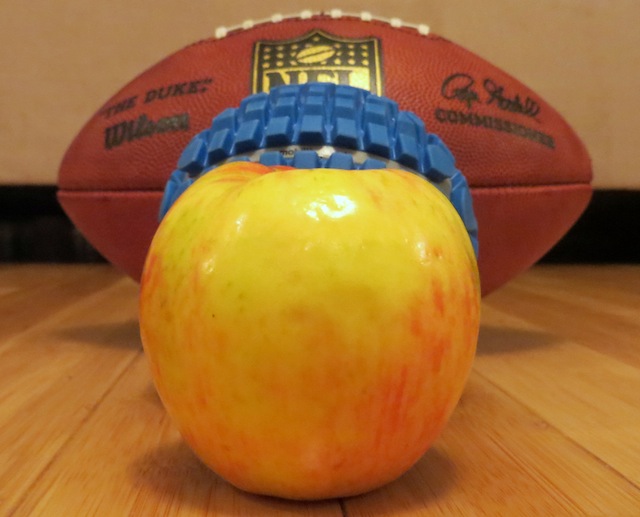 The Bad
Price: The MobilityWOD Super Nova is significantly more expensive than the lacrosse balls you've probably been using for some time. For the price of a Super Nova, you could get around 15 lacrosse balls, two of which you could tape together into a fabled mobility peanut. It's difficult to say that any sphere-shaped, rubber-like ball is 15 times better than another, if comparing on price alone. I'd still argue that the Super Nova is significantly better than a lacrosse ball.
Not for recreational use: While the Super Nova offers a versatile form factor for efficiently hitting targeted areas, if you're a mobility newcomer just looking for a friendly roller to do some general, fun back-cracking, and a little quad rolling, the Super Nova might not be for you. The Super Nova works great for mobilizing with a purpose, but might be overkill for someone new to mobilizing and rolling out.
All your gym friends will steal it: If you bring the Super Nova to your gym and start Nova-ing, I can almost guarantee that most people will want to get their roll-on with your new toy. The bright blue color, fun shape, and sturdy weight instantly and intimately attracts the sweatiest of legs, butts, chests, and backs of those looking to become supple leopards by rolling out on your ball.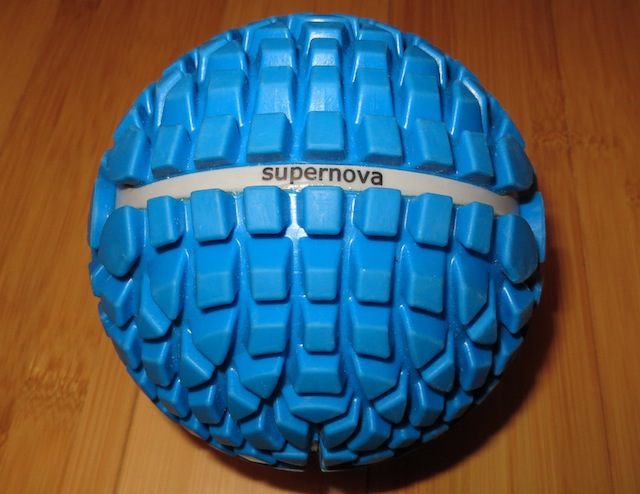 Conclusion
Designed by one of the biggest names in mobility today, the MobilityWOD Super Nova is an excellent mobility tool for those looking for a next step beyond a traditional foam roller and lacrosse ball setup.
If you're new to mobility and don't yet have a foam roller, it might be worth starting there before investing in a more specialized tool like the Super Nova. If you've already been considering a more advanced foam roller (like a Rumble Roller or The Grid), definitely consider the similarly-priced Super Nova before making your purchase.
While pricey, the Super Nova's travel-friendly form factor, reasonable 'hurts so good' pain requests, and grippy surface, make it one of the top 'next-level' mobility tools available today.