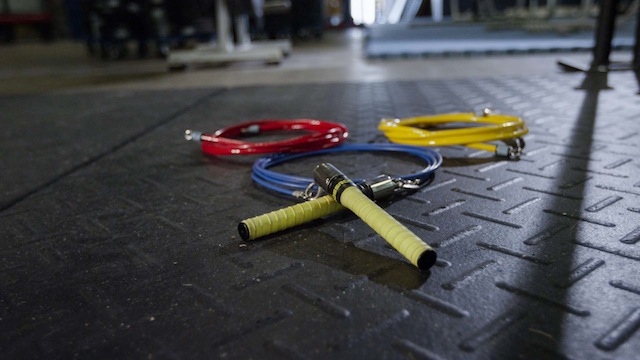 This week we take a moment to review the Crossrope Jump Rope System.
Item: Crossrope Jump Rope System
Price: $149 USD for complete set 
Retailer: Crossrope 
Purchase: https://crossrope.com
Like many things in functional fitness, there is usually a strategic and methodical approach to learning new skills. From your first attempt at the elusive and frustrating muscle-up to watching people burn through butterfly pull-ups. Every movement has a progression. Even Mr. Miyagi knew a thing or two about progression and other such lessons in life.
So when it comes to mastering the art of double-unders, progression is one of the keys for beginners. This is where a product like Crossrope comes in handy. According to its website, the Crossrope is:
"A full 'Jump Rope System.' There is nothing else like it. Imagine that you had to do an entire workout with a single weight. It might be too light or too heavy for the way you want to train, but you can't change the weight. That's what having a regular jump rope can be like. With Crossrope, you can easily change the weight of your jump rope by snapping in one of seven different weights of rope. Not only does this enhance your training versatility. It will make you a better jump roper and can increase your strength, coordination, and fitness quicker and more effectively."
Basically, the Crossrope system is designed to help you gradually improve your double-under skills by using a variety of different cable weights.
The system itself is made up of the following:
7 different weights of Crossrope cables ranging from 2 Oz. to 3 Lbs.
2 different types of handle sets (One for the lighter ropes and one for the heavier ropes)
A 2-sided Starter workout card (One workout for adjusting to the ropes, and one for an intro to heavy weight double under training)
After being given a number of customised workouts by a representative at Crossrope, I began to put the system to the test. Over a five month period I used the Crossrope system regularly with my training. During that time I kept in regular contact with Crossrope representatives to get the best progress.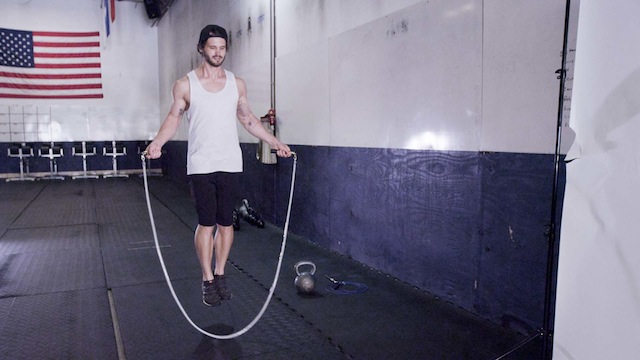 The Good
Training and Workouts Online: You can find an arsenal of downloadable online videos and instructions to help you start up with your new Crossrope kit. At the time I tested it no workouts came with the set, but now each kit comes with a 'workout card' to help you on you way. There is also an official '8 Week Double Under Domination' Program that comes free with certain Crossrope Sets online.
Customizable: The beauty of this system is you can customize it to suit your needs and or workout. Done Annie with the 'Sprint' cable and set a PR? Try it with the 'Explode' cable and see how you go! The ability to interchange between ropes in less then 20 seconds was a huge added feature for me that was challenging and doesn't exist with any other jump ropes.
It Works: The Crossrope system and programming actually works. This is not a gimmick. If you follow the routines and/or even just work with the different ropes with a training plan you put together, you will begin to see improvements. There are additional benefits beyond improving your double unders. These heavy ropes help strengthen your shoulders and forearms. In my experience, I felt that it helped rehabilitate my left shoulder as well.
The Bad
Not the Fastest: The Crossrope kit is great for those wanting to develop and progress through the skills of jump roping. However, if you are looking for a fast rope, this probably isn't the best product to buy. The 'Sprint' cable (the fastest in the Crossrope series) is not the fastest on the market and is also not the most accurate. However, I do believe it move/spins very efficiently for a design that has such versatility and can handle the beating of heavy rope training.
Price: For those on a budget, at $149.99, this system might be a little too expensive. However, there is a number of combination sets at lower prices starting at $39.99 which allow you to add more interchangeable ropes from the series as you progress.
Lack of Instructions: Upon opening the package, I noticed I had all these beautiful brand new ropes, two sets of handles, but nothing to tell me what to do with them. Where do I start? Which rope do I use first and for how long? As I mentioned earlier, a 'workout card' is now included in kits to help you start out.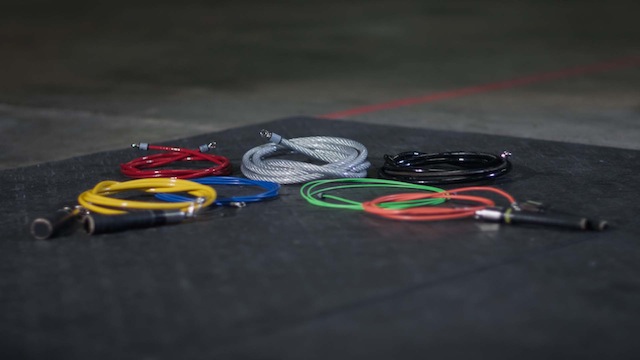 Conclusion
Like the muscle up, even the squat and deadlift, double-unders, for many, should be taught in progressions. For some, they will come easy, but for those that struggle, Crossrope's Jump Rope System offers great support. In my experiences, I started to see improvement after one or two five-minute sessions per week.
Though the price tag may seem higher than what you are used to, the Crossrope system still offers great value. Especially those who continue to struggle with double-unders.
Review by CC.