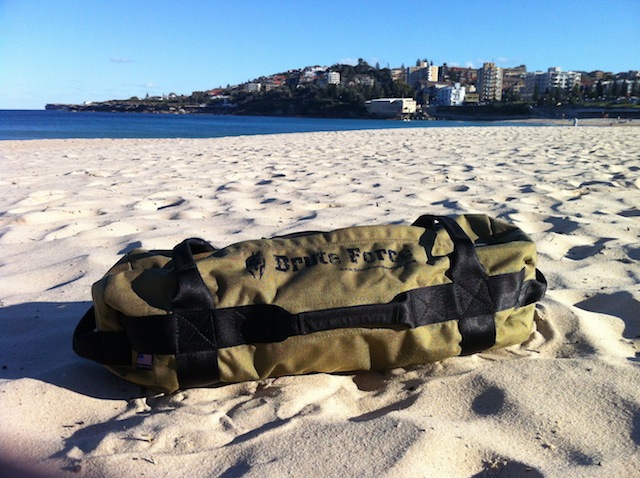 This week, we take a moment to review Brute Force Sandbags.
Item: Brute Force Sandbags
Price: $94 USD 
Manufacturer: Brute Force
Purchase: www.BruteForceSandbags.com
In my imaginary life I am a kick-ass athlete, who given the opportunity to CrossFit train all day, would be competing with the best. In my real life however, I'm not that guy. I'm probably an above average CrossFitter who got the chance to compete at Regionals. So I'm what most of us are: a part-time CrossFitter and a full-time worker.
My "real job" is director of sales for an engineering design and manufacturing firm. I spend most of my days dealing with architects, engineers, designers and construction project managers, whose lives are full of making a design reality. So when something comes along that has good design principles it's something I recognise and appreciate.
The Brute Force Sandbag has had a lot of thought put into the design. There is an attention to detail that has been adopted across the range of sandbags and has the user in mind.
According to their website, the features include:
"The bags are very well reinforced throughout the perimeter with webbing
Reinforcement webbing doubles as handles; and the handles are comfortable
The zippers are concealed to eliminate abrasion on your skin and to prevent unzipping via friction. The sandbag comes with an inner-filler bag for the sand
Various colours, some of limited offer"
The sandbag shell comes in four different sizes available either as the shell only (Athlete only) or as a kit with the inner-filler bags included:
ATHLETE™ 10-70 LB (31.8 kg) MEDIUM KITS
STRONGMAN™ 50-120 LB (54.5 kg) LARGE KITS
MINI-MOUSE (0-25 LB) SMALL KITS
Brute Force Heavy Hitter 100-200lbs (90.7kg)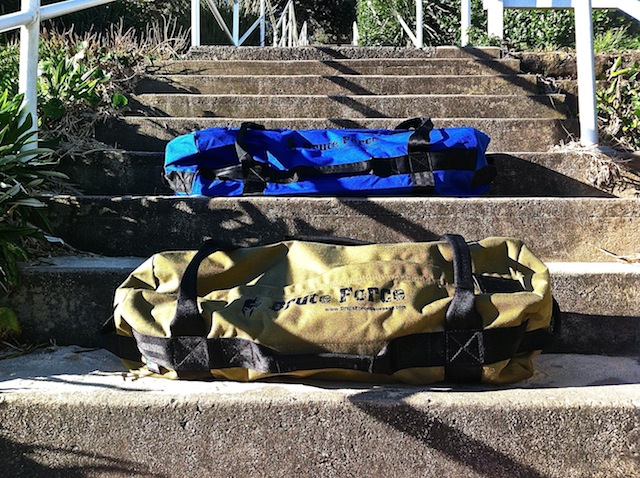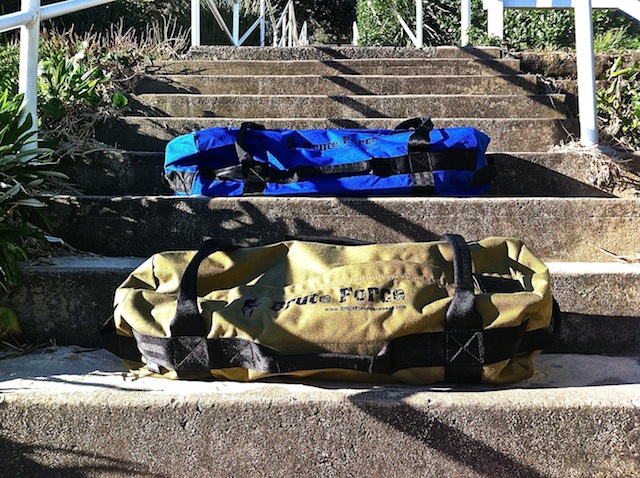 In addition to taking these bad boys out for a test run, I asked a friend of mine who is a Sailmaker by trade to look over the sandbags and give his comments on what he thought of the construction.
The Good



Design – Overall the design of these bags is very good. The placement of the handles, zippers, size and shape make them very user friendly.
Handles – The handles are soft and comfortable.
Filler Bags – Brute Force use double Velcro closing system for their filler bags, which is great for securing the sand in the bag.
Well-Made – The Brute Force Sandbags are very well made. There were no visible signs of stitching coming undone or loose threads.
Price – Brute Force Sandbags are well priced considering the materials and construction that has gone into it. I asked my Sailmaker friend what it would cost him to make something of this quality. Excluding materials it would take 2-hours to cut and sew the pattern together once he had the design worked out, which at a Sailmakers rate in Australia makes the asking price on these very competitive and reasonable.
Colour Range – They offer a good colour range with the limited offer of camouflage prints that is badass.
Quality – Brute Force uses high quality Cordura material that is robust yet comfortable on the skin.
2-year Repair/Replacement Warranty – What would be interesting is how they organise for repairs to be performed for International clients. There was no reference to warranty or its conditions on the website.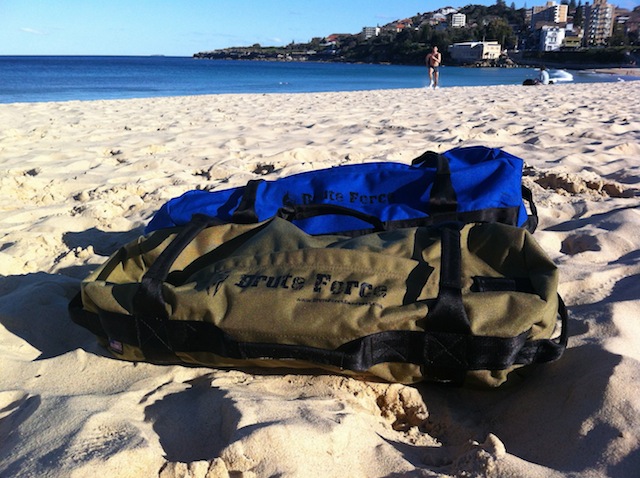 The Bad



Stitching – The first place that the bag is going to show wear is at the seams, and for a sandbag to be thrown around and withstand the punishment it's going to need additional reinforced stitching. To compensate for this Brute Force Sandbags have include four rows of stitching! The only suggestion to what is already more than adequate, is possibly the inclusion of double reinforced stitching; a process where the excess fabric is folded back over the original stitching and stitched again. Sure this may be overkill but something I would like to see.
Zippers – The zippers are not reinforced. That begin said, with the additional rows of stitching that are already inbuilt, there appears to be enough structure to compensate for this.
No YKK – On the bags we were sent the zippers were not YKK, however the website states that YKK zippers are used. This may a simple oversight by the manufacturer or our inability to recognise any YKK branding. This is by no means is a deal breaker but just something to mention. (We have since contacted Brute Force and they did note there was a shortage of zippers in which some bags shipped without them. Although this is something they have now rectified, meaning all sandbags ship with YKK Zippers)
Distribution – The inner-filler bags didn't distribute the sand evenly throughout the bag, which can be seen as both a positive and a negative. When I've used sandbags in the past you have the ability to move the sand a bit to form it to your body shape. This was a little bit difficult with these inner-filler bag.
International Shipping – same old story for overseas customers. You'll get slogged US$42.25 for shipping one bag to Australia. Shipping in the US is US$14.60, which is still a little steep.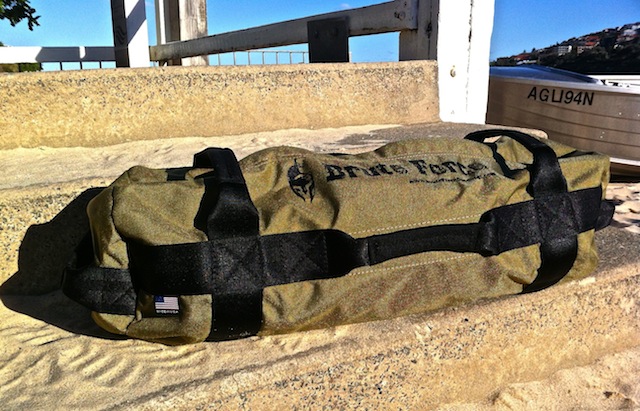 Conclusion:

I like most people don't mind paying a little more for quality especially if is going to last the test of time. With a few minor manufacturing improvements this bag could last the test of any over enthusiastic CrossFitter. Overall the Brute Force Sandbags are a very well designed set of bags. This review has provided the requirements that you need to make a decision about purchasing the Brute Force Sandbags. Incase you want to check more about the sand bag, you can check this sandbag review.  
Earlier this year Brute Force did their own integrity testing on the bags. You check that video out below.