It was just seconds ago that Dave Castro announced to thousands of CrossFitters around the world that the CrossFit Open workout 13.3 is:
12 minute AMRAP of:
150 Wall balls
90 Double-unders
30 Muscle-ups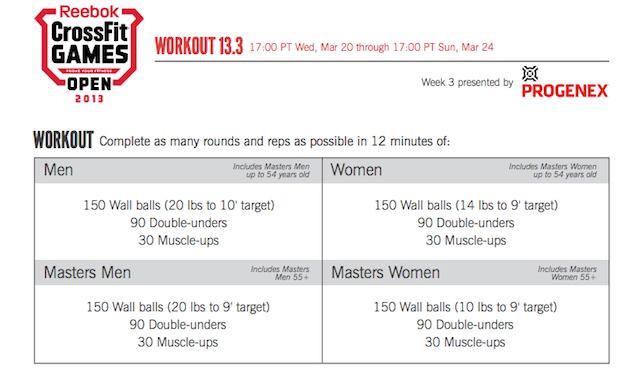 Make sure you check out the full workout description for the 2013 Reebok CrossFit Games Open 13.3 workout here.
Now it's time to watch the 2010 CrossFit Games Champion, Kristan Clever and the 2012 third fittest woman on the planet, Talayna Fortunato to battle it out.
We will have a full wrap up of this epic event shortly.
In the meantime, if you think you can successfully guess the winning amount of reps for 13.3, post your guess on this article for your chance to win a $25 WODshop gift voucher.