As expected, we have seen a lot more movement in the 2012 Reebok CrossFit Games Open after day two of workout 12.3.
At this stage, it appears a score above 500 reps is the benchmark for the big names in both the male and female events.
In the men's comp, surprise packet Josh Golden has put in another impressive performance in week three to jump to top spot, while Annie Thorisdottir continues to hold onto the number one position in the women's half, and at this stage, also has the best female score posted for workout 12.3.
However, there is are still a lot of scores to be processed by the Games officials, including last years winner Rick Froning, who unofficially got 535 reps today, and last years Open winner Dan Bailey who got 528 reps.
Both scores are still yet to make it on the leader board, and at 1PM Sydney time, and 6pm PT, this is how all sections fare.
In the women's half, there seems to be no stopping Annie Thorisdottir. Last year's winner continues to lead the event after posting the second best score in workout 12.3  with 491 reps.
Emily Bridgers, however, has the best score for the week with 534 reps completed , and now moves into second spot overall. Whitney Heuser rounds out the podium having pulled out the seventh best score with 435 reps.
Last week's winner, however, Kristan Clever is still one of the big names yet to officially register a score so far this week.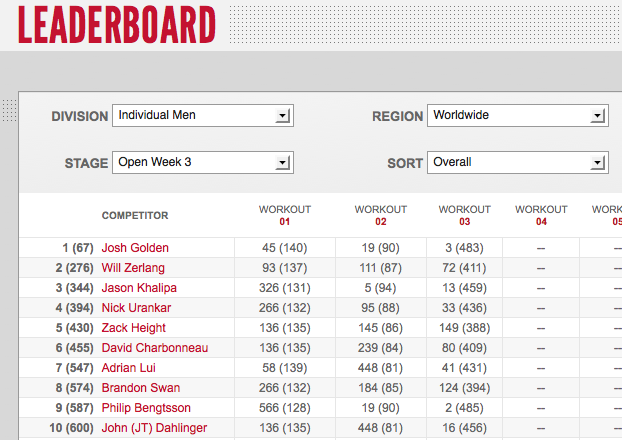 As mentioned earlier in this post, there are a number of competitors in the men's half who have already done the workout 12.3, but are yet to have their score officially posted on the leaderboard. Rich Froning Jr and Dan Bailey were two of these, both telling us via Twitter they broke the 500 rep barrier.
Josh Golden continues his remarkable start to the sport of CrossFit, scoring the third best time in workout 12.3, moving him into number one position, while Jason Khalipa is now in third spot, after scoring 459 reps in the 18 minute AMRAP.
Travis Page is still the man with the officia best score in week three, after registering 523 reps yesterday.
Another day and another change to the Team leaderboard for this year's Open.
After strong performances by their team members, RAW Training from the Mid Atlantic are in the number on spot, but closely followed by Annie Thorisdottir's CrossFit Reykjavic. Front Range CrossFit is in third place, after getting a combined total of 1969 reps.
The best score so far this week however, belongs to Hacks Pack Ute, who are now in 12th spot overall after getting a combined score of 235.