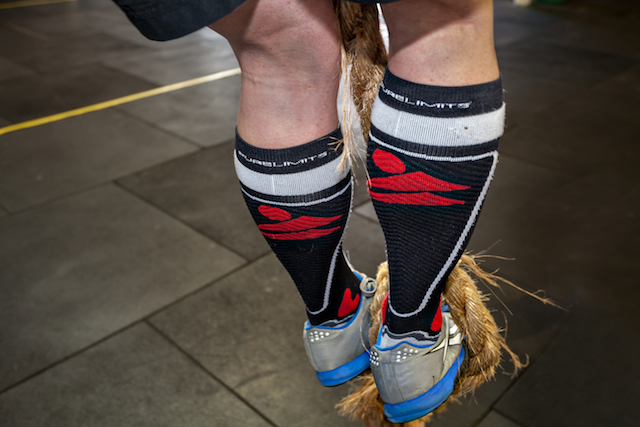 Anyone serious about sport and fitness would be aware of the benefits of compression socks. As well as offering you comfort and protection while working out, compression socks are designed to help reduce lactic acid, optimize blood circulation, and increase oxygen delivery to the muscles while you work out.
In addition, most compression socks these days do a great job of stopping your legs and shins from bleeding during exercises like deadlifts and rope climbs, and also look pretty fashionable, coming in a number of colours and styles.
A few months ago we reviewed a pair of Pure Limits Unisex Compression Socks and rated them a pretty cool addition for any CrossFitters gym bag.
The good news, is our mates at Pure Limits have now provided us with 15 pairs of these compression socks (valued at $30 AUD each) to give away to our readers!
We will be giving away all 15 pairs of the Pure Limits Compression Socks this week with the competition open to readers from all countries across the globe.
All 15 winners will be announced in next week's Weekly News Wrap!
To enter, simply follow the steps below:

Update 18 November 2013. This giveaway is now closed. Here is a list of the 15 winners:
Eric Hogan
Brandon Ebert
Jory Kettles
Eric Vikre
Jason Schrier
Brad Sinclair
Sally Ritchens
Jacqueline Hedditch
Audrey K.
Burt and Melissa Khan
Matt Rogers
Langels21
Allison Hughes
Rizina
Rani
Make sure you all send your postal details to john@therxreview.com to claim your prize!