One of the great things about the CrossFit Open is that it keeps us guessing. Each week athletes from around the world wait in anticipation to find out what Dave Castro will announce as the next workout in the global online competition.
In the first week of the 2015 CrossFit Games Open, Castro once again thought outside the square and dished up a two part workout consisting of a nine minute AMRAP (toes-to-bars, deadlifts, snatches) and a max effort clean and jerk (six minute time cap).
So it begs the question, with four of the main functional fitness movements already ticked off, what do you think we will see in 15.2? If previous years are anything to go by, then we can expect to see a workout involving different movements to what we had in 15.1. But what will they be?
Burpees and wall balls have been consistent in every single CrossFit Open, so it's fair to assume we will see them again at some stage during this year's competition. Ring muscle-ups have also been regular features of the Open, however, due to the fact many athletes struggle to complete the movement, they have often come into effect later in the workout. This year with the scaled option though, we might see it more frequently.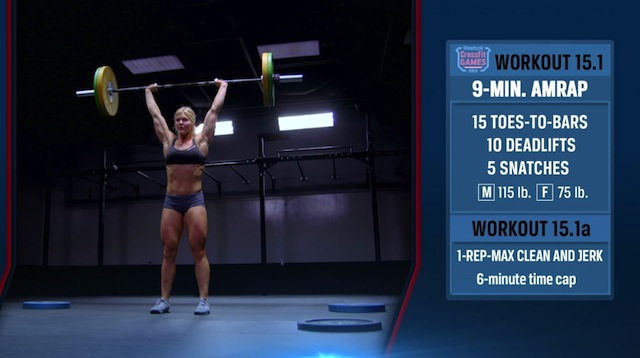 In addition, we have to take in mind the live workout announcements and who will be competing in them. In 15.1 we saw Mat Fraser and Rich Froning go head to head, so it wasn't surprising to see a max effort weightlifting component included in the workout.
In Open workout 15.2 we will see Michele Letendre and Emily Bridgers battle it out. So could we see a workout that will suit thier strengths? Time will only tell, but for now we can at least guess!
Cast a vote in the above poll and tell us what movement(s) you think we will see in the second week of the CrossFit Open: 15.2.