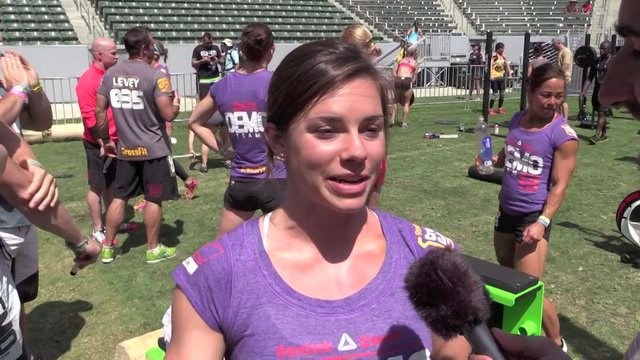 In a circumstance no one could foresee, Julie Foucher has all but bowed out of the Central Regional effectively ending her final CrossFit Games campaign.
Event 3, the long chipper, the Foucher trademark strategy of grinding endurance saw her in a comfortable lead into the final 100 box jump overs. Foucher finished her set of 50 Sumo Deadlift High-Pulls to start her box jump overs at a blistering pace.
Into her second set, however, a clear shift in pacing visibly slowed last years Central champion. In a move which shocked spectators, commentators, and judges, Foucher sat down on her box stopping completely.
"Something felt like it snapped, and I (couldn't) really jump on it" she recalled.
After several words with her judges, Foucher heroically continued her jump overs using one leg for the jump and placing both feet on each side of the box to ensure the reps were counted. Placing 5th in the event still left Foucher in good stead to continue her fight for CrossFit Games qualification.
Uncertainty reigned as Foucher limped off the competition floor, looking visibly shaken.
"I kind of just want to do as much as I can just for fun just because I know it is going to be my last time our there and I want to do as much as I can" Foucher said fighting back tears in an interview following Event 3.
Nothing short of overwhelming cheers and applause engulfed the stadium as she later returned to the floor fitted with a black compression boot protecting a suspected torn Achilles tendon. Her intentions however were clear; she was going to do as much as her body would allow her to do.  
After limping to the start line, once on her hands, Foucher gracefully finished the 250ft handstand walk in an impressive 2:17, enough to earn her 11th in the event. With Event 5 starting just 1 minute and 40 seconds after the handstand walk, Foucher limped to her platform and made her two lifts – 75lb and 85lb – again scoring her points.  
It remains to be seen how serious Foucher's injury is; if it is indeed a torn Achilles as suspected she is well and truly out of contention for the Games. However, with her scoring for events 4 and 5 there is a chance that she may return to the competition floor to complete the Regionals events.
The possibility of the latter seems to be keeping social media on fire with dozens of games athletes, including Aussies Kara Webb, Denae Brown, and Bradnon Swan, posting their support for Foucher, some even encouraging her to keep fighting.