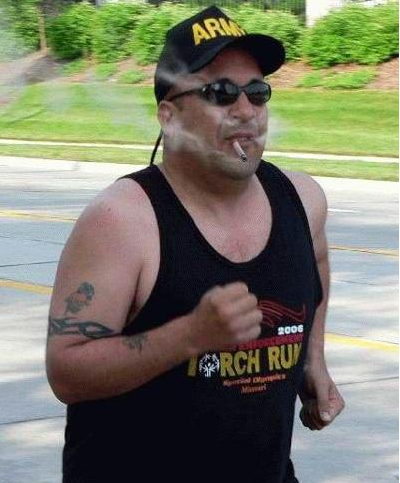 Can CrossFit help you stop smoking? An article posted by Gawker.com titled  "How To Stop Smoking For Real" seems to think so.
The piece discusses a recent study that was published in the Journal of Tobacco Control. And reported in New York Times, which found:
"smokers who have used the over-the-counter products, either as part of a program or on their own, have reported little benefit. The new study followed one group of smokers to see whether nicotine replacement affected their odds of kicking the habit over time. It did not, even if they also received counseling with the nicotine replacement."
Gawker.com's solution to the problem is simple. They advocate you:
"Take up an extremely strenuous physical exercise program at the same time that you decide to quit smoking. This might include, but is not limited to: marathon running, triathlons, full contact fighting sports, or one of those super-competitive CrossFit gyms where people who are like, IT workers by day channel their frustrations into timed overhead squat contests, unto the point of vomit. This, my friends, is the actual, no joke, key to quitting smoking.
Because in order to survive the death-defying physical demands of your new sport, you will be forced to quit. It's either quit, or collapse on the side of the roadway with an aneurysm; quit, or drown during a miles-long ocean swim; or quit, or be physically beaten to jelly by a fighter with better endurance; quit, or let Bob from accounting beat you in the handstand pushup contest. All are fates more painful than nicotine withdrawal."
It is an interesting take on a problem that many have tried and failed to defeat. In light of the recent findings cited in the Journal of Tobacco Control, taking up CrossFit may not be a bad option. At the very least if it does not help you kick the smoking habit, you may pick up a newer more healthy one: CrossFit.
Let us know your thoughts in the comment section below: