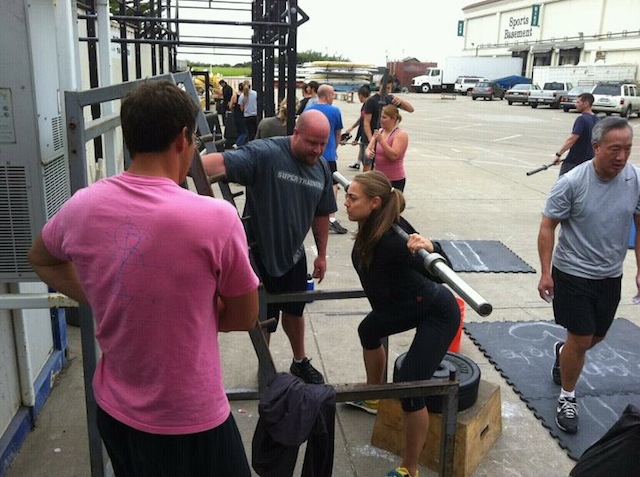 Are you hurt or are you injured? It's a serious question and one that some athletes struggle with on a daily basis. While injuring yourself can take weeks or even years to recover from, if your training is such that you routinely fall into the "hurt" category, you should re-evaluate things.
Overtraining and not training smart are two of the reasons I see athletes hurt themselves. You have to consider things like increasing your work output over time. If your work output is super high, to the point of overtraining, and you find yourself hurt or injured because of it, then your output drops. That is a loss in fitness. And CrossFitters never want to lose out on some fitness!
To stay on top of things and continue progressing, athletes (and their coaches) need to know when to push and when to ease back a bit. Listening to your body and making a well thought out plan for training will help you avoid taking steps back and keep you moving forward.
Take a look at your training over the last few days – OH squats, pressing, handstand push-ups, thrusters, handwalking…hmmm. How are those shoulders feeling?
While training in CrossFit means you're going to hit the same body parts multiple times a week, if not multiple times in one workout, you can still manage things better.
Here is what a sample of a productive week that I've used with my athletes:
Monday
*mobilize hips and shoulders
Conventional Deadlift – MAX 5
Then,
15-12-9
bar-facing burpees
OH Squats 155/105
Tuesday
*mobilize shoulders, pecs, and upper back
Bench Press (to 1 abmat on chest) – MAX 3
Then,
5rds
12 pushups
8 toes to bar
40 doubles
1 hose pull + run back to straighten out
Wednesday
*mobilize shoulders, hamstrings, calves
**quad smash post workout
Then,
7rds
10 db snatches (5 each side) 50/35
100m sprint
Skillwork as buy-in or cash-out:
-5 strict muscle up attempts (assisted as needed)
-4×15 barbell bent over rows
-3×10 back extensions
-4×10 GHD sit-ups to parallel
Thursday
*mobilize hips, hamstrings/glutes, triceps, upper back
Then,
Box Squats
55% x2reps x5sets EMOTM
65% x2 x5 EMOTM
75% x2 x5 EMOTM
Then,
3rds
250m row
20 pistols (alt legs)
250m row
10 power cleans 155/105
Friday
*mobilize shoulders, pecs, upper back, calves
Then,
Push Press
70% x3reps x12sets; rest 1min
Then,
100 burpees with a 1′ jump
It covers all of your skills, strength, mobility, and metcons for 5 days without overloading any one part of your body or over emphasizing any area of your training.
There is even room left to add extra training depending on what level of athlete you are and how well you recover.
Essentially, the variety is such that you're getting the work done but not killing yourself. Believe it or not, your ability to kill yourself on a daily basis is not an indicator of how tough your training is.
Through the past few years of training alongside top athletes like Becca Voigt and Kris Clever, I've seen what works and what doesn't and I've tried a lot of different angles.
More recently, I've learned about the Westside Conjugate program that top powerlifters use and I've seen great results implementing a similar structure to my athletes' training.
Ultimately, walking the line between a challenging, all-inclusive training regime and overtraining can be difficult to manage. Take a close look at your own (or your athletes') hurt and injury record for a real assessment.