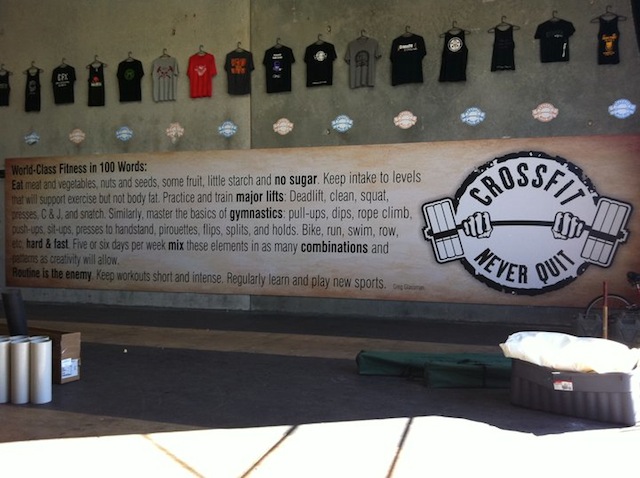 It has been just over a month since the 2012 Reebok CrossFit Games wrapped up. And like most fanatical CrossFit fans, when the season comes to an end I start to develop a case of PCGSAD.
PCSAD or Post CrossFit Games Seasonal Affective Disorder is well documented in the community as it strikes at the heart of CrossFitters and CrossFit fans alike. I mean how long can we wait till we see another competitive thruster, burpee, handstand push up or mystery WOD revealed?
I have to admit, I love watching people work out in immense pain while I eat my Paleo brownie, drink my dairy free coffee and comment to the person next to me, "That's not full range of motion." I also love hearing other spectators chime in with their own comments like, "Geez that should have been called a no rep."
For our friends in the US they have the WOD Gear Team Series to help them get through this CrossFit deprived time of year. Yet for those of us down under we have to wait a little longer.
The good news however, is our pain is about to end and begin for some 340 others, as this year's CrossFit Never Quit 2012 Affiliate Showdown takes place this weekend. The event kicks off this Sunday the 19th of August at 8am, where athletes compete in two WODs.
It has fast become one of Australia's premier CrossFit events in the calendar year. Commencing in 2009 with 60 competitors, by 2010 that number tripled to 175. Last year the event was even bigger with 275 athletes from Sydney, Canberra, Townsville and the NSW Central Coast all taking part.
This years event sold out in less an 48-hours and will be the largest of its kind outside the Australian Regionals. The team over at Never Quit have worked hard at growing the competition, attracting sponsor such as SPS Gear, Men's Fitness Magazine and countless other local companies.
Some well know Australian CrossFit identities such as Jason Haywood, Megan Smith, Courtney Fitzharris, Kylie Linbeck, Australian Regional Director, Mick Shaw of CFX and the world's 9th fittest man, Chad McKay will all be in attendance.
It is great to see CrossFit events like this growing each year. I actually compete in last year's Showdown and it was a great day out for competitors and spectators alike.
So if you're like me and suffering from a case of PCSAD, or just want to check out the action make sure you come down.
The event will be held at Unit 20, 7-9 Progress Circuit, Preston NSW 2170. You can find more information here.
Good luck to everyone competing and spectator watching 🙂