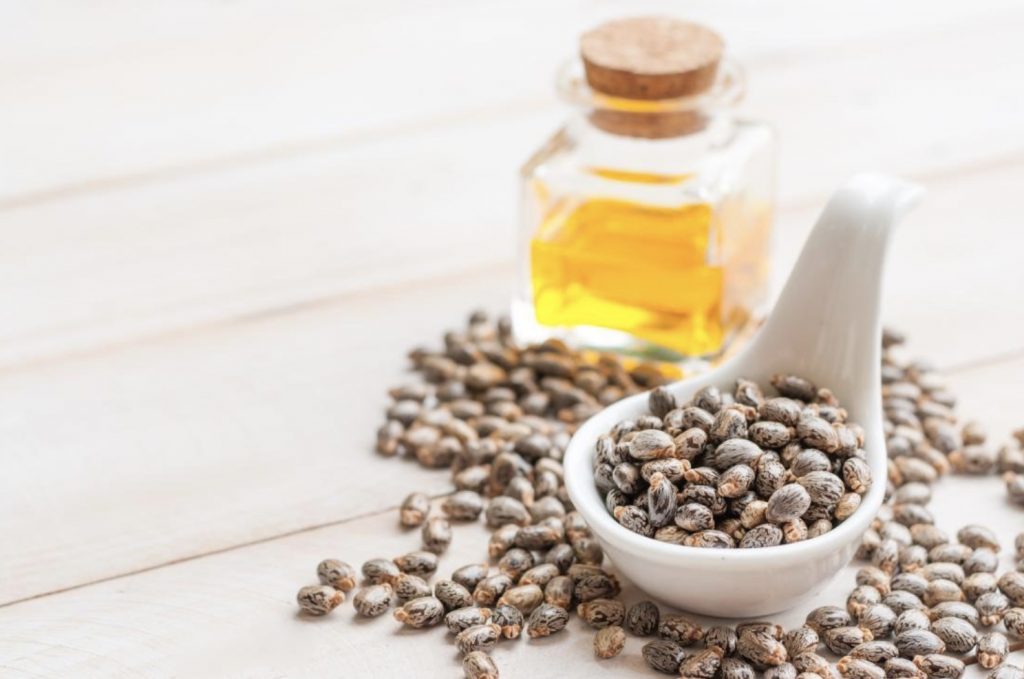 Castor oil is derived from the seeds of the plant ricinus communis (castor oil plant). The castor oil plant is primarily grown in Africa, South America and India. According to a research study published in the Hindawi Journal, castor oil is rich in ricinoleic acid—a type of fatty acid known to fight inflammation. When applied on the scalp, it enhances the health of the hair follicles and protects against hair loss, which in turn promotes hair growth.
As castor oil gains popularity as a natural hair treatment to increase hair growth, are you a CrossFitter who is also considering using it as a hair growth tip? Read about this remedy to make sure it will benefit you to have beautiful, healthy hair.
Pick the right oil: We recommend you to opt for organic, cold-pressed oil. Cold-pressed oils are known to be of higher-quality and more nutrient-rich than those processed in hot temperature.
Follow due process in application:  You can use castor oil as a safe and easy home remedy for hair growth in the following way:

Part your hair and apply the castor oil on your scalp using the applicator brush. Massage the oil into your scalp.
Apply castor oil to the rest of your hair using a comb to ensure even coverage.

 

Put a shower cap on, ensuring all hair is tucked in.
Leave the shower cap on for at least two hours. This gives the oil enough time to penetrate into the scalp, hair follicles and hair shaft.
Wash your hair with a natural shampoo and conditioner after two hours.

Be mindful of side-effects: You should apply castor oil on your hair and scalp just once a week. When used more frequently, castor oil can cause build-up. Hair treatment recipes include diluting it with other plant-derived oils (such as coconut or jojoba). Combining oils can also tone down the scent of castor oil, which you may find unpleasant.

 
As per a research study published in The International Journal of Trichology, using castor oil as a hair treatment may lead to acute hair felting (a rare disorder in which the hair becomes entangled into a hard mass). Since the condition is irreversible, the only solution is to cut off the affected hair.
Also read: https://www.drbatras.ae/hair-conditions
Castor oil is most commonly used as a laxative. But castor oil's natural antiviral and antimicrobial properties make it a popular treatment for skin problems and hair growth. There's currently no direct scientific evidence to prove that castor oil can promote hair growth. You can find this oil on a growth serum product from Allurium Beauty. However, a research study published in The National Library of Medicine indicates that castor oil can improve the appearance of your hair by increasing its lustre.
Whether your hair loss is temporary, reversible or permanent there are hair treatment options that can be helpful. If your hair loss seems sudden and excessive, consult your hair doctor to identify and treat underlying health conditions. These can include menstrual irregularities, thyroid problems or anemia.
Read about the hair loss treatment at Dr Batra's™: https://www.drbatras.ae/hair-treatment-at-dr-batras
Hair Fall Treatment
The best hair fall treatment can prevent hair loss from worsening and enhance hair regrowth. A hair specialist will diagnose your hair loss by taking your medical history and examining the scalp. 
According to The National Center for Biotechnology Information (NCBI), homeopathic remedy made from Thuja Orientalis extract promotes hair growth by inducing the anagen (growth) phase in resting hair follicles and can therefore be a potential hair growth-promoting agent. Moreover, Thuja Orientalis has been traditionally used to treat patients who suffer from baldness and hair loss in East Asia. 
Dr Batra's™ combines homeopathy and aesthetics to provide the best treatment for hair loss. Dr Batra's™ Hair Vitalizing Treatment (HVT) is a U.S. FDA approved non-invasive supplementary treatment to make your hair strong and regain vitality (results may vary from person to person).
We suggest that you take the Dr Batra's™ hair loss evaluation test in order to assess your current hair problems. Our homeopathic doctor will customise your hair treatment after considering specific conditions that affect hair growth. Book an appointment with us at https://www.drbatras.ae/book-an-appointment for an effective and safe hair fall treatment.