Well after repeated attempts, The Rx Review was finally able to speak with a representative from BSN about the Rich Froning 'tattoo controversy'. Just yesterday we had the opportunity to talk with Helga Moya, the BSN talent coordinator, about the matter.
For those unfamiliar with the issue, it was late last year when supplements company, BSN, published several advertisements of dual CrossFit Games Champion, Rich Froning Jr. in the December issue of Muscle and Fitness magazine.
Soon after, several readers contacted us, noting that Rich Froning's Galatians 6:14 tattoo, that runs down the right side of his body, appeared to be removed.
We first reported about the matter in our weekly news wrap back in November and again in an article in December.
Froning, a devout Christian, is very open about his faith. So it was a surprise to many readers that this particular tattoo was not displayed in these adverts.
When asked if BSN had removed the Galatians 6:14 tattoo from Froning's advert, Moya clearly stated:
"We did not remove the tattoo. We do not remove any of Rich's tattoos on any of our advertising. Basically it's a reverse image. The actual ad is a reverse image. When we shoot him, we shoot him at all different angles. Then our print team takes the best pictures that they think would look good in an ad. And sometimes they reverse the image to fit the ad. So that's what was done in the past and is still done to this point. Some images you will see the Galatians tattoo on his side, and some you don't. It's just a reverse image. So it's his other side where he doesn't have a tattoo on."
Moya says there is absolutely no reason why BSN would ever remove Froning's tattoos, going on to state BSN are very supportive of them and his faith.
"Since we signed Rich, we have always been very supportive of all his tattoos. We know exactly the meaning behind. We know how religious he is. There is no sense at all why we would want to remove any of his tattoos," Moya says.
Moya went on to note, "we have a lot of athletes that have tattoos and we don't see any reason to remove them."
BSN then provided The Rx Review with several other adverts of Froning where you can see the Galatians 6:14 tattoo and several others on his body.
We have provided all those images and the ones taken from the Muscle and Fitness December issue below.
The first two pictures are the original images that caught our readers attention in Muscle and Fitness. The bottom two are the images BSN sent us yesterday.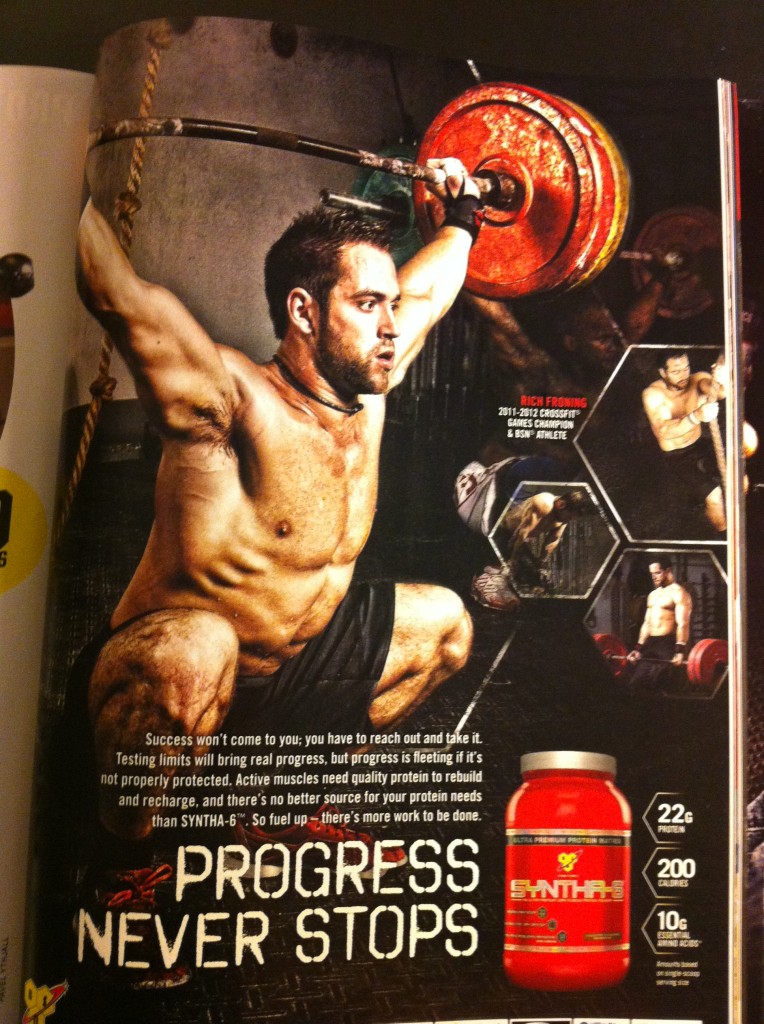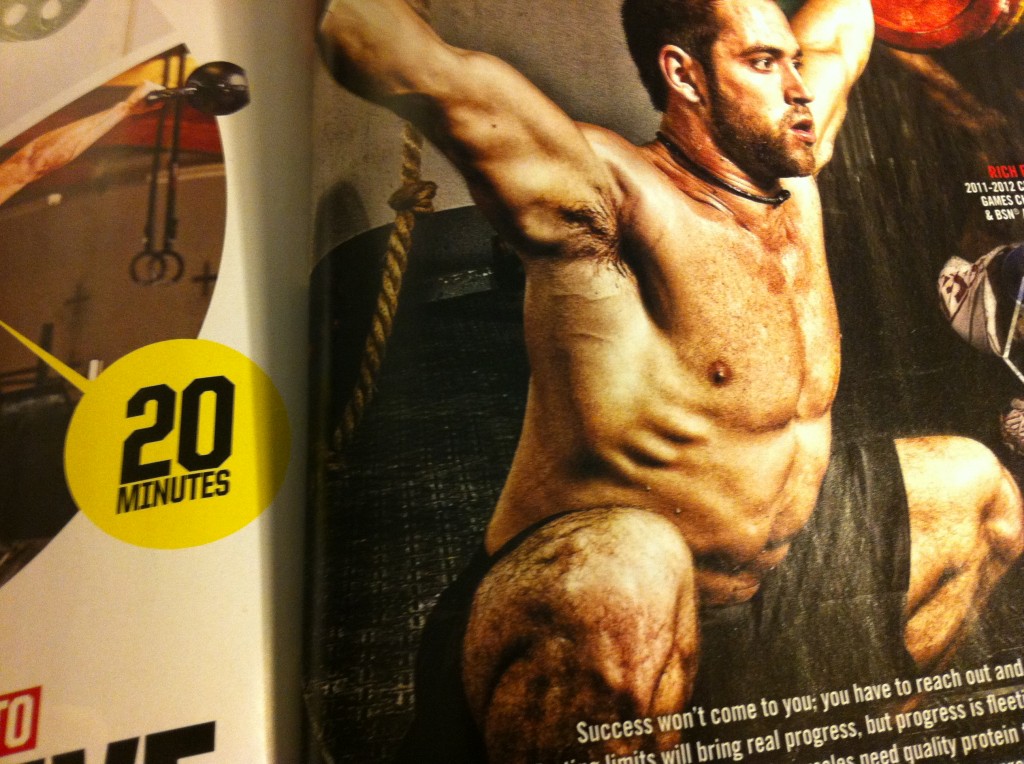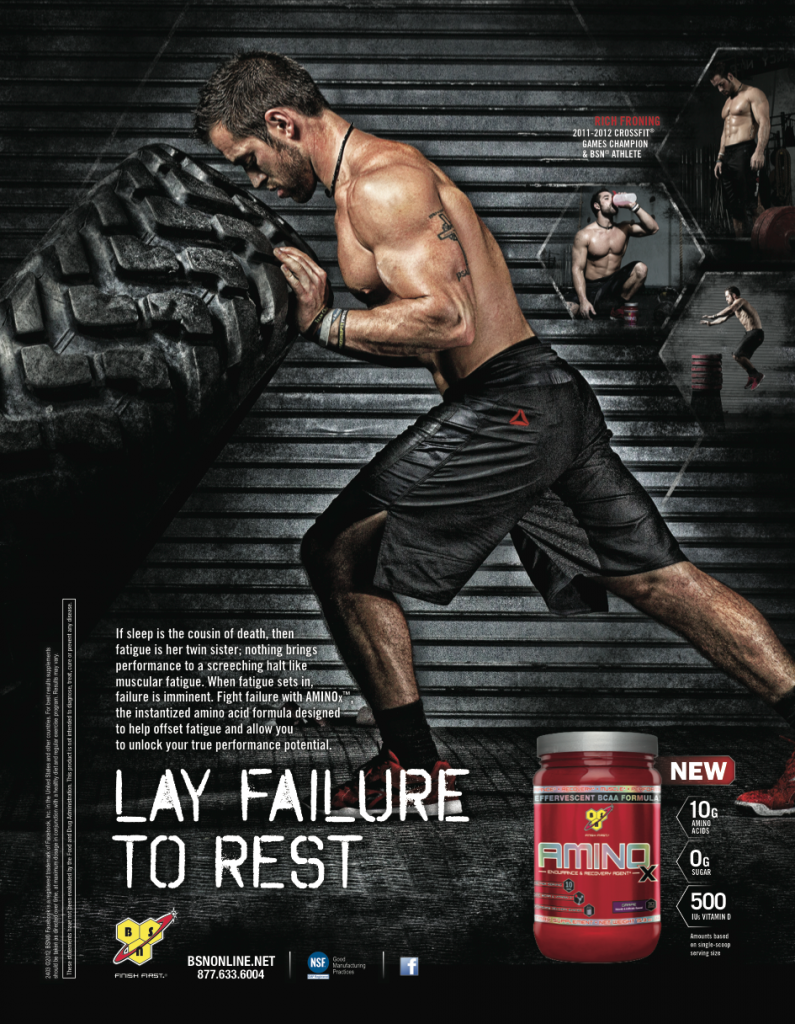 BSN Image Above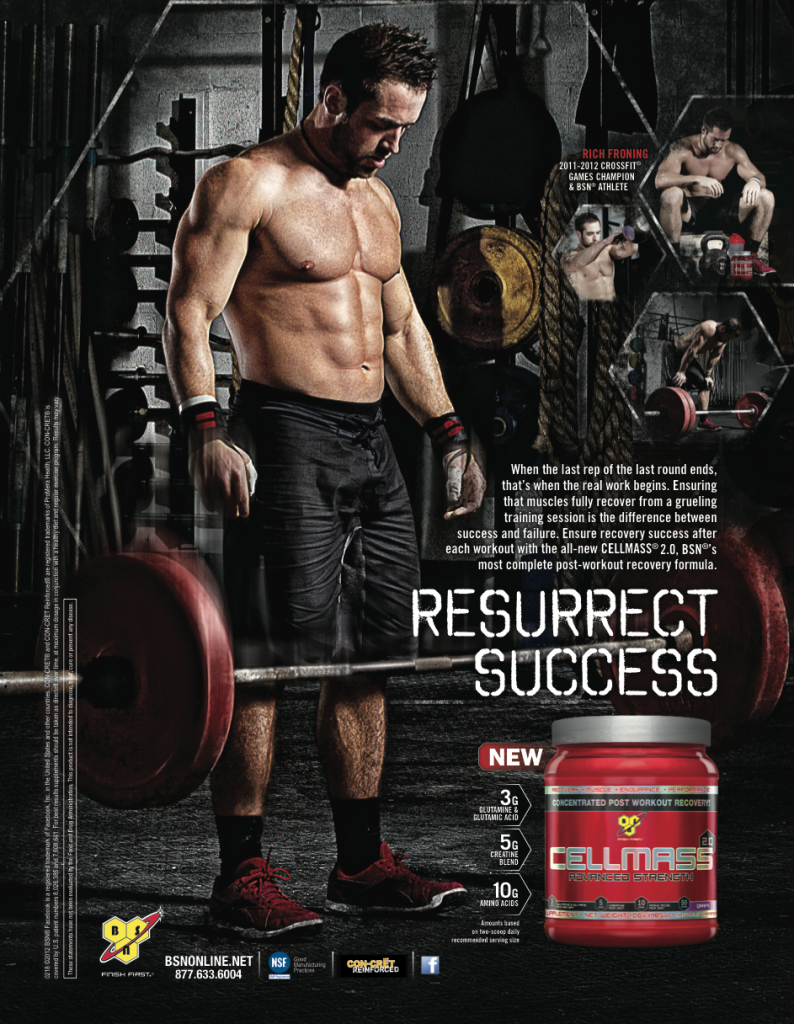 BSN Image Above: If you look at the image of Froning swinging the kettlebell above, you will see the top of the Galatians 6:14 tattoo.