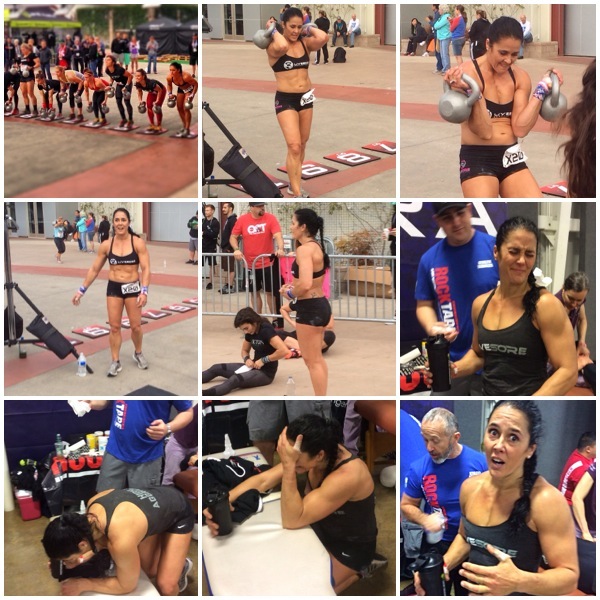 A stacked women's field, Aussies making their mark, tragic accident, triple Fran, beating all the men and women in Wod #1, finishing strong!
I hit the 2014 OC Throwdown fresh off 30+ hours in-transit from stinking hot Australia! A 43 year-old woman on a mission from CrossFit Adelaide! My coach Ben Norman and I decided it would be a great opportunity for me to go and test myself against some of the best women in the world – what else is a girl to do in January? As it turned out the field was bigger than we could have hoped with about 20 CrossFit Games athletes. Sam, Lindsay, Julie, Becca, Kris, Camille, Alessandra, Kaleena, Lauren, Talayna, Gretchen and Kristy to name a few!
The workouts were revealed barely before each one started – confusing and exciting. On Friday afternoon we were required to check-in by 4pm and told to be available for whatever was thrown at us from that time on. We were also advised to have swimmers and a towel in our kit. We were all weighed, but given no information as to why. It drove us all mental trying to determine which workout the body weight would be applied to. I'm heavy so I was praying it wouldn't be applied to the weightlifting. I don't punch above my weight like some of the girls – yet!
After a quick official welcome it was down to business – we were told that the first workout would be a swim-burpee combination that would happen at the San Clemente Aquatic Centre that evening. Five minutes later we were ushered onto two buses and whisked off to the pool! Into peak hour traffic, heading toward San Diego! The bus was buzzing with anticipation and the 'tap, tap, tapping' of status updates! Almost an hour later we arrived…
The workout was straight forward enough: a 25 yard swim, 10-1 burpees. So basically swim 25 yards between reducing sets of burpees – cool. My goggles were the same ones I used at the first Event of the 2011 CrossFit Games at Santa Monica Beach. I have only swum once since that event. I could hardly see out of those goggles, I could see the black line and I could see the plate I had to burpee-jump on! That was enough!
I finished that Event in first place. By the end of the evening it became apparent that I had even beaten first place male Kenny Leverich by seven seconds! Haha, that was quite a dramatic way to begin my OC Throwdown campaign. Ben Garard from Australia took out second place, Aussies killing it in the pool!
It was a cold and late night finishing at the outdoor pool, driving about 90 minutes home, getting food and having to be up early the next morning. I got six hours of poor quality sleep. BAD! Being an older athlete means I have to pay attention to every aspect of my recovery and wellbeing to ensure I recover like a beast. Getting less than eight hours sleep is not ideal at all! But that's how big events go, you're totally at the mercy of the schedule and organisers.
Day 2 began with NFL Combine. I know I placed third on the bench press (with 25 reps in 45secs at 50kgs), but after that all I know was that I did poorly in the rankings. I did the calculations and without the Combine in the scoring I would have placed 7th overall at the end of competition… if only huh!?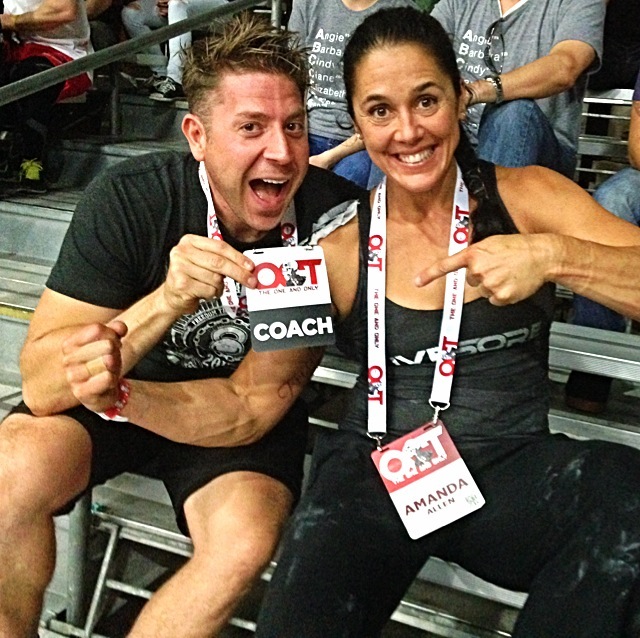 The action really began with Event 3: a 12-9-6 Squat Clean (60kgs) + Headstand to Handstand walk! It was a gnarly, challenging and very cool workout! I loved it, had heaps of fun, placed 6th, felt good, in control, had a ball, and the atmosphere in the hangar was pumping!
The final workout of the day, and the workout that I was increasingly nervous about was 'Frantastic' – Fran on steriods! Fran x 3, on a 5 min clock. Every 5 minutes you began Fran again, your final score being your worst Fran time! My coach Ben Norman suggested I hit 3:30 pace for all three, I thought he was joking or being overly ambitious, I honestly didn't think this would be possible! After seeing some of the earlier heats of women come back I was horrified, they all looked traumatised! In the warm up area we couldn't see the action unfolding, only the carnage returning. Almost none of the early heats made it under the five minutes for their worst score. So I mentally prepared myself for a 4:30 pace for all three Frans!
I was in the top heat all weekend, stacked with the 'who's who' of female functional fitness athletes. I had no expectations leading into Frantastic, my plan was to be conservative and not blow up in the final Fran. If I could do that, I knew it would be enough to score reasonably well.
I did all my thrusters unbroken, relaxed and zen-like. That was my plan, stay calm, do it easy. And I did, thanks to Ben's coaching. I think my first Fran was 3:26, my second was 3:34 (I forgot my 21st rep and got called back to the pull up rig, which cost me valuable 5-7 secs!), my final Fran was 3:29. I felt so good the whole way, calm and in control, like the whole thing wasn't hard at all! I finished 2nd overall, 1 second behind Camille. I had been in the zone, the place every athlete searches for. It's an effortless place, a magnificent place, and I know I could have gone faster! I finished the day in 5th place overall. So many athletes had mistakenly treated Triple Fran as Fran, but it was an AMRAP in my book, a totally different beast to boring old single Fran!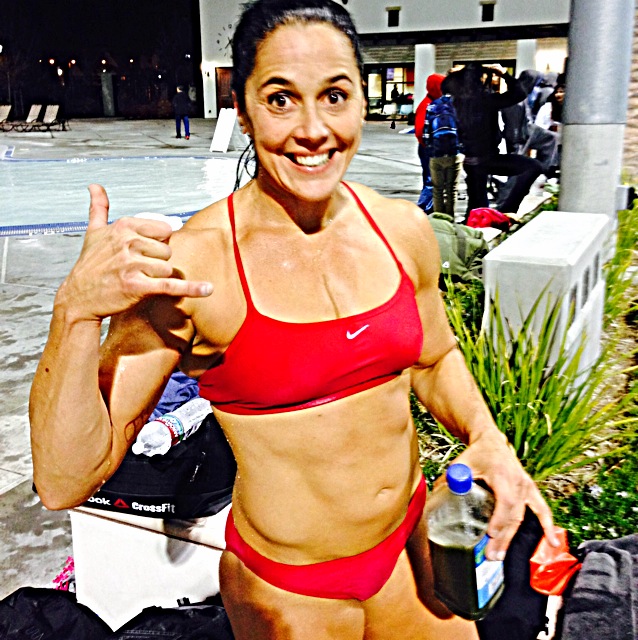 Another late finish, long drive back, the need to eat dinner, and late to bed. So another compromised sleep and an even earlier start for the final day of competition. Horrible, I hate being tired more than anything. It's too draining and not an enjoyable way to do life! Ce la vie! I had no control over this situation during the weekend, I just did my best to look after myself.
The final day began with a cold morning and a 3-mile run! Sounded simple enough and right up my alley. But as it turned out it was 3-miles of Kettlebell hell! The first mile was run with 2 x 16kg KBs, second mile was run with 1 x 16kg KB, third mile was run without any KBs! Sam Briggs dominated this workout with an incredible performance. I stayed strong and steady, pacing myself, trying to be efficient. The only way to carry the KBs was on the back of the shoulders, clasping the fingers together behind the neck. It was a mental game to keep shuffling and not put those KBs down. Some girls were walking, some stopping and putting the KBs down. Some were crying! Miranda was suffering with her neck, from a car accident not even a year ago. Lauren Fischer was with me until half way. Lindsay was behind me after the first lap.
Getting the positioning of the KB on the shoulders was the key to this Event. I just gritted my teeth for the first lap, knowing I had to hold strong, that it all got significantly easier from there. I took a gamble and used my JAW pull up grips to keep my hands from getting too sweaty and slippery, they helped a lot! Actually, that first mile ticked over much quicker than I had prepared for, which was awesome for me mentally. At mile one I thought we'd probably only gone half way, so with two miles to go I felt that the workout was actually easier than I'd imagined it would be!
I was really badly torn up by the KBs on my shoulders and neck. The medical guys rubbed alcohol to disinfect my wounds after the Event and as soon and they sprayed snd rubbed it on I was on my knees in excruciating pain like I've never known before, brutal! At least the wounds were clean! But I was already shaking from the workout that pain sent my stress hormones though the roof, not ideal for rapid recovery from such a tough WOD! BAD!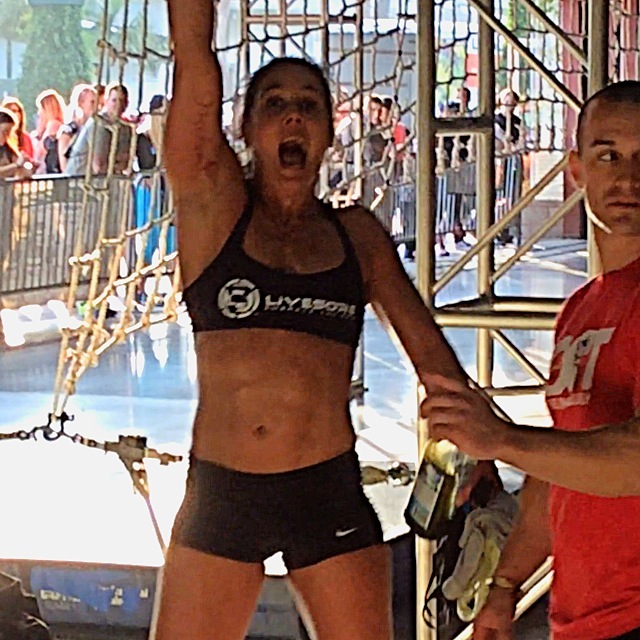 We had a couple of hours before the next WOD. The announcement about that workout caused a lot of confusion and anger. Sam's words were "that's bollocks!". It was a strength bracket of three movements, TnGo (touch n' go) 3 RM snatch, 3 position clean & jerk, 2 RM back squat. If you didn't finish top 4 in your heat in the snatch portion you wouldn't progress to the clean and jerk, same for the clean and jerk to back squat. It looked like top athletes would get knocked out of podium or high-placing contention. There was a room full of unhappy athletes, particularly those in the stacked heats. The format didn't make sense to me, but as an athlete my business is to step up to whatever challenge is thrown at me.
Organisers stood by their programming but reshuffled the heats. I didn't make top 4 from my heat, missing my third snatch at 140lbs (63kgs). It was an ok performance for where my lifting is at, but not good enough in terms of the standard of the field. I sat out the rest of the strength bracket, watching, waiting, hoping and praying that my score would be good enough to let me progress to the final.
In the men's half, fellow Australian Ben Garad had basically held first place all weekend. After the strength bracket his lead had reduced slightly, but he was still in a strong position to take out first place in the biggest (and only) international functional fitness event of his life!
We didn't know how many would progress. I thought it would be top 10, and that I'd probably need a miracle to sneak through. As it turned out the top 16 went through and I was ranked 11th, so I was still in with a hope of climbing up the ranks!
During the men's snatch event a freak accident occurred. Athlete Kevin Ogar lost control of the bar over his head. I understand he fell backwards onto the bar, hitting his neck, and severing is spine. It's the kind of accident you never believe can happen to you or someone you know, let alone during a big competition. Kevin was taken to hospital, none of us knew how bad he was injured until much later that day. Kevin had a 6-hour surgery on Monday and another surgery on Tuesday. I understand from his friends that Kevin has remained extraordinarily positive and determined to recover, with his sense of humour still intact throughout this devastating ordeal.
Immediately the functional fitness community united to support Kevin and to raise funds to help him with his medical expenses, I understand he has no health insurance. He's young, he's an incredible athlete, he's a joker, his future is forever altered. I can only send him my prayers and ask you to do the same. Many groups immediately began coordinating fundraising activities for Kevin. LiveSore held a fundraiser at CrossFit Fortius on Tuesday evening, ClimbOn donated $500, Barbells for Boobs has set up a fundraising website returning 100% of monies back to Kevin. by Monday evening I think they'd already raised $90,000. If you would like to donate and support Kevin please direct your contributions via www.kevinogar.com.
Accidents happens everyday, Kevin's accident is no reflection on the safety of functional fitness as a sport. It was an accident, a freak accident. Most of us are at greater risk stepping into our cars everyday.
The final Event of the OC Throwdown was a triple triplet, 22-min cap, running clock, scored as three separate Events. It was so damn cool! The Hangar was packed, epic tunes were cranking, the crowds were amped!
The men went out first, 50 overhead squats (at half body weight), 20 calories on an Assault Bike, 20 weighted muscle-ups (9kgs men/6kgs women). The men struggled to get through the first triplet, the weighted muscle-ups causing havoc, most men not clearing that portion before 11-mins. The second triplet was 50 back squats (at 1/2 BW), 50 double unders on a heavy, heavy rope and 50 Wallballs. The final triplet consisted of 20 Snatch (75kgs men/ 50kgs women), 20 deadlifts (153kgs/102kgs), a cargo net climb and a hand over hand traverse. Only one male made it to the deadlifts to compete one rep. None made it to the cargo net to finish the entire workout!
Ben was neck and neck with Julian Serna and the difference between finishing the weekend in first or second place came down to that one deadlift. Julian completed it, Ben did not. Ben placed second overall at The OCT. Outstanding result form a new kid on the block.
I loved that last WOD. I went unbroken in the overhead squats, cruised and laughed my way through the 20 calories, then went solidly though the muscle-ups to finish 7th in that triplet. In the next triplet, my damn hair kept getting in my way during the double unders, catching on the rope. I had to fix it twice during the skipping…grrrr! I hit the Wallballs in sets of five. I am so programmed by Ben Norman that I did what I knew he would have me do even though singles and doubles were all I wanted to do! The Wallballs were the worst part of the entire final event, the first 10 reps were horrendous, after that I found my groove. I finished that triplet in 4th place overall.
In the final triplet I stormed that snatch bar, sweaty as hell only to find no chalk! It took a good 20 secs for chalk to arrive, I couldn't have snatched that bar up without chalk. I had about 3 minutes to get those reps done, I just went for it, hit a rhythm, only stopping to re-chalk at 10 reps. Kristy Adkins and I were rep for rep. I pulled ahead at about 15 reps, with 20-secs to go and monumental confusion about plate changes. I miraculously managed to load that bar and hit one deadlift as the final second ticked over. It was a dramatic way to end the OCT! I placed 3rd in that workout only behind Julie and Sam. I was a happy little vegemite with that and all my performances. A job well done – Australia, CrossFit Adelaide and my coach Ben Norman well represented.
I finished the weekend in 11th place, my finishes were: 1st, 24th, 46th, 6th, 7th, 9th, 10th, 33rd, 7th, 4th, 3rd. I know what to work on! I gave everything, my training has been confirmed, we're on target for Regionals 2014 and a shot at a return to the Games as an individual competitor. I have weaknesses – that is a never ending journey.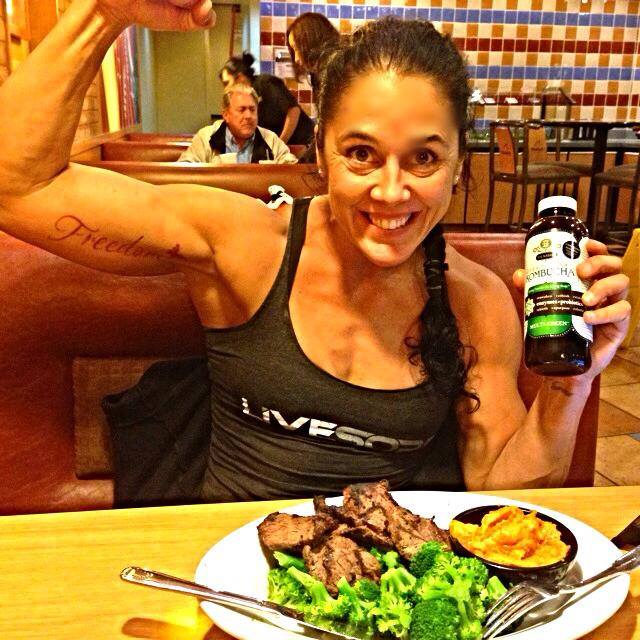 I'm 43. I don't believe i'm too old. I believe in myself, my coaches, my training, my recovery, my nutrition, my support and my passion.
I could not have performed so well without the selfless support and enthusiasm of my friend Frank Sabia who looked after my every need all week, and all weekend. He was coach, cheer squad, videographer, taxi, hotel, coffee maker, score keeper, medical support and friend!
I was also supported this weekend by LiveSore, a super cool and fresh new apparel brand on the CrossFit scene. Their enthusiasm, support and genuine team spirit were a constant! These guys are amazing, humble, hard working and incredibly generous. My favourite singlet is their HIGHLY AGGRESSIVE one, I can't stop wearing it!
As I write this I am sick, two days out from WODapalooza in Miami! It was a big weekend, I probably got too cold, too tired and generally too run down, and with international travel, I was vulnerable. Although I pay it no mind, I recognise that I am 43, that I am human (from time to time), and that epic competitions do take their toll! Hopefully with a few days of rest I will bounce back! I'm looking forward to competing on the beach in Miami with a world class field! Bring it on! Aussie, Aussie, Aussie, Oi! Oi! Oi!!!