WODapalooza Festival of Fitness, Miami, 2014.
Wow! What an Event! A festival of good times, good people, good tunes, great community spirit and world class athletes throwing down over three magnificent Miami days.
I flew into Miami late on Thursday night from LA, after competing at The OC Throwdown! I had been sick, sick, sick with a horrid flu all week. I understand quite a few competitors from the OC Throwdown were also sick post event! The OC had been a big, long, intense, and at times very cold event. Flying from LA, I was that passenger you never want to sit next to – coughing, spluttering and blowing my nose… argh, I would have hated me!
I finally made it to bed at 1:30am Friday morning Miami time. I'd crossed that many time zones in the previous week, my body and hormones were so damn confused. Event registration opened at 10am Friday, with competition kicking off at 2:20pm.
All week I had a heavy feeling that I wouldn't be competing, as the days progressed I felt more sure I'd have to pull-out or risk making myself sicker. With an international flight to get me home I didn't want to end up in hospital by the time I got to Australia! I was so sore. Every joint and muscle ached. I was head-achy and my sinuses and lungs were full of thick yellow mucus.
I began to make my sponsors (LiveSore particularly as they were my event sponsors for my USA tour) aware that it was likely I may not be able to represent them at WODapalooza. They were all more than understanding and supportive. I hated to be in that position, but it's so important to look after my wellbeing as a priority. I found it a distressing and conflicting time mentally and emotionally. Was I being soft? Was I letting people down? Which was more important, my health or my ego?!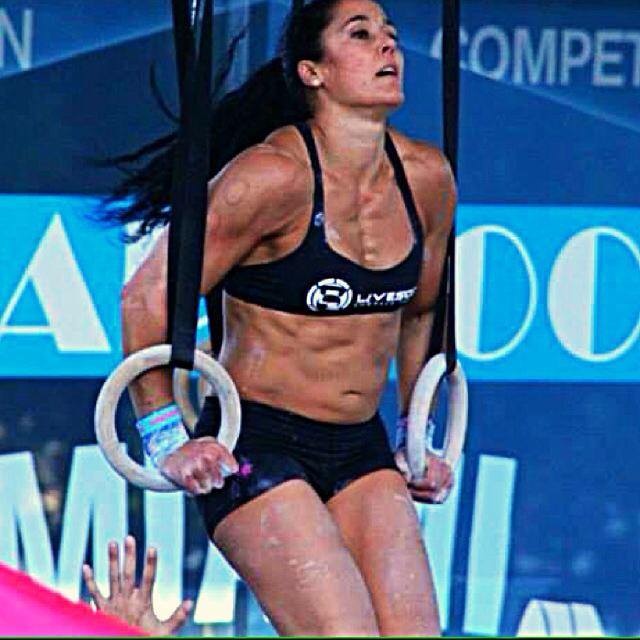 By Friday morning I'd decided I would just head down to the competition with my gear and begin the process of registering. Just take the next step, keep my options open and see what happened. As I walked into Bayfront Park, I realised that I would go mental just watching the events all weekend, that it would probably be just as draining standing on the side lines, and above all, I realised that I didn't want to feel the burning of regret in my heart once things had started and I had not stepped-up. I'd travelled all the way from Australia for the opportunity to compete in Miami against the fittest women in the world. I decided I would thrown my hat in the ring and do whatever I was able to do. If I became sicker after the first day I could always pull out.
Everything was pumping by the time I arrived. Registration was seamless, we weighed in again, an athletes village was set up with big marquee, white lounges, fuel and water available. An impressive warm up area was in the final stages of being set up with a big rig, heaps of rowers, and a gazillion platforms with barbells, plates and all the equipment hundreds of athletes might need to warm up safely. Impressive, somebody had truly thought and cared about our needs. Over the course of the weekend Volunteers came over from time to time to check that we had all the equipment we needed, imagine that!
There were two Events on that first day, with about four hours between each. It seemed doable! The first Event was 40 pistols, 60 Kettlebell swings (24kg), 40 cal ski-erg (never done that before). I finished equal 6th with Sam Briggs, didn't die and had fun! The second event was after dark, under the bright lights of the main plaza. The crazy grandstand of screaming crowds and the DJ pumping the music made the whole stage epic!
The workout was three rounds of: 3 rope climbs, 7 S2OH (60kgs), 11 burpee box-jumps. I was neck and neck with Sam, I came off the final 7 S2OH one rep ahead, but she was a ninja on those burpee box-jumps and finished a couple of reps ahead of me. It was an epic race and the crowds responded with such incredible energy and cheering, I love that stuff so much. It made me beam and cheer back at them! I was loving life right there in the heat of battle! Imagine missing out on that!?
The food vendors were incredible, Bulletproof Coffee and Kombucha were available, divine BBQ ribs and chicken, baked sweet potatoes were readily available. I also discovered Schott's Green superfood smoothies, which I lived on all weekend – I had three per day, every day, I was his best customer by far!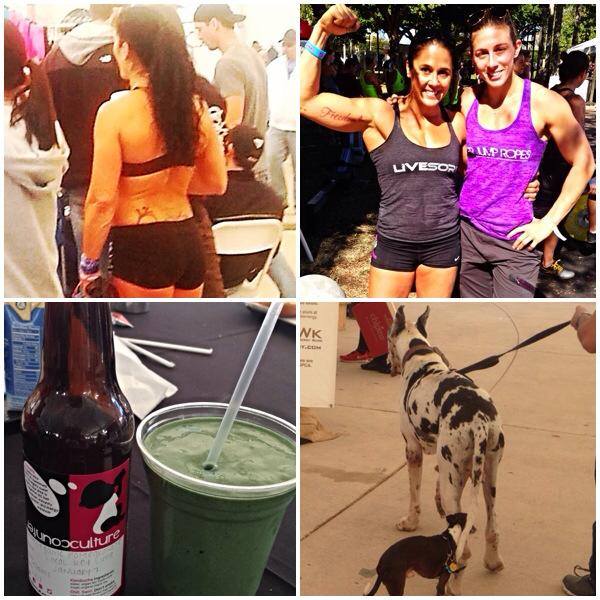 Day 2 consisted of three Events. The first was a rapid fire Snatch combo on a running clock. 2-minutes to set a 3RM Power Snatch, 2-mins to set a 2 RM Hang Squat Snatch and 2-mins to set a 1 RM OH Squat. This time included changing your own plates – no time to screw up, no time to hesitate. I was actually feeling a bit dizzy during this workout. I played it safe, felt no love for any of the movements and really didn't perform to my best, but I got the job done. This workout was body weight scored, so I finished poorly with a 23rd placing, I'm no light weight at 156lbs/71kgs so that hurt my standings and I didn't recover from that performance all weekend.
Nevertheless the next event was the triathlon, which is good for me given my background as a professional triathlete! In the middle of the afternoon on a glorious sunny day in Miami we kicked off! Crowds were thick everywhere along the course! It was a 300m ocean swim, 2,000m row, 2,000m run! The swim was in the deep water of the harbour, a serious swim for many unfamiliar with ocean swimming. A few girls were crying and distressed before we kicked off. Thankfully life jackets were made available for them to use, I really felt for them and was so impressed with their bravery!
We ran down to the pier and had to jump off into the water 6ft below! I'm scared of heights, so I just had to run and jump and not give it a second thought! It took me about 50m to clear away from the pack of women swimming out the the first bouy. From there it was just a matter of swimming strong, straight and trying to find the second bouy with the sun shining in my eyes and reflecting off of the water! I kept stopping to look around and yell at the guy on the surfboard asking "where do I go!?"
I made it back to the pier well ahead of the other women, I'd managed to row 300m before the next female came up the stairs to the pavilion where all the rowers were set up. I held a 1:57 average pace, just keeping it steady and consistent. I didn't want to kill myself and not be able to run with this flu, all I had to do was stay ahead and not blow up. It was highly unlikely that anyone would catch me over 2,000m with a 300m lead! So I stayed calm, stayed strong, had a laugh with the judges, MC and crowds. Then I went about the business of finishing strong for a first place in that workout, about 400m ahead of Sam.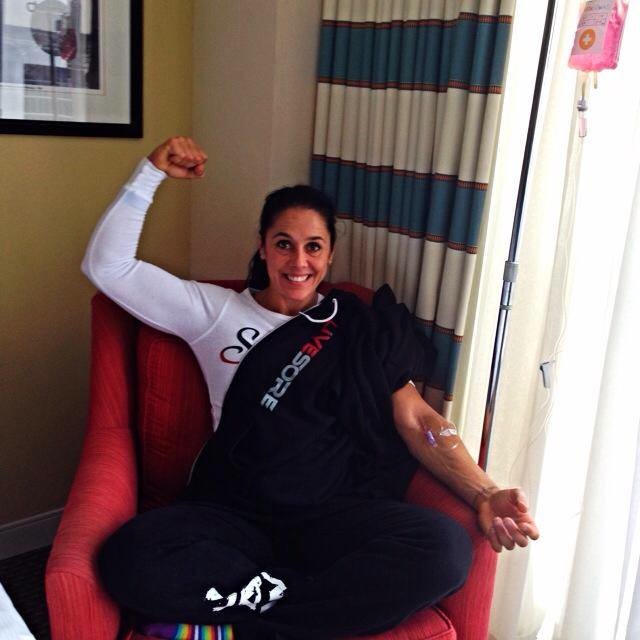 I went back to the hotel and had the VitaSquad come and give me an Immunity Boost IV. I've never had or heard of such a thing before, but if it helped me overcome the flu, or if it just kept me from getting sicker as a result of the high intensity workouts, then I was willing to try! I honestly can't say I felt anything or recognised any identifiable benefit from the IV, but I believed in it and I wanted to do anything I could to look after myself. It's basically just a solution filled with Vit C, Vit B and Magnesium. After that I had a nap for about 45 minutes and then headed back to Bayfront Park and more WODapalooza fun!
The final workout of the day was a big pull-up-clean combination. Brutal on the grip strength and hands – clever workout! 45 Pull-ups, 15 Power Cleans (60kgs), 30 Chest to Bar, 10 Squat Cleans (65kgs), 15 Bar Muscle Ups, 5 Squat Clean & Jerks (70kgs) – 14min cap. Thank God for my JAW PullUp Grips, they saved my hands from becoming ripped and bloodied like so many women's after that Event.
I was basically with the field until the bar muscle-ups. That's what separated us, I struggled with most reps, missed a few and performed possibly the slowest bar muscle-up ever witnessed in competition! Hilarious fight for one rep! All I could do was laugh at myself and hit the next rep! Sam came over to cheer me on and coach me to get my hips up to the bar… she is a stealth-ninja at bar muscle-ups, grrrrr! I managed to finish three clean and jerks by the 14-min cap for a 10th place in that workout. It was the best I had on the day and it was a cool workout! I walked off laughing and high-fiving the judges!
I had so many people congratulating me over the weekend, thanking me for being 'badass' and 'inspiring', stopping to have photos with me. It is so gorgeous and I never tire of it or tire of feeling grateful for such support and enthusiasm from so many people. It's such a privilege.
I finished Day 2 in 7th place – I think. Day 3 started at 12pm and we had two final workouts. The first was a chipper: 10 Thrusters (47kgs), 20 T2B, 10 Power Snatch (47kgs), 10 Deficit HSPUs (6inches), 100 DUs, 10 Deficit HSPUs, 10 Power Snatches, 20 T2B, 10 Thrusters. I was even with most of the field until the second set of Handstand Pushups, that's where the workout truly began. I probably just failed enough reps to have done the 20 HSPUs, but I didn't manage to lock out fully or quite finish reps with my feet on the wall. I competed three HSPUs of that second set, enough to put me in 12th place for that workout. It is such a frustrating thing to not quite be able to finish a rep – insane. I know my handstand push-ups are stronger than ever, I think my flu took the edge off of them this weekend. Nevertheless, I'll be going back home to work like crazy on them and my bar muscle-ups between now and the Australia Regional.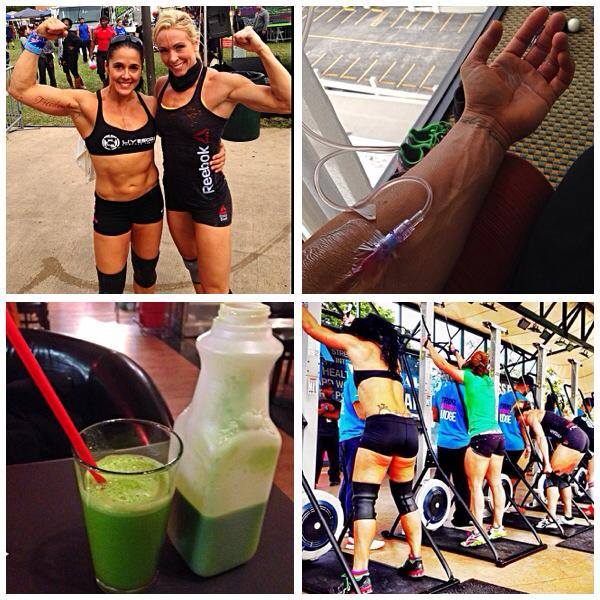 The final workout was changed on the morning of the final day – so unfortunate because I had been soooooo excited about it. It had been an Atlas Stone (60kg) and ring muscle-up workout 9-5-7, but the Atlas Stones needed another week to set properly and had been breaking on testing earlier that morning. So the workout became 9-7-5 Ring Muscle-Ups and 18-14-10 Deadlifts (85kgs). The rings were chained to the steel beams of the main Pavilion, it was a great spectacle. The front beams were much higher than the back beams because of the sloping roof, so the chains on the front sets of rings were longer. A couple of girls complained about this, and wanted to go on the back rings. I was on a set of front rings, I didn't really care, I was still going to have to do 21 muscle-ups no matter what they did to the length of the chain. About 15 minutes of confusion passed before one of the girls from the back swapped with one of the girls from the front! Bah, whatever! I just wanted to get the show on the road, it all seemed silly to me!
3,2,1…go! I was neck and neck with Talayna Fortunato until the end of the set of 7 muscle-ups, I could hear the MC calling the workout! But that's when things began to change, she pulled ahead fairly quickly from there, I was slower and more cautious on my final set of muscle-ups. I just didn't want to start failing reps and end up in that rut that you just don't seem to be able to get out of. I'd seen many women in the previous heat hitting no-rep after no-rep on the muscle ups and I didn't want to be that athlete. I've been there many times on muscle- ups, I hate that place! As it turns out I didn't miss a single rep and I wasn't no-repped for any either. I take that as huge progress! It's so unfortunate that he nature of that work out had to change, I think I would have killed the Atlas Stone version. I finished 8th overall, which was ok considering my history with muscle-ups and the flu!
I finished the weekend in 9th place, with only Games athletes ahead of me. Again, I can hold my head high among the best in the world. I wish I could have given my best during the weekend. I guess I did, but I mean 'my best' like I had the weekend before at the OC Throwdown. I always want to feel in supreme condition and show the world what I'm capable of. This weekend that is what I was capable of and I am at peace with it. It is enough.
Guido Trinidad put on an extraordinarily professional, well planned, carefully thought-out, and considerate festival of fitness – I cannot fault a single aspect of the entire competition – and it was huge. He forgot nothing, supported everyone, delivered a world class event that will grow and grow in popularity and attendance. The whole place was full of positive energy and CrossFit community spirit. A true reflection of all that there is to love about our sport. I hope to return again next year! Thank-you to all the volunteers who made that event so seamless, so possible and so perfect!